AU's Justice Programs Office Launches Racial and Ethnic Disparities Assessment Tool for Courts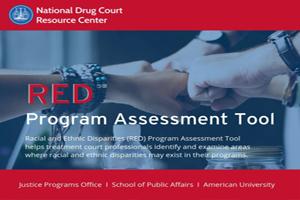 The Justice Programs Office (JPO), a research center in American University's School of Public Affairs, launched a Racial and Ethnic Disparities (RED) Program Assessment Tool to help treatment court professionals identify and examine areas where racial and ethnic disparities may exist in their court programs.
"Research has shown treatment courts are an effective solution to helping justice-involved individuals," said Kim Ball, research professor and JPO director. "However, disparities may exist in access to some treatment court programs, completion rates, and recidivism outcomes. The tool was developed with the goal to help treatment court teams identify where there may be gaps when it comes to communities of color participating and graduating their programs."
The JPO team of experts developed the RED Program Assessment Tool for treatment courts following two years of research and collaboration with professionals in the field, and several site visits to treatment courts in North Carolina, Missouri, and Louisiana.
The free, web-based platform is designed to capture information about treatment courts' operation and procedures into a secure, confidential database. The tool assesses treatment court programs through a series of open and closed-ended questions on court information, intake, assessments, demographics, team members, training, drug choices and treatment and support services, and evaluation and monitoring.
"The tool offers teams the space to start the conversation about where they can improve and we provide best practices recommendations for teams to implement," added Ball.
In addition, the RED Tool uses a scoring rubric to provide treatment court teams with an overall assessment score, scores for each section of the assessment, and recommendations to alleviate racial and ethnic disparities.