Combined Gift Supports Community on American University's East Campus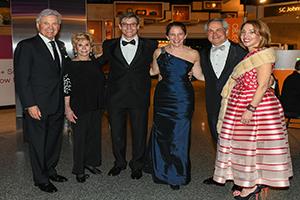 A combined multimillion-dollar gift from current and former American University board of trustee members bolsters AU's educational mission on a key part of its Northwest D.C. campus and furthers AU's momentum. AU will name Congressional Hall and its lobby on East Campus the Marc N. Duber and Nancy E. Duber Hall and Stuart and Wilma Bernstein Lobby. This commitment also includes a gift from an anonymous individual donor used to inspire support for the East Campus development project.
"These AU families recognize that East Campus, which features a dynamic student community and innovative research, is a vital part of the university's next chapter," said AU President Sylvia M. Burwell. "We are deeply grateful to Marc and Nancy Duber and Stuart and Wilma Bernstein for their enduring dedication to their alma mater."
Opened in 2016, East Campus is home to approximately 590 students in three state-of-the-art residence halls. East Campus also includes the Don Myers Technology and Innovation Building, featuring 70,000 square feet of high-tech laboratories, classrooms and shared research space as well as the AU Game Lab, AU Center for Innovation and its Entrepreneurship Incubator, and the Design and Build Lab.
The pairing of Duber Hall and the Bernstein Lobby reflects deep personal and professional relationships that the two families have with American University and each other. AU fostered lifelong connections for each couple – Marc Duber and Nancy Duber met as students, and Stuart Bernstein has been a mentor, business partner, and friend to Marc Duber for more than 40 years, a relationship that began when Duber was a student leader and Bernstein a young trustee. Both graduated AU with degrees from Kogod School of Business, while Nancy Duber and Wilma Bernstein graduated with degrees from the College of Arts and Sciences.
 
Ambassador Bernstein is recognized as one of the university's longest tenured trustees, having served from 1977 to 1998, and earning the distinction of trustee emeritus. Marc Duber joined the AU Board of Trustees in 2007 and became chair this year.
For more information about this gift, please see a memo from AU President Sylvia M. Burwell.