Alumni
Susan Zirinsky Awarded 2019 Cyrus A. Ansary Medal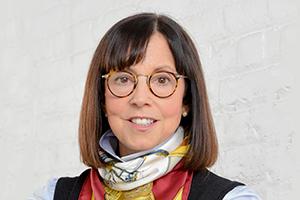 American University has named CBS News President Susan Zirinsky as the recipient of the 2019 Cyrus A. Ansary Medal for leadership and service. Zirinsky, who earned a bachelor of arts degree in journalism at AU in 1974, has been a tireless advocate and supporter of AU as a mentor, panelist and commencement speaker. She has hosted AU students at CBS during the School of Communication's NYC Career Intensive and much more. She received this top honor at AU's 38th Annual President's Circle Celebration at AU's Washington College of Law. 

"Susan's story of achievement and service is nothing shy of extraordinary and we are extremely pleased to name her the 2019 Cyrus A. Ansary Medal," said President Sylvia M. Burwell. "American University is proud to recognize such a distinguished AU alumna and honor her with this award, on this campus, among our AU family."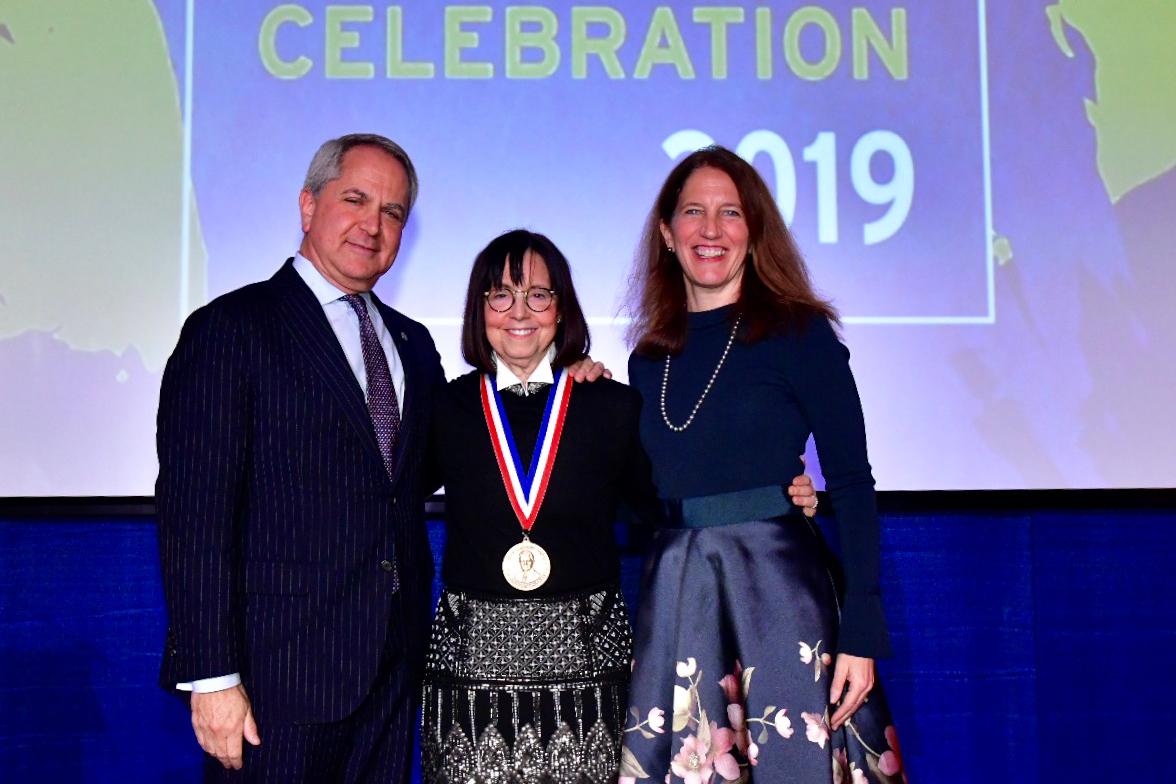 Board Chair Marc Duber, Susan Zirinsky and Pres. Sylvia M. Burwell
The Cyrus A. Ansary Medal is awarded to members of the American University community who have displayed extraordinary commitment and leadership, both within the university and within their professions, and who have significant accomplishments, either in service to the university or for the benefit of the community at large. Cyrus A. Ansary has made a marked imprint on American University – as an extraordinary student, a loyal alumnus, a dedicated member of the Board of Trustees and chairman emeritus, and a wise and committed Chairman of the Board. The Ansary Medal has been awarded annually since 1990.  

"American University gave me a solid journalistic foundation which has served me well throughout my career," said Zirinsky. "Even before graduation, the school helped launch me into the heart of the news industry at a critical moment of history in our country. I am forever grateful."

Zirinsky, an acclaimed journalist and highly respected senior executive producer at CBS News, began her career in the CBS News Washington bureau two weeks after the Watergate break-in. Over the next four decades she produced a wide variety of award- winning documentaries and programs, and she covered a range of historic stories. Those included the Gulf War, the student uprising in Tiananmen Square, the 9/11 attacks, as well as the Paris terrorist attacks and the mass shooting at a Parkland, Fla. School.

Prior to taking on her new role, Zirinsky was the senior executive producer of the award-winning "48 Hours" and was responsible for numerous CBS News breaking news specials. She was also the senior executive producer of "48 Hours: NCIS" and the senior executive producer of the CBS primetime series "Whistleblower."

Zirinsky, who earned her bachelor's degree in journalism from the School of Communication, was presented with the SOC Dean's Award in October of 2018 in recognition of her role as a trailblazer, a mentor, and a transformational leader. SOC created a moving tribute video for Zirinsky that definitely showcases her passion for her work and how she's been "a boss" for the start. It's easy to see how the main character of the 1987 award-winning movie Broadcast News was based on her journalism career.  In 2018, the film was selected for preservation in the United States National Film Registry by the Library of Congress as being "culturally, historically, or aesthetically significant."

"Susan embodies American University's commitment to be a community of scholars and changemakers known for excellence and impact," said Courtney L. Surls, vice president, Development and Alumni Relations. "We are grateful to the Ansary family, Susan Zirinsky, and President Burwell for their commitment to expanding AU's impact."