American University's New District Scholars Program to Provide Full Tuition Scholarships to 10 DCPS Students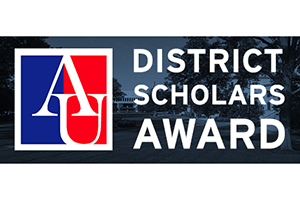 To enhance access to high quality education and support the Washington, DC community, American University dedicated $3 million in full scholarships for high-achieving students attending the city's public and public charter high schools. Ten student recipients for the 2020-2021 academic year will become the first cohort of AU District Scholars.  
"American University is addressing the changing world by creating opportunities for students to learn and lead in our dynamic community of scholars and researchers," said AU President Sylvia M. Burwell. "One of the imperatives in our Changemakers strategic plan is partnering with our Washington, DC community, and these scholarships will help local students pursue their educational goals close to home and join fellow Eagles in shaping the future of their neighborhood and the world."   
The AU District Scholars Award will cover full tuition and room and board at the university for deserving students who demonstrate high academic achievement and significant financial need. Ten scholarships will be awarded annually. DC residents attending public or public charter high schools who are first-time college students applying to AU for fall 2020 will be considered. The application deadline is January 15 (Early Decision II and Regular Decision) and selected students will be notified of the award at the point of admission.
"We are proud to provide this opportunity to DC students who have so much to offer our community and this city," said Sharon Alston, vice provost for undergraduate enrollment. "American University strives to offer new avenues for learning, and I hope that local students who may not have seen AU as an option before, will apply and compete to be an AU District Scholar awardee," she said. 
AU has deep ties to the educational community in Washington, D.C. AU's School of Education's (SOE) Dual Enrollment program with DC Public Schools allows high school students to take college-level education courses at the university during their senior year. The first cohort of 10 DCPS students began their AU classes in fall 2018. The Dual Enrollment program is the only one in the DC area with an education/teacher-preparation focus.
AU Board of Trustees Vice Chair Gina Adams, a native Washingtonian and a graduate of Ballou High School in DC, attended AU and was awarded the prestigious Frederick Douglass Scholarship (awarded to minority DCPS students between the years of 1968-1986). "It was nice because I didn't have to worry about traveling back and forth to school, which would have been challenging for my family circumstances," she says. "I am truly delighted that AU has renewed focus on ensuring that DC public schools students have the financial support to attend AU," Adams said. "These scholarships are so impactful and will be life-changing. I am happy for all the deserving students who will become AU District Scholarship Awardees and I am eager to welcome them to the AU family." Current Trustee and retired U.S. District Court Judge Gerald Lee is also a past recipient of the Frederick Douglass Scholarship. 
Additionally, AU is developing the AU-DCPS Teacher Pipeline program with a goal of providing full scholarships to DCPS graduates who wish to become teachers and come back to teach in DCPS. Once fully implemented, this program will allow students to earn a bachelor's degree in education at no cost to them in exchange for a commitment to teach in DCPS for at least five years.
Applicants for the District Scholars program must also complete the Free Application for Federal Student Aid (FAFSA) and the College Scholarship Service (CSS) Profile by January 15 Complete application requirements also include submission of letters of recommendation, high school transcript and standardized test scores. AU is a test optional university; therefore, applicants may choose not to submit standardized test scores. Applicants for the AU District Scholars Award will be reviewed by the American University Undergraduate Admissions Committee. Selection is competitive with students chosen based on their academic background and demonstrated financial need.