New Brand Campaign Highlights a Community Turning Challenges Into Meaningful Change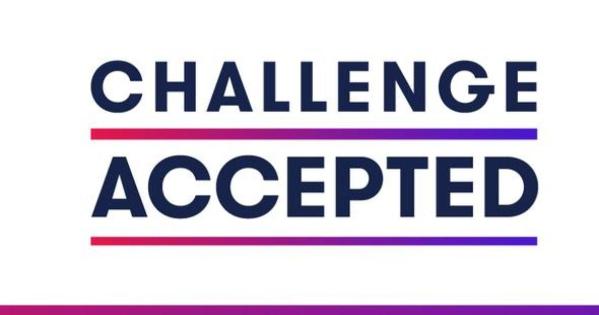 In a world filled with complex and ever evolving challenges, American University students, faculty, staff, and alumni step up, show up, and find solutions. We say, "Challenge Accepted." Those words capture the essence of an institution where purpose and community are at the heart of everything we do.
Building from AU's Changemakers for a Changing World strategic plan, the new Challenge Accepted brand campaign highlights the passionate and engaged AU community and the meaningful change it creates in local, national, and global pursuits. From science and health to public policy and business, AU Eagles are committed to improving our world and ourselves through collaboration and courageous action. The multi-platform campaign launched today with a video, a rebranded American.edu homepage and new campaign microsite, social media conversations, and signage on the AU campus.
"As changemakers, we boldly leverage our dynamic learning community, our expert faculty, and our commitment to positive change to make a greater impact in our changing world," said AU President Sylvia M. Burwell. "Challenge Accepted tells these stories of AU – from being the nation's first carbon-neutral university, to scholarship that advances civil discourse and democracy, to our deep partnership with our Washington, D.C. community."
There have been few challenges greater than the COVID-19 pandemic, which accelerated changes impacting higher education. Those changes, including an emphasis on lifelong and digital learning and a focus on student thriving, were already underway at AU as part of the Changemakers strategic plan. The university met the challenge of COVID-19 in numerous ways, transitioning thousands of classes online, launching resources to allow students to connect and build community from wherever they were located, and spearheading a regional mobile COVID-19 testing lab to help ensure campus safety and support the health of the broader D.C. community. The new brand campaign celebrates AU's momentum and resiliency, and illustrates the unique attributes of AU Eagles that make this change possible.
American University is a place that empowers students, faculty, staff, and alumni to pursue their passions and build better communities. The Sine Institute for Policy and Politics brings together thought leaders from around the globe to promote common-ground policy solutions. Seventy percent of our students study abroad, and 91 percent of undergraduates participate in at least one internship. AU is training the next generation of public school teachers through the Teacher Pipeline Project with D.C. Public Schools.

"Momentum can be seen and felt across American University and this campaign underscores our strengths as well as areas where we are growing," continued Burwell. "Whether that is our commitment to inclusive excellence, our brand new Hall of Science, or our recognition by U.S. News as one of the most innovative universities, Challenge Accepted is part of our DNA."

AU's traditional red and blue remain the university's signature colors as the Challenge Accepted campaign lives in the blended space between–in the purple. Underscoring the power of color, the campaign symbolizes finding common ground and a vision for united solutions to the issues confronting America and the world.

Challenge Accepted was developed by AU's University Communications and Marketing team in conjunction with stakeholders from across the American University community. Sullivan, a New York-based agency, partnered with the university to develop the brand campaign.