Arts
AU Museum at Home Engages Patrons Away from Campus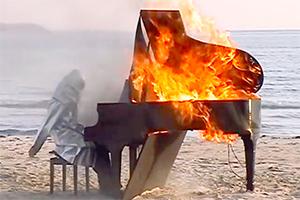 While the pandemic keeps arts institutions closed nationwide, patrons and university community members can't visit the three-story, expansive museum on American University's campus. The American University Museum, which typically hosts 20 to 30 art exhibitions per year, canceled its spring and summer shows. Under the initiative "AU Museum at Home," the museum staff is finding new ways to engage the museum community and bring patrons #artwhereyouare.
"Creative people always turn obstacles into opportunities, and our museum staff is proving that again with AU Museum at Home," said Jack Rasmussen, curator and director.
The art and artists of the canceled exhibits are being shared through digital storytelling, artist playlists, collection highlights, children's art tutorials, online gallery talks and more. A growing library of e-book catalogs is now available on the museum's website. A storytelling series on the museum's Instagram account showcases the exhibit Behind the Scenes: Preparators and their Art, featuring artists that also serve as preparators in the museum. This is accompanied by a Spotify playlist of music that preparators listen to while they work.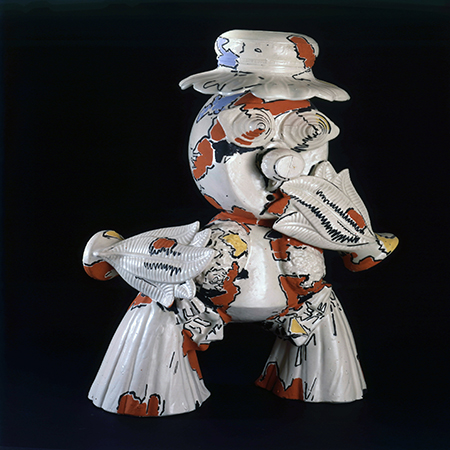 Viola Frey, Untitled, Oval Head, Hat, Leaf Hands, from the exhibit "Gods & Monsters"
Museum staff members are also taking the opportunity to highlight works in the museum's permanent collections. On a weekly basis, a staff member chooses a work and writes a short post. The post features an image of the work and appears in the museum's weekly e-blast and on social accounts.
Recently, Museum Registrar Carla Galfano wrote about a portrait in the museum's newest collection, The Corcoran Legacy Collection. The portrait of Charles Carroll Glover by Edmund Charles Tarbell is one of nearly 9,000 objects in the collection. In part, she wrote: "Not only is this a handsome painting by a well-known and accomplished artist, but both the artist and the sitter have particular significance for Washington, D.C. and American University.
Tarbell, a leading member of a group of painters known as the Boston School, was the principal of the art school at the Corcoran Gallery of Art from 1918 (the year he painted this portrait) until 1926. Glover, instrumental in the establishment of Rock Creek Park, the National Zoo, the National Cathedral, and a park that bears his name, was also treasurer of the Board of Trustees at American University from 1891 to 1922, exactly during the time that he sat for this portrait. In fact, the gate directly across from the Katzen Arts Center is named for him."
Individual artists affected by the cancellation of their exhibits are also pivoting to online. The artists of the canceled exhibit Another Fine Mess have created an online exhibition with images and videos. Every spring, students pursuing a Master's in Fine Arts degree in AU's Studio Art program showcase their work as part of completing their thesis. The students are no longer working in their studios and their exhibit, Theoretical Dilemma, is delayed until next spring. The students are documenting their experiences creating art at home on Instagram at Actual Dilemma. "It will share the very ACTUAL DILEMMA of making now," reads the description.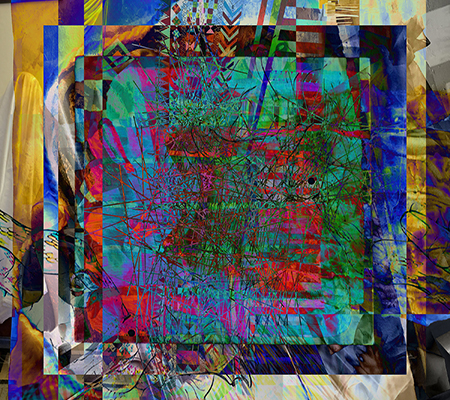 Lizzi Alarcon, Basmah Alhumaid, Chelsey Anderson, Amber Cruz, Jennifer Frank, Nieko McDaniel, Matthew Russo, and Cindy Warshaw, Theoretical Dilemma, 2020. Digital collage, 5 x 7 in. Courtesy of the artists.
"What we are doing now with Actual Dilemma is documentation of how we as a cohort are continuing to work through ideas during the current circumstances. It showcases how our practices are evolving and changing to working in spaces, mediums, or practices that are not entirely the same as we were doing before. Faced with this actual dilemma, we find ourselves re-examining what it is we do," said Matthew Russo, a student and artist. "This project also serves as a way to keep us engaged until our physical thesis exhibition comes to fruition."

As spring turns to summer, the summer exhibits likely will also receive the same treatment. The staff is considering how to integrate video and other technologies into their efforts.
"I don't believe what museums do will ever be replaced by virtual experiences, but we've always known that new technologies can provide a rich context for the appreciation of art," Rasmussen said. "When we open up again, and museums are needed more than ever, our offerings will be stronger and the viewing experience will be richer."