AU Welcomes Its Inaugural Cohort of District Scholars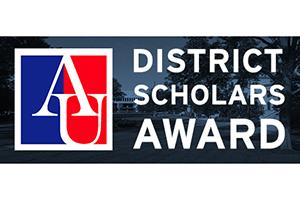 Eleven high-achieving students from Washington D.C.'s public and public charter high schools have been selected as American University's inaugural class of AU District Scholars for the 2020-2021 academic year.  
AU announced last December that it would dedicate $3 million for the AU District Scholars Award as part of its commitment to enhancing access to high quality education and supporting the Washington, D.C. community. The highly competitive scholarships will be awarded annually and will cover full tuition, room and board at the university. Students are chosen based on their academic achievements and demonstrated financial need.
The inaugural District Scholars Award recipients are: Keyri Reyes Rodriguez, Bamlak Bahiru, and Jeffrey Williams, Bell Multicultural High School; Keirah Daniels, Frank W Ballou High School; Sosina Gebremichael, Benjamin Banneker Academic High School; Nicholas Adam, Calvin Coolidge High School; Queenal Ayaba, Capital City Public Charter School; Malazia Cepero, District of Columbia International School; Daniela Ladino, E.L. Haynes Public Charter School; Rediet Alemu, School Without Walls; Leticia Banda, Roosevelt High School.
"I feel so blessed to have received this award," said Queenal Ayaba, one of this year's recipients. "It's such a relief to me now that my parents – who already work multiple jobs – won't have to worry about my education."
Ayaba, who came to the United States from Cameroon just four years ago, had never used a laptop or a telephone. She faced technological, academic and cultural challenges to achieve a 4.08 GPA, while mentoring fellow Cameroonian students at her school and excelling at myriad scholastic and extra-curricular activities.
"American University is proud to create opportunities for talented Washington, D.C., students to learn, lead, and help further our mission of advancing knowledge for society's gain," said AU President Sylvia M. Burwell. "In these uncertain times, the AU District Scholars Award is more important than ever as we look to continue partnering with the D.C. community and contribute to our shared success in powerful and meaningful ways."
Two of this year's AU District Scholars – Keirah Daniels and Daniela Ladino – participated in the School of Education's Dual Enrollment Program with D.C. Public Schools, an initiative of SOE's Teacher Pipeline Project, which aims to train young citizens to be the city's future educators. The Dual Enrollment Program offers high school seniors the opportunity to take education and teacher preparation-focused college-level courses at the university. Through the Teacher Pipeline Project, a pipeline of highly skilled, qualified and diverse teachers between AU and DCPS is formed. Students earn a bachelor's degree in education at no cost in exchange for a commitment to teach in DCPS. The Teacher Pipeline Project aims to increase teacher retention and address disparities in educational outcomes experienced by students in the District.
"The District Scholars Award will help to ensure that deserving local students have the financial support to attend AU's School of Education as part of the Teacher Pipeline Project," said SOE Dean Cheryl Holcomb-McCoy. "The award not only will be impactful and life-changing to the lives of its recipients, but to the lives of District of Columbia Public Schools' students whom they will one day teach and inspire."
The District Scholars Award reinforces AU's already deep ties to the Washington, D.C. community, and is an important part of AU's commitment to the Washington, D.C. community. AU's Changemakers for a Changing World strategic plan prioritizes expanding the university's relationship with communities in the District and enhancing experiential learning and research for students.