Arts
Experience AU Museum Summer Shows Online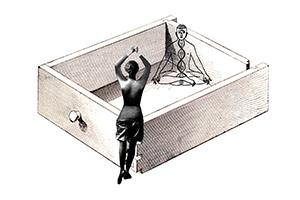 Although the pandemic is keeping many arts institutions closed nationwide, patrons and university community members can experience summer shows at the American University Museum at the Katzen Arts Center under the museum's initiative "AU Museum at Home." The following exhibits and virtual events can be experienced online now:
Without Borders features paintings by the Irish artist Brian Maguire in what marks the artist's first showing in Washington, D.C. The virtual exhibition shows paintings reflecting the results of international conflicts in contemporary life. It comes to AU Museum virtually from the headquarters of the United Nations in New York, and was previously shown in Rubin Centre, El Paso, Texas, and the Museo de Arte de Ciudad Juárez, Mexico. Maguire's commitment to class politics in painting led him to the femicides in Ciudad Juárez, an event that many of the paintings in the exhibit explore, through victim portraits based on family photos.
The virtual exhibit also includes early paintings, beginning with a self-portrait from 1986 and concludes with a painting completed last year. In between are architecturally sized works, such as paintings of ravaged buildings in Aleppo, memorials to lost immigrants traversing in despair from their journeys either on foot from South America, or by sea in the Mediterranean, shown alongside the portraits of Juárez femicide victims, and charcoal from life sketches captured on site at a Sudanese refugee camp. The selections were made with the artist by curator Lilly Wei, in consultation with AU Museum Director and Curator Jack Rasmussen. There are two online events associated with the exhibit:
Gallery Talk: Brian Maguire, June 25, 12:30-1:30 p.m. ET. Maguire and curator Lilly Wei will discuss Maguire's online exhibition. Featuring Jack Rasmussen, AU Museum director and curator, and Kate Meenan-Waugh of Solas Nua. Register to save your spot on Crowdcast: https://www.crowdcast.io/e/gallery-talk-brian
Blood Rising Online Documentary Screening. Blood Rising documents the stories of femicide victims and their families in Ciudad Juárez, Mexico, and features artist Brian Maguire. The screening occurs through a private Vimeo link, distributed by email on Friday, July 17 at 5 p.m. The video will be available for screening through Sunday, July 19 at 10 p.m. You must register before 5 p.m. ET on July 17 to receive the video link. Register online. Maguire spent three years working in Juárez on and off between 2010 and 2012. He spent time with the mothers of the victims, gaining their trust and learning from their experiences. From these meetings he painted a picture of the murdered person in his studio in El Paso, offering a deep sense of their spirit and personality and celebrating their life. After a period of time, he returned to the family or friends and presented the painting, and painted a much larger version to exhibit. These paintings are featured in a series of international exhibitions, the first of which was exhibited in the center of European Parliament in September 2012.  
Yuri Schwebler: The Spiritual Plane is presented by the Alper Initiative for Washington Art. Yuri Schwebler (1942-1990), the artist who transformed the Washington Monument into a sundial in 1974, posited that art moves through three planes: the mental, the physical, and the spiritual. Thirty years after Schwebler's untimely death, this memorial exhibition will revisit the various threads of his indelible conceptual works that operated in a space exploring the birth, death, and rebirth of ideas. Curated by John James Anderson. Gallery Talk: Yuri Schwebler, July 16, 12:30-1:30 p.m. ET. Join exhibit curator and AU Museum Director and Curator Jack Rasmussen. Register to save your spot on Crowdcast: https://www.crowdcast.io/e/gallery-talk-yuri
Who is She? Terry Braunstein features the works of contemporary artist Terry Braunstein, first curated by Claudia Bohn-Spector and Sam Mellon for the Long Beach Museum of Art in 2015. There is hardly a moment in any day when we are not bombarded with pictures from websites and other media. Braunstein collages these images into new, often startling, contexts, to create narratives that provoke us to find meaning in our lives. In her retrospective exhibition, Braunstein will be showing the original collages from which her exquisite and popular photographs were made. Spanning over 30 years, the exhibition features collages, digital prints, assemblages, artists' books, installations, and sculptures. Braunstein is an internationally recognized artist who has shown in museums and galleries in Spain, Italy, Russia, Israel, France, Japan, China, Pakistan, Chile, and across the U.S.  
Another Fine Mess is the latest chapter from artistic duo Dan Shipsides and Neal Beggs, artists based across Ireland, United Kingdom and France. Another Fine Mess was to be a new Shipsides and Beggs Projects exhibition—video, painting, interactive sculpture and audio work—deriving from their leftfield explorations of the terrains around the border between Northern Ireland and the Republic of Ireland with a wider extrapolation exploring the messiness of connections and migrations of culture, people, and textures, with particular interest in the reciprocity of Irish migration in respect to a foundling America.
The exhibition fell foul to COVID-19 and perhaps therefore in absence marks a time where everything changed. The crated physical work made it only as far as Dublin Airport whilst the video Where the Lines End and audio work The Crossings have moved on to absorb the new realties. The audio work explores the topography of the Irish border using mapping, computer programming and musical composition to create an audio work, as a vinyl disc, which transposes elevation data of the border into music, in a poetic sense, as though a record needle was dragged across the surface of the terrain. The video artwork captures much of the strangeness of the subject matter and the changing world thereafter. It initially draws from a road trip where the artists explored the borderlands by foot, van and canoe, re-treading the landscapes, mythologies and geologies of both a fluid place of imagination and a concrete place of fact. Completed during the lockdown era, both of these works absorb and display the rapidly changing effects of a global crisis.