Mayors of Chicago and Miami to Join Sine Institute of Policy & Politics as Distinguished Lecturers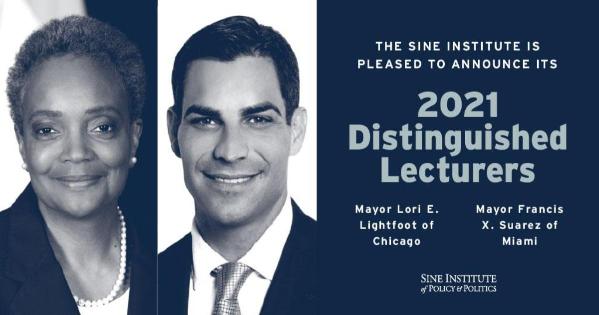 Mayors Lori E. Lightfoot of Chicago and Francis X. Suarez of Miami will join the Sine Institute of Policy & Politics at American University this year as distinguished lecturers. The Sine Institute of Policy & Politics is one of the nation's premier forums for the study and discussion of the most urgent challenges of the 21st century.  Convening renowned U.S. and global experts in national security, social justice, diplomacy, business, and the media, the Sine Institute plays an essential role in American University's commitment to raising the next generation of changemakers for a rapidly changing world.
"Cities and communities experience the effects of policy and politics every day, and mayors have front-line experience and insights that are critical to developing solutions to our most pressing challenges," said American University President Sylvia M. Burwell. "Mayors Lightfoot and Suarez continue the Sine Institute tradition of bringing problem-solvers to AU who help our community turn purpose into impact."
"Mayors Suarez and Lightfoot have demonstrated hands-on leadership at a time of unprecedented turmoil," said Amy Dacey, executive director of the Sine Institute of Policy & Politics. "As the Sine Institute's Distinguished Lecturers this year, their insights will help our community think critically about how we move forward from this tense and tragic time."
Lori E. Lightfoot is the 56th Mayor of Chicago and the second woman – and first LGBTQ person of color – to hold that role. Since assuming office in May 2019, Mayor Lightfoot has undertaken an ambitious agenda of expanding opportunity and inclusive economic growth across Chicago's neighborhoods and communities, advancing ethics and good governance reforms and worker protection legislation, and directing vital investments in education, public safety, financial stability, racial equity, and neighborhood development.
Under the leadership of Francis X. Suarez – the first of Miami's 34 Mayors to be born in the city – Miami has cut crime and cut taxes to one of their lowest points in more than fifty years, spurring an economic resurgence and expansion. Mayor Suarez has championed the integration of climate-adaptive technologies and economic policies across all facets of government as part of his Miami Forever Plan and pursued a package of affordable housing reforms that leverage federal opportunity zones and the activation of underutilized land to increase access to affordable housing and home ownership for working people and communities of color.
As an incubator for policy innovation, the Sine Institute is committed to bringing students together with national and global changemakers to search for common ground and cultivate solutions to today's most pressing challenges.
Since its inception in 2018, the Sine Institute of Policy & Politics has convened a wide range of discussions on women's empowerment, presidential elections, domestic and foreign policy, and the role of business in a civil society. Mayors Lightfoot and Suarez are joining Sine Institute's class of Spring fellows who will engage students and the AU community in wide ranging discussions about the world's and the nation's most pressing policy issues.
A university-wide initiative, the Sine Institute was made possible through a milestone gift of $10 million from AU alumnus, trustee, and entrepreneur Jeff Sine, SIS/BA '76, and Samira Sine, an advocate for women and children and a seasoned journalist.