2021 Films Across Borders Film Festival Presents Stories in A Changing World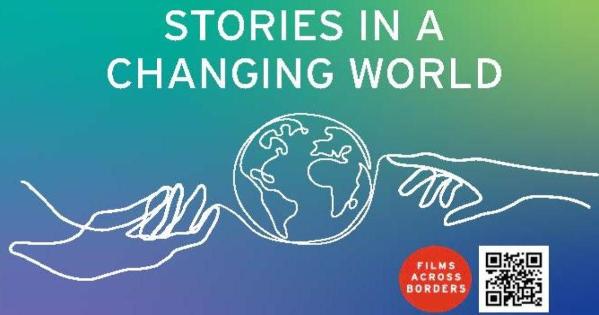 Films Across Borders, a showcase of critically acclaimed films, documentaries and shorts from around the world, returns for a seventh year this fall. The theme for 2021 focuses on Stories in a Changing World. The film festival is co-presented by American University in partnership with more than 20 embassies, cultural organizations, arts institutions, and environmental groups.
The 2021 series includes a diverse range of films – most free to the public and viewable on a variety of platforms from October through December. As additional selections are made, presenting partners will include new films to those currently listed on the series website -- FilmsAcrossBorders.org.
"This year's theme of Stories in A Changing World is especially timely given the challenges we face the world over. The series features stories of change, transformation, and renewal in all walks of life and across continents," said Nada Maalouf, Chief Advancement Officer, School of Communication at American University, who leads the film series on behalf of AU.
Films Across Borders: Stories in A Changing World kicks off October 5 with a discussion surrounding the award winning documentary "With Drawn Arms," which explores runner Tommie Smith's decision to raise his fist in protest of racial inequality when accepting his gold medal at the '68
Olympic games and the ramifications afterwards. Also featured in the documentary are civil rights legend and Georgia Congressman John Lewis (1940-2020), sports journalist Jemele Hill, cultural critic Nelson George, actor Jesse Williams, Megan Rapinoe, and Colin Kaepernick, among others. SOC Dean Sam Fulwood III will moderate the panel that includes the film's director Afshin Shahidi.
Launched in 2014, Films Across Borders raises awareness about highly relevant themes by combining international films and panel discussions with filmmakers and special guests.
"Audiences really enjoy the opportunity to learn more about these powerful films through the panel discussions with filmmakers and topical experts," commented Joanna Raczynska, film programmer at the National Gallery of Art and a founding partner of Films Across Borders. "We've had many compelling discussions the past few years when our film series focused on 'Stories of Resistance and Hope (2020) 'Stories of Water' (2019) 'Stories of Women' (2018) and 'Stories of Migration' (2017)."
Films Across Borders: Stories in a Changing World events are co-presented by the following organizations: American University, Anacostia Riverkeeper, Austrian Cultural Forum, Cultural Office of the Embassy of Spain, DC LaborFest, Delegation of the European Union to the United States, Embassy of Sweden, Embassy of Switzerland, Embassy of the Argentine Republic, Embassy of France - Cultural Services, Environmental Film Festival in the Nation's Capital, Goethe-Institut Washington, Immigration Film Fest, Italian Cultural Institute, Japan Information and Culture Center, Mexican Cultural Institute, National Gallery of Art, National Geographic, The Nature Conservancy MD/DC, Vital Voices Global Partnership, We Are Water Foundation, Women in Film and Video
###
About American University
American University leverages the power and purpose of scholarship, learning, and community to impact our changing world. AU's faculty, students, staff, and alumni are changemakers who shape the future from sustainability to social justice to the sciences. Building on our 128-year history of education and research in the public interest, we say 'Challenge Accepted' to addressing the world's pressing issues. Our Change Can't Wait comprehensive campaign creates transformative educational opportunities, advances research with impact, and builds stronger communities.