David Marchick Named Dean of American University's Kogod School of Business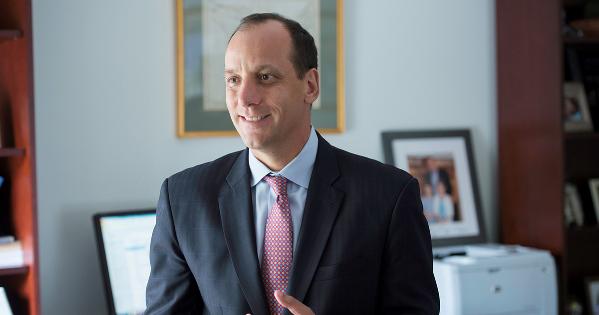 A seasoned public servant and distinguished business leader who served in two presidential administrations will take the helm of American University's business school. David Marchick, a prominent leader with decades of experience in global finance and private equity, public policy, and service, joins American University as dean of the Kogod School of Business. He most recently served as chief operating officer and senior Biden appointee at the United States International Development Finance Corporation (DFC). He previously spent 12 years as managing director at the Carlyle Group, where he was part of the firm's management committee and had broad responsibility for external engagements, including working with Carlyle's funds, investors, portfolio companies, and other stakeholders.
"I am honored to join such a distinguished group of faculty, staff, and students at a critical moment," said Marchick. "Now, more than any other time, business leaders need to be changemakers—adapting quickly to geopolitical events; supporting the health, safety, and access to health care for their employees; and investing in the communities where they operate. The Kogod School of Business, by drawing on all the strengths of American University, can play a key role in preparing future business leaders to be changemakers."
With nearly 2,000 students and more than two dozen undergraduate and graduate degree and certificate programs, the Kogod School of Business is a leader in business education and is known for its outstanding academic pursuits in sustainability; diversity, equity, and inclusion; entrepreneurship; and hands-on learning. The school's innovative pro bono consulting and sustainable investing programs provide students unparalleled resume-worthy, real-world business experiences. These programs have propelled Kogod in the national rankings, with a 37-point climb over the last six years in the U.S. News & World Report rank for full-time MBA programs (now #76). Kogod's MBA program was recently ranked as the #8 best green MBA by Princeton Review.
"David Marchick's diverse background in the private and public sectors and his extensive business experience will enhance Kogod's world-class programs," said American University President Sylvia Burwell. "A changemaker throughout his career, David will be an outstanding thought partner to our expert faculty and staff. He will help the Kogod community educate the business leaders of tomorrow by integrating cross disciplinary learning, as well as the incredible experiences the D.C. region has to offer."
Prior to his role with the DFC, Marchick directed the Center for Presidential Transition at the Partnership for Public Service. In this capacity, he advised President Biden's transition team, worked with senior White House officials, and engaged with more than 100 federal agencies. He also held several positions within the Clinton Administration, including leadership roles at the Department of State, the Department of Commerce, and the White House. Since 2019, he has served as an adjunct professor at Dartmouth University's Tuck School of Business.
"Dean Marchick brings to the role deep expertise in management, a strong commitment to educating the next generation of diverse business leaders, and extensive community engagement and development experience," said Provost Peter Starr. "I look forward to working with him to support the continued success of Kogod faculty, staff, students, and alumni."
Marchick received his JD from the George Washington University School of Law and holds an MA in public affairs from the LBJ School of Public Affairs at the University of Texas at Austin. He earned a BA in history from University of California, San Diego.
He will begin his new role on August 15, 2022.