SOC Faculty in Residence Retires
By Patrick Bradley
December 14, 2012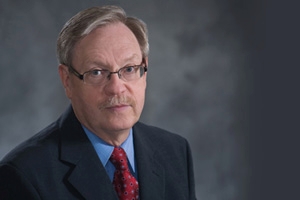 Memories on the Hall

As most students pack up and leave the residence halls for the holidays, one faculty member is leaving his campus home for good.

School of Communication professor Wendell Cochran has been a faculty member for the past 20 years and a faculty in residence since 2007. With the end of this semester, he is also ending his time at AU both in Campus Life and in the classroom.

Retiring to the western edges of Virginia, Professor Cochran looks back on his time as one of the few faculty who have had the opportunity to live alongside students in the residence halls.

"I've gotten to be more involved and understanding particularly what our undergraduate students' experiences are like," he says of his years in Nebraska Hall. "I've been able to participate more in events on campus...While I didn't get to attend as many [games] as I would have liked to, I became a season basketball ticketholder."

As part of his role as faculty in residence, Professor Cochran designed programming in Nebraska Hall and his latest one-semester stint in Anderson Hall. He recalls years of hosting finals study breaks with drinks and cookies as well as a recent panel discussion he arranged for the first presidential debate. The social media output for that event produced a trending topic on Twitter for Washington, DC.

Professor Cochran – who lived on campus with his wife – will always remember a recent night that underscored untimely humor of living in a residence hall.

"There was a memorable moment. The fire alarm went off in the middle of the worst night of Sandy, right at the height of the wind here," he shares with a laugh. "Dashing out in the midst of a hurricane, I guess that would be a memorable moment."

School & Communication

Aside from his duties as faculty in residence, Professor Cochran co-founded the online Investigative Reporting Workshop, which he will stay involved with into retirement. Working at a forward-thinking institution like AU's School of Communication afforded him opportunities to explore new avenues in journalism.

"It's been a terrific experience," he says. "We have a very strong professional orientation. We're trying to develop students that can eventually become leaders in the field, both in terms of practice as well as management and leadership. My faculty and staff colleagues have been terrific to work with."

With a career of more than 40 years working in and teaching journalism, Professor Cochran has collaborated with a number of staff and faculty members. As a result, he believes AU – nestled in the nation's capital – is the best option for those pursuing a career in journalism.

"I have studied, done, and taught journalism at other places to some extent. There's no question in my mind that Washington, DC, is by far the best place to do that," he explains.

Having watched the students during the presidential debates and their passionate reactions to major world events, Professor Cochran also knows there's something particular about the AU student community – it's something that adds to success of its members.

"Our students pretty much self select. That is, they see Washington and ultimately AU as a place where they would be comfortable that matches their interests," he says. "Our students want to be involved, want to work, want to do service. Most of them have something bigger than themselves in mind."

Parting Words

As he looks toward a retirement marked by his hobbies of gardening, photography, and woodworking, Professor Cochran has a bit of parting advice for Scott Talan, the incoming faculty member in residence who will replace him.

"I would encourage anyone who takes this on to understand that you're in a little bit of a different position. You're not a professor here," he says. "Taking the opportunity to see your students in other situations outside the classroom, every chance you get to do that I would encourage."

Surely it's these memories of moments with students outside the classroom – whether serving cookies, leading a panel, or outside in a hurricane – that he'll carry with him into his many years of retirement.