Achievements
What It Takes to Be a Great Place to Work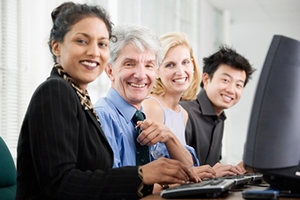 What makes an organization a "great place to work"? Ask around and you will get myriad answers – a workplace where the organization values each of its employees and everyone has a stake in the organization's success; an employer who offers opportunities and incentives to learn, develop, and grow; an employer who offers a rich benefits package and respects the work-life of its employees; an employer who is committed to paying every employee competitively and fairly; and an organization that stands for something that adds value in the world.
While such benchmarks often are associated with Fortune 500 companies, these criteria also are met by American University. AU celebrates diversity in the workforce; encourages personal growth by providing opportunities for training, education, and career development; respects the work-life balance of its employees by offering alternative work options such as flexible work arrangements; and features highly competitive employee health and retirement benefits.
Most employers will tout that they are a "great place to work," but the claim is validated when outside entities recognize an organization's efforts to create an exemplary work environment and supportive culture. Recently, AU was recognized by the American Association of Retired Persons/Society for Human Resource Management (AARP/SHRM) as one of the Best Employers for Workers Over 50, and was selected by Computerworld as one of the 100 Best Places to Work in IT. Computerworld also ranked AU among the best in their Overall Benefits category.
Assistant Vice President of Human Resources Beth Muha said, "I'm pleased by AARP/SHRM's recognition of AU as one of the Best Employers for Workers Over 50, and for our accolades in Computerworld's Overall Benefits category. As AARP statistics show, by 2016, one-third of the total U.S. workforce will be age 50 or older – this demographic is a growing segment of AU's workforce as well. In recognition of this trend, we've made concerted efforts to recruit and retain employees. We also offer highly competitive health and financial benefits, including innovative wellness programs - a factor that distinguishes AU from many of the rest of the Top 50 Best Employers."
"It is a great honor for our organization to be recognized as one of the best places to work," explained Chief Information Officer Dave Swartz. "The Computerworld recognition includes all industries, not just higher education. Of the top 100, there are only four that represent higher education, so we are one of an elite group."
He added, "For me, this recognition really is confirmation that something exciting is happening here. When I walk through the doors each morning, I can feel the positive mojo coming from my group. They are fully engaged and motivated in helping AU to address its most pressing needs. I feel it is an important part of my job to make sure my staff knows that AU truly cares about them. It is also important to provide well defined goals to align with, create a great environment for them to work, and recognize and reward their achievements. When you do all of this, it is a recipe for something great to happen."
The Best Places to Work in IT list was featured in the June 17 issue of Computerworld. The Best Employers for Workers Over 50 will be profiled in the August-September issue of AARP The Magazine.