Social Sciences
Everyday Mindfulness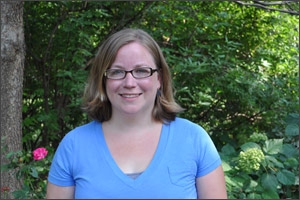 "Here and Now." If Lisa Carlin, PhD '13 had a mantra, this might be the one for her. Her research and life's work has been focused around mindfulness, the idea that we can experience the world for what it is without trying to change it. 
But what is mindfulness, exactly? "It is the awareness of the present moment without judgment," Carlin says, and this is precisely what she has tried to apply to her work. When she finished her PhD in psychology this past August, Carlin took a position with the Department of Veterans Affairs as a staff psychologist. She is working with the trauma services program, in charge of the women's track. The trauma services program is designed to help to teach veterans skills to cope with trauma and to learn how it influences their lives. The treatment is comprehensive and includes individual and group therapy as well as PTSD (Post Traumatic Stress Disorder) support groups, and family education, and medication management. Carlin says that incorporation of mindfulness practices is a key recovery tool for veterans and she often recommends it for her patients. The VA also offers Yoga Nidra, an active-breathing practice where focusing on something as simple as the flow of air in and out can help to bring awareness and mindfulness to practitioners. It can help veterans to better address traumatic experiences by decreasing anxiety and facing their fears and concerns more effectively. 
Carlin's interests in mindfulness started during her time as a master's and PhD student. She had always had an interest in trauma recovery and studying PTSD, and when she met up with psychology professor Anthony Ahrens who was researching mindfulness, it partnered well with her own interests and she began to link the two. In 2012, a study that Lisa co-authored with Ahrens was published in the journal Mindfulness, titled, "The Effects of Mindfulness and Fear-Inducing Stimuli on Avoidance Behavior." The study examined the mechanisms of avoidance behavior, or behavior where someone seeks to avoid situations or things that make them uncomfortable or anxious, a symptom seen in many anxiety disorders that often increases anxiety levels. The study wanted to find out if people engaged in mindfulness are less likely to employ avoidance behaviors. Test subjects were asked to watch a scary scene from the film The Silence of the Lambs and then asked to work on a difficult math problem. Subjects who engaged in a mindfulness exercise before the scary scene (a 15 minute exercise of breath awareness) worked at the difficult math problem much longer, whereas those who did not engage in a mindfulness exercise prior to watching the scary scene abandoned the problem much more quickly. 
So how can we implement mindfulness in our own lives? For Carlin personally, mindfulness means being aware of her breathing during different basic activities throughout the day. She says, "I have it cued to certain parts of the day, like when I wash the dishes. I remind myself to check-in." This means feeling the sensation of the water and the soap, smelling the leftover food on the plates, focusing on the act of washing the dishes, and blocking out the rest of the clutter that can cloud our minds and make us lose focus, things like bills, errands, emails, and all other daily issues that distract us from the present moment. "One of the reasons why I like this mindfulness approach is that it can be done anywhere." The next time you find yourself avoiding a particularly uncomfortable situation, just breath, relax, and remember to "check-in" to the present moment. You might find that this new state of mindfulness can help you tackle new challenges you never thought possible.