Family Sponsors Disability Scholarship
By Patrick Bradley
November 15, 2012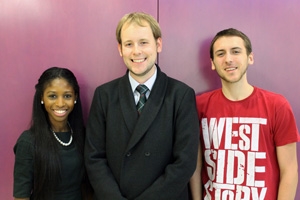 Family to Family

Bogdan Vitas may have graduated from AU in 2010, but he and his family are still finding new ways to get involved and support the lives of current students. Vitas and his family, who have strong ties to AU's Disability Support Services, established the Vitas Family Scholarship.

Having majored in International Studies and Literature, Vitas received grants and scholarships while at AU. He now sees his family's scholarship as a small way to make a difference for students and help them succeed.

"It's a way to give back," he says. "If you help someone cover their books, then maybe they can go home for the holidays, see a few movies, attend the Founder's Day Ball, or so many other things."

While it may not be the biggest financial award, sophomore recipient Destiny Jackson says the family-established gift resonates through generations of her own family history.

"It's a priceless opportunity, and I'm grateful for it," she says. "With my grandfather being a former sharecropper, education is definitely something my family values. Whether it's one penny or a million pennies, any opportunity to help someone so they're not worse off is amazing. I will forever be grateful."

Number of Reasons

DSS awards the one-semester scholarship through an application process that asks students how the scholarship will help their academic careers.

"It's a combination of factors between financial need and the strength of their application," says DSS's Nicole Schoeb. She combs through applications with her colleagues in DSS before working with financial aid to determine the best candidates.

"There are people who come to AU [for whom] even going out for pizza on Friday night is hard," Vitas explains. "Ideally, these are the folks we'd like to help out."

But for Vitas, this book scholarship – establish in the fall of 2010 – is just the beginning of his family's commitment to AU students. He's currently in talks with various companies in the hope of raising funds for something bigger. Currently, a national bank that employs Vitas' mother has been matching the family's donations for several semesters.

"What we're trying to do is turn it into an endowment fund. That's what we're working toward," he says. "Right now the scholarship covers books. Maybe we can develop it into something more than that."

Still, even without the endowment, College of Arts & Sciences junior Alex Cvitan appreciates the extra push to help fuel his studies, which directly relate back to his disability.

"I'm extremely honored to receive this scholarship," he says. "I was diagnosed with Crohn's disease when I was nine. It's actually the reason I became a biochem student and am doing research now. I was just incredibly surprised when I received this [scholarship] because I knew there were so many other students that applied. I'm really thankful for it."

Thanks & Giving Multiplies

When asked about the support he himself received from Disability Support Services while at AU, Vitas is quick to praise the department's unstinting aid.

"The help I received from DSS was invaluable," he says. "I can't stress it enough. They really supported me throughout the time I spent at AU."

It's this deep appreciation that moved his family to create the scholarship, and that spirit of thanks and generosity has spread. Several other families are now considering the creation of their own scholarships for students involved with DSS.

Vitas hopes these efforts will multiple into more aid for AU students. Now working for Homeland Security as a writer/editor, he knows an AU education can open doors to a brighter future for anyone.

"If you're looking to work and live in the DC area, an AU education is a solid investment," he says. "I've met AU alums at every internship and job I've held since coming to Washington. Our alums are driven people who reach out for the world around them. It is an amazing community to be a part of."

This scholarship, then, represents a defining feature of the AU experience – a community that continually lifts up its members, whether on campus or in the professional world beyond graduation.