Business
Alums Honored for Service, Dedication to Kogod Vision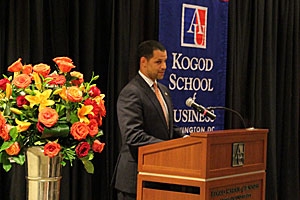 From the elegant cocktails to the Mod décor of the Katzen Arts Center Rotunda, the 13th Annual Dean's Dinner paid homage to the 1960s golden era of advertising with its "Mad Men" theme on April 18.
The annual cocktail reception and dinner event was a thank-you to those who have supported Kogod during the past year.
Inspired by AMC's television drama, the evening's theme was inspired by Kogod's new MS in Marketing graduate degree program.
The highlight of the evening was the presentation of two awards to standout alumni by Dean Michael Ginzberg.
Alumni Award
The 2013 Dean's Alumni Award, which honors an alumnus who has distinguished himself in service to the school, community, or professional field, went to Jeff Franco, MBA '05.
Franco is the vice president and executive director of City Year Washington, D.C. The education-focused nonprofit organization aims to keep K-12 students in school.
"I'm so honored to have received this award," Franco said. "Kogod's vision that profit and purpose are not at odds is so in line with my professional and life goals, and I'm so proud to give back to the school."
Franco has become a frequent participant in Kogod initiatives, such as the recent Kogod Network career event. He also initiated a partnership between Kogod and City Year, through the "Give a Year" initiative. Kogod has made a limited scholarship commitment to eligible City Year corps members, program alumni, or staff members who have been admitted to a graduate business program at Kogod.
"Kogod definitely walks the talk, so to speak. It proves its commitment to purpose on a regular basis," Franco said.
Community Leadership Award
Ginzberg also presented the 2013 Community Leadership Award to David Wajsgras, MBA '89. The award honors individuals who have demonstrated exceptional leadership and have made a significant impact in their organization and community.
Wajsgras is senior vice president and chief financial officer of Raytheon. In 2012 he was named to The Wall Street Journal's list of the 25 best CFOs of the year; he was the only one included from the aerospace and defense industry.
During his time at Raytheon, Wajsgras has also been instrumental in developing a formal recruiting relationship between the company and Kogod, providing internships and full-time positions to undergraduate and graduate students. Wajsgras is also the executive champion of Raytheon's Persons with Disabilities Employee Resource Group, which works to facilitate a fully accessible and supportive workplace for all employees.
Wajsgras currently serves on the Kogod Advisory Council and the Board of Trustees of Roger Williams University in Bristol, Rhode Island, and is a member of the Financial Executives Institute.
"The quality of the education [I received at Kogod] provided me with a solid academic foundation. It truly helped me advance throughout my career," said Wajsgras. "I am very pleased to be an active member of the Kogod [community], doing what I can to assist in the near and long term success of the program and its students."