Business
Alumnus Finds Career Fit in New Finance Entertainment Division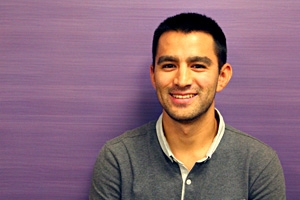 Jonathan Louey was one of the lucky ones to land a first job right after graduating from Kogod. He spent two years as a junior financial analyst at a global investment firm researching portfolio options and building financial models.
But when his company downsized, Louey decided to take the opportunity to marry his interest in entertainment with his financial training and joined the corporate finance division at the newly founded Condé Nast Entertainment division.
Hedge Funds to Online Media
When Louey, BSBA '10, joined Condé Nast at the beginning of the year, the new Entertainment group, devoted to online video content, was just getting off the ground. Louey was among the first 20 employees hired and now the new division employees nearly 70 and has multiple new projects in the works.
"There were so few of us when I started, really just me and my boss in the finance department, that I got to wear a lot of different hats and try a lot of different jobs," he said.
Louey was always interested in digital. Even as a junior financial analyst at Artio Global Investors, his first job after Kogod, he was drawn to the technological investment opportunities. When Artio downsized his division, Louey looked for a position with more flexibility.
"I learned a lot [at Artio], it was a great first job, but the biggest lesson was learning that I didn't want to stay in investment management," he said.
"Everyone Needs a Numbers Guy"
While it isn't what he expected to be doing with his degree, Louey's position at Condé Nast has made him a part of a team building something new and exciting.
"It's been so fulfilling to see [the division] grow from basically zero to something that's going to be really big," he said. "We all see clear results, either people love our product or they hate it and when they love it I get to say 'hey, I was a part of that,' even in an indirect way."
Louey hopes his experience will be an example to other finance students, particularly those who may harbor interests beyond the mainstream.
"Don't be afraid to follow your outside interests, whether they're in film or music or sports," he said. "That's the absolute beauty of corporate finance—everyone needs a numbers guy."
Working so closely with other parts of the division has also had another, unexpected, impact on Louey: a boost in personal creativity.
"It's been so interesting coming to work and being surrounded by creative people instead of just other numbers people," he said. "I've definitely noticed myself becoming more creative, both professionally and personally, and that's a great feeling."