Communications
Lessons Learned in Democracy and Education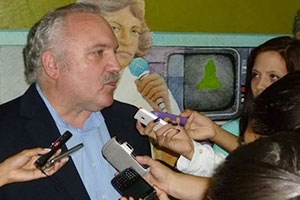 American University professor Rick Rockwell, the director of the School of Communication's International Media program is constantly reminded that education, especially in the international sphere, is a two way street.
"Journalists in Venezuela taught me how to say democracy properly," Rockwell confesses about a week-long lecture tour of that South American country this semester. "In some of my speeches, I was putting the emphasis on the wrong syllable in Spanish. After one of my speeches the leader of a local journalism group pulled me aside and gave me a quick refresher course in pronunciation."
But there was more to the lesson. "I came to Venezuela to speak about the importance of journalism and free speech to democracy. But the journalists there taught me that you have to go beyond words to bravery," Rockwell adds. 
Government pressures against independent media operations are increasing, Rockwell says. Many of the journalists he met during his trip pledged that despite the government's economic and political pressures they will continue to work towards a more transparent democratic system in Venezuela. Meanwhile, others are leaving the profession and some media groups are selling their operations to supporters of the current socialist government.
As the executive producer of "Latin Pulse,"a weekly online radio program, Rockwell also used the travel opportunity to produce a program from the capital city of Caracas. It included some of the views of journalists about the quality of free speech in the country. "Latin Pulse," which has a weekly audience of over 120,000, is produced at SOC and some students in the International Media program are part of the production team. It is supported by the university's Center for Latin American & Latino Studies (CLALS). .
Rockwell notes that such trips are essential in his role in leading the International Media program, so he can see first hand what is going on in media globally and bring that knowledge back to students at American University. 
Rockwell brings the world to his students in other ways, as well. This fall, he hosted a group of radio journalists from El Salvador on American University's campus. Rockwell led several days of workshops for the Salvadoran journalists aimed at improving their productions and to give them a stronger background in the ethics of non-partisan journalism.
"This group had just started a new radio network, funded by the Salvadoran National Assembly. They are attempting something similar to a Salvadoran version of C-SPAN," Rockwell explained. Those discussions were also instructive for Rockwell, as he admits learning how difficult it is to discuss the concept of objectivity with journalists coming from a culture where journalism is almost always tilted by partisan politics. 
"Fairness, equity, and the concept of equal time," Rockwell noted, "even the system in the United States has drifted away from these basic fundamentals of objectivity. So it is difficult to provide the best examples."
Rockwell will be bringing these recent experiences to his class on media ethics next semester and his work with journalists in El Salvador and Venezuela will also inform his other courses that deal with global free speech issues down the line, including the course, Topics in International Media: Democracy & Media in Latin America. 
Much like the video conferences he held with Afghan journalists, Rockwell believes sharing these cross-cultural educational experiences is part of the foundation of the International Media program at American University. And these educational experiences often build on one another. The curriculum Rockwell used with both the Afghan and Salvadoran journalists was based upon his radio work with journalists in Liberia earlier in 2013. "Cross-cultural communication is always a process of learning and adapting," Rockwell added.