Business
Corporate Social Responsibility at Heart of 22nd Annual Kogod Case Competition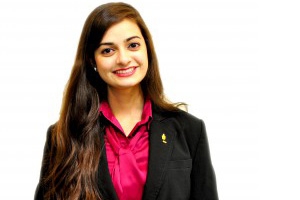 The 22nd annual Kogod Case Competition is officially underway. Open to both undergraduate and graduate students, the competition promotes hands-on learning and innovative thinking while putting students's communication skills and problem solving abilities to use.
Students gained access to the case at midnight on Tuesday, giving teams just three days to address FIJI Water's sustainable growth strategy, focusing on the company's desire to be more socially and ecologically responsible. On Saturday morning, the teams will present their proposed solutions to a panel of judges.
This year's case highlights the trend towards companies taking a more active role in social responsibility—a focus similar to Kogod's belief that profit and purpose are not at odds.
Competitor Nida Ali, BSBA '15 and a member of a winning team last year, shares her first impressions of the unique case.
This is the first year the case has focused so heavily on a company's social responsibility. What do you think this says about the growing trend towards corporate social responsibility?
I must say, I was a little surprised when I realized this case was not finance-oriented [like past cases], but it makes sense because corporate social responsibility (CSR) is a growing concern. It encompasses not only what companies do with their profits, but how they make them, taking it way beyond just philanthropy. So, CSR really just highlights company ethics and enhances brand image in the long run.
The case examines the marketing campaign of FIJI Water, which touts the company's dedication to being environmentally friendly. Many environmental groups insist the company's claims are untrue. Where is the line between marketing and "green washing," as it's called in the case?
Companies claim to be "eco-friendly", "natural", or "green" to promote themselves as an entity taking full responsibility for their actions. However, I think there is a fine line between "green washing" and "green marketing." While green washing refers to misleading claims made by the company about the green, sustainable, eco, carbon neutral, and planet friendly aspect without any concrete evidence to back this up, green marketing is the communication of a genuine sustainable product or service to ensure the business is on the right track.
Does a company's level of social responsibility affect your purchases? If so, why?
I personally respect companies that put efforts towards CSR because it's not easy to implement. Being socially responsible can be costly for businesses, especially if it means purchasing and installing highly efficient equipment or establishing a particular strategy. In purchasing a product or service, a company's CSR contributes to a "feel good" factor as it assures that my demand for a product/service is not causing detrimental damage to the other side of the world.
Has this case changed your view on bottled water or the impact exports and imports have on the environment as a whole?
I wouldn't say it has changed my views as such, mainly because I didn't have vast amounts of knowledge on this issue. [My knowledge] was limited to the concept of having plastic bottles and how that impacts our environment. However, after reading the case you realize there is more to it than that—I was looking at the bigger picture and ignorant towards the fine details. You don't think of all the issues and costs related to buying bottled water when you buy it, simply because it's a necessity you take for granted. But yes, I will say that this case has shed light upon some key concerns and has raised questions about the impact it has on our environment, not so much for us right now, but for the next generation.
Last year, Bloomberg Businessweek ranked Kogod "Best in Sustainability." Do you foresee a bigger role for sustainability practices in the future of business?
Definitely. Companies are now hiring for sustainability development positions. This department is fairly new and will have great scope in the future. There are bigger opportunities for businesses in this field, mainly because it has become a need and a necessity for the corporate world.