Greetings from Chip Griffin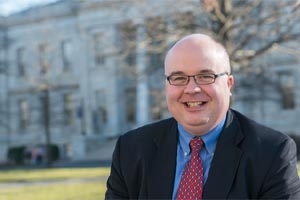 One hundred years ago, President Woodrow Wilson helped to dedicate American University. Unless you're the young lady who celebrated her 80th class reunion at the Golden Eagles Luncheon on All-American Weekend last year, you can't say where you were on May 27, 1914.
As AU Eagles, we carry on that legacy more than a century later. Our alma mater was shaped by Presidents who authorized the creation of the university and served on its Board. We have hosted Presidents as they delivered speeches that gained worldwide attention. Former Presidents have come to university events to share their wisdom and experience.
Perhaps in the just graduated Class of 2014 there's even a future President in our midst.
As we remember the dedication of AU, this month's newsletter also features a story about two Eagles dedicated to each other. Gerry and Joni Sommer recently returned to Mary Graydon Center to commemorate the day 50 years earlier when they first met on the stairs to that building on the Quad.
Why not share your own story of dedication to AU or someone you met on campus? You can visit the AU Alumni Association's Facebook page to share your stories, photos, and memories with fellow Eagles.
Enjoy your summer!

-Chip