Alumni
Honoring AU's 2013 Alumni Award Winners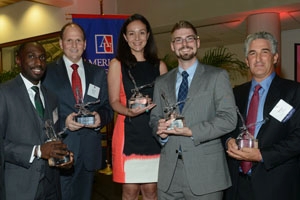 American University is known for producing outstanding alumni who add value to their communities and have global impact. As part of this year's All-American Weekend, we celebrated the achievements of five alumni who do just that.

Dean Jay Factor, Kogod/BSBA '97, received AU's Alumni Achievement Award. Mr. Factor was co-founder, chairman of the board, and chief executive officer of Smashbox Enterprises, which included Smashbox Studios and Smashbox Cosmetics before it was sold to Estee Lauder in 2010. The company included a photo studio, modeling agency, production company, and cosmetics line before Estee Lauder acquired the company in July 2010. After the sale of Smashbox, Mr. Factor co-founded Lindbrook Capital, a boutique investment advisory firm. He is now an advisor and investor in start-up companies in Los Angeles and beyond.

"I cherish the years I spent at American," Mr. Factor said. "My business classes here gave me the foundation to start an international business."
 
AU's Alumni Recognition Award, which honors alumni for service to a philanthropic mission, was accepted by Kevin Hagan, SIS/MA '97. Mr. Hagan is president and chief executive officer of Feed The Children and works to provide hope and resources to those without life's essentials. Internationally, the organization works in 17 countries and the United States, providing 350,000 children hot, nourishing meals every school day while working with their families to build self sufficiency through its child-focused community development model.

"My American University education in the School of International Service opened my eyes to the complexities of global issues and instilled in me a set of core values, which I needed to address the world's deepest social ills," Mr. Hagan said at the ceremony.

The Alumni Eagle Award, which recognizes alumni for outstanding service to the university, was awarded to Judi Byers, Kogod/BSBA '04, CAS/MS '12, director of admission at the Kogod School of Business. Throughout her career at Kogod, she has worked tirelessly to bring the best and brightest students to American University, raising the status of the business school and the entire university. On accepting her award, Ms. Byers thanked the university and her family and friends for supporting her in doing the work she loves.

Two members of the class of 2009 accepted Rising Star Awards during Saturday's event. The Rising Star Award recognizes young alumni (those who received their undergraduate degree within the last 10 years) who are already making significant contributions to greater society through professional or philanthropic work.

David W. Simnick, SPA/BA '09, co-founder and chief executive officer of SoapBox Soaps, uses his entrepreneurial venture to help save children's lives around the world. Soapbox retails health and beauty products made in the U.S., and donates significant portions of its income to charity. Mr. Simnick attributes his success to being a part of AU's School of Public Affairs Leadership Program and the guidance of its director, Professor Margaret Marr, and SPA's assistant dean, Margaret Weekes.

Jonelle Williams, SPA/BA '09, is deputy executive director at Sierra Leone Policy Watch, Inc. A native of Sierra Leone, Mr. Williams fled that country to escape civil war and now works to improve the lives and communities of those in his home country.

An active AU volunteer, Mr. Williams said in accepting the award: "I do not stand here alone. My path here this evening to accept this award was made possible by the sacrifice and commitment of my friends, coworkers, and American University, who pushed me to my limits."
Selected annually from nominations submitted by faculty, staff, and AU alumni from around the world, these awards are the highest honors presented by the Alumni Association.