On Campus
Class of 2016 Welcomed at Convocation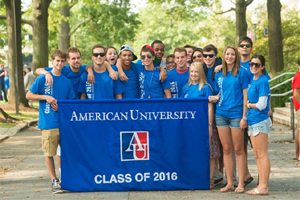 American University marked the start of the 2012-13 academic year August 24 at its annual convocation, an always-uplifting program that officially welcomed the Class of 2016 to campus.
It took 17 minutes for the more than 1,600 freshmen and transfer students to walk through the Bender Arena lobby, where faculty, staff, and their fellow students clapped, cheered, and shook noisemakers the entire time.
Once seated inside, the newest Eagles heard from a variety of speakers who aimed to challenge and inspire them.
"What happens during your time here is all up to you," student government president Emily Yu '13 told the crowd. "It starts right here and right now. You get to decide your academic pursuits, what type of community member you want to be, what issues you want to advocate for, and you'll even start laying down the foundation of who you'll be years down the road."
The Class of 2016 includes students from 48 states and 40 countries. More than 10 percent of them are the first in their family to attend college.
"Convocation is a day of mutual promises, things that students, faculty, staff, and alumni will strive to accomplish together," AU President Neil Kerwin said. "Those promises can be simply stated, but they're going to require the full measure of all of us if we're going to do them well. Our promise to you, our students, is that you will leave us truly educated."
With an average SAT score of 1,257 and a GPA of 3.72, these students are used to academic success. But over the next four years, they'll be challenged in new ways.
"We at AU strive to transcend the boundaries of disciplines, geographic borders, and the professions, and we do so with the goal of producing thoughtful and educated citizens prepared to impact on his or her respective field," Provost Scott Bass said.
Professor Richard Sha teaches courses in Nineteenth-Century Literature, especially British Romanticism, and in Asian American Literature. He is writing a book titled "Imagining the Imagination: Science and British Romanticism," for which he has received a 2012-13 NEH Fellowship and a 2008 Benjamin Franklin Research Grant from the American Philosophical Society. The Department of Literature professor was named AU's 2012 Scholar-Teacher of the Year, and at convocation he delivered a speech that drew from history's great philosophers and writers.
"Whereas opportunist has a distinctly negative connotation in the West, in Chinese it simply means 'door, open, enter,'" he said. "Now that you're here at American University, be an educational opportunist. I suggest you [do so] by reveling in your wonder like wonder [opened] doors of perception, wonder opened doors to knowledge. Remember that an open door is just an empty space unless you pick yourself up and walk through it."
While the band played AU's fight song and thousands of voices united as one, it might have been tough for the 18 year olds in the crowd to imagine their graduation day four years from now. But as the longtime faculty, staff, and alumni in attendance understood, May 2016 will be here in the blink of an eye.
"When you enter this arena for your own commencement, over a time that you will find all too short, you can tell yourselves that you're taking away all that this great university has to offer, that you've met the sternest of tests we've presented to you, and that you're embarking on a lifetime as alumni of American University prepared to do well and prepared to do a great deal of good," Kerwin said.