Education
AU Strengthens Ties to Community
by 'Working with Washington'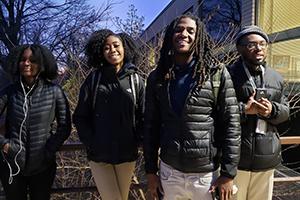 Many of her classmates are contemplating majors, careers, and the college courses they will take in the fall, but Chloe Ifill is already a few steps ahead.
Ifill, a senior at Wilson High School in Northwest DC, plans to teach English—her favorite subject—after she graduates from college. Every Monday and Thursday afternoon—the days she is not interning at the Fox Corporation—Ifill is progressing toward that goal, visiting AU's campus to take a School of Education (SOE) class, Social Justice in Urban Education, as part of the university's Dual Enrollment Program with DC Public Schools (DCPS). 
Now in its second year, the program—the only one in the DC area that focuses on education and teacher preparation—allows cohorts of up to 10 DCPS seniors to enroll in two SOE courses, one each during the fall and spring semesters. The 2019–20 cohort kicked off the academic year with Schools and Society, which explores topics from finance and governance to desegregation, redlining, and the differences between public and charter schools. Taught by Traci Dennis, director of undergraduate teacher education at AU and a former curriculum manager with DCPS, the courses have proven useful to students navigating the stresses of senior year like college applications and standardized testing.
"I've liked unpacking the core curriculum of modern-day teaching and high school. I really enjoy that because that's what I've learned and gone through," Ifill says. "We've talked a lot about the SAT and the reasoning behind why schools are going test-optional now. It helps me understand things from a different perspective and appreciate school a little bit more."
AU admitted two dual enrollees from the first cohort into the 2019–2020 freshman class. Four high schoolers from the current group (pictured, from left: Ifill, Keirah Daniels, Desmond Curtis, and Aaron Jackson) have applied for admission. But regardless of where they go to college, all the participants say they now have the confidence to succeed in higher education.
"It's fascinating: When those who have not had a direct encounter with college first come to class, [they] are very self-conscious and some of them are intimidated," says Olatokunbo (Toks) Fashola, SOE research professor and faculty coordinator of the Dual Enrollment program. "College is like this big myth, but after a few classes, they realize, 'Oh, the college students are smart, but so am I.'"
Working with Washington
The Dual Enrollment Program is one of many ways in which AU has reinforced its ties with the DC community.
AU's five-year strategic plan, which marks its first anniversary this month, underscores the university's commitment to "working with Washington" to establish and strengthen our partnerships—in education, arts and culture, and economic development—with current and future changemakers who live and work in our backyard.
In fall 2020, AU will welcome its first cohort of District Scholars: 10 high-achieving students from DC public or public charter schools who will receive $3 million in full scholarships. The university is also working to establish an AU-DCPS Teacher Pipeline, which will allow DCPS graduates to earn a tuition-free bachelor's degree in education from AU with a five-year commitment to teach in DCPS after graduation.
"AU is committed to providing opportunities to DC students, and President Sylvia Burwell and the board are committed to being a resource for these students and making sure that they know that they can have a home here at AU," says Ed Fisher, AU assistant vice president of community and government relations. "If they want to stay in DC, this is another opportunity for them to look at AU and all of the programs that we have here."
Over the next four years, the District Scholars Program will grow to 40 students. The Dual Enrollment Program, too, plans to expand its pool of students in the coming years.
"As we create this deeper relationship with DCPS, I think there's almost no limit to what we can do, including taking some of the research that we do—much of it in the School of Education, but also in other programs—and figuring out how we can support our work in the classroom and support teachers," says Seth Grossman, Burwell's chief of staff and counselor and sponsor of the Working with Washington initiative. "As students who are in District Scholars go through AU, hopefully it will create a virtuous cycle where we're also figuring out ways to engage and help those students who are going back—hopefully into the DC community. There's a lot of opportunities as we build that cohort and develop that ongoing relationship."
Last week, AU announced that SOE will provide an independent analysis of IMPACT, DCPS's teacher performance evaluation system.
AU's achievements and partnerships in the Washington area also extend beyond the classroom:
The Community-Based Research Scholars program enables nearly 40 students to partner with and provide technical assistance to local nonprofits to explore everything from literacy to homelessness.
The AU Museum received more than 9,000 works of art valued at $29 million from the Corcoran Gallery of Art in May 2018. The first exhibit featuring the historic acquisition, Moves Like Walter: New Curators Open the Corcoran Legacy Collection, which opened in fall 2019, was curated by 18 graduate students from the College of Arts and Sciences.
The university launched a community advisory board for the Humanities Truck, a converted delivery vehicle that connects Washingtonians to the humanities through research and storytelling projects and exhibitions.   
AU has collaborated with the Greater Washington Partnership to establish a digital technology generalist credential program at the Kogod School of Business and School of Public Affairs that will help undergraduate students develop the skills they need to compete in today's economy.
 'The Most Important Job'
As she began her Dual Enrollment coursework at AU last fall, Ifill experienced waves of confidence and apprehension. She had taken AP classes, participated in Socratic seminars, and engaged in group work at Wilson, but her new classmates—including AU students—were older and more experienced.
"I felt like I stuck out. And then when (Professor Traci Dennis) would give us group work and talk to the other people in the class, they didn't even notice that I was in high school," Ifill says. "That made it easier for me to say what I wanted to say."
Ifill won't embark on her full-time college career for another six months, but there is already a poise about her, honed over two semesters in an AU classroom.
"I want to learn as much as I can and be able to apply that to wherever I go," she says. "With teaching, I feel like I can make more of a difference. That's the most important job there is, and it's underrated. That's why I want to do it."