AU Ranks Among Top Schools for Peace Corps Volunteers for Third Straight Year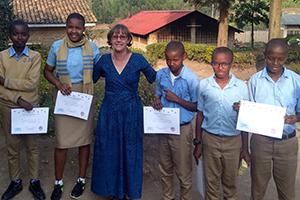 Kristina Thompson, MA/CAS '00, served in the Peace Corps in Benin in West Africa in the 1990s before coming to American University to earn her master's degree in the International Training and Education (ITEP) program. 
After 17 years in AU's International Student and Scholar Services Office, Kristina embarked to Rwanda for her second term of Peace Corps service—a deep commitment shared by AU alumni that once again is reflected in this year's rankings of the universities and colleges that produce the most Peace Corps volunteers. 
For the third consecutive year, AU has been ranked No. 2 among medium-size schools on the Peace Corps' 2020 list of Top Volunteer-Producing Colleges and Universities with 48 Eagles serving worldwide. Since the agency's founding in 1961, more than 1145 alumni from AU have served abroad as Peace Corps volunteers.
"The Peace Corps Prep Certificate program empowers our students to develop specialized expertise in community service and in their academic work," said Stephen W. Angelsmith, Director of the Peace Corps Prep Program at AU's School of International Service. "In addition, they gain valuable experience and skills while working with a Returned Peace Corps Volunteer mentor in preparation for future international service roles."
Thompson says her experiences with AU and in the Peace Corps have enriched each other. After spending many rewarding years supporting the university's international students and watching them live out its ideal of putting ideas into action and action into service, she wanted to take what she had learned to deepen her understanding of cultural adjustment and educational successes and challenges outside the US. During her second stint as a Peace Corps volunteer, she has spent the past two years teaching English to eighth graders in a Rwandan secondary school.  
"I have used every cross-cultural communication theory that I learned in my ITEP classes and practiced in my work at AU. As I struggled to learn basic Kinyarwanda (the Bantu language spoken across Rwanda), my respect grew even greater for international students for whom English is the second, third, or even fourth language, but who succeed academically in English despite the challenges," Thompson says. 
More than 240,000 Americans of all ages have served in 142 countries worldwide since the Peace Corps was established by President John F. Kennedy in 1961. Each year, the Peace Corps ranks its top volunteer-producing colleges and universities according to the size of the student body. AU has been included among the top volunteer-producing institutions in its category for each of the past 15 years. 
According to the Peace Corps list, the District of Columbia ranks No. 1 among states and territories with the highest number of Peace Corps volunteers per capita, with 128 volunteers from the District currently serving worldwide and 2,512 District residents who have served since 1961.
"These schools are institutions that emphasize being global citizens and service-minded students," said Peace Corps Director Jody Olsen. "I am excited to know the graduates coming from Peace Corps' Top Colleges are using their skills to make a positive impact on their communities at home and abroad."
The annual rankings are calculated based on fiscal year 2019 data as of September 30, 2019, as self-reported by Peace Corps volunteers. View the complete 2020 rankings of the top 25 schools in each category here.