Achievements
A Celebration of You 3,000 Students Tune in for Virtual Commencement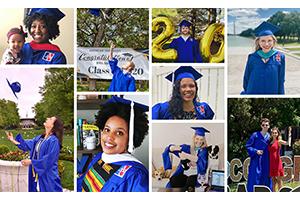 It was the culmination of her college career, a day four years in the making, and Diana Ochoa wasn't sure how to celebrate. 
Like most events and plans in the wake of COVID-19, the public relations major's senior year had changed—quickly. Ochoa, SOC/BA '20, didn't know it at the time, but the Friday before spring break was her final day on campus. 
"I think none of us were expecting it. It was kind of an abrupt goodbye," Ochoa said. "But I was already in the mindset that I was graduating soon, and I was going to make the most of it. Thankfully, I did."
She compiled a senior portfolio and designed PR activation ideas for Marriott in Professor Pallavi Kumar's capstone course. She wrote a heartfelt column recounting her PR education for a class with Professor Jason Mollica. And when it came time to plan an unorthodox celebration for AU's virtual commencement ceremony on May 9, she and her family successfully improvised. 
The Ochoas brought out cake, champagne, flowers, a festive mylar balloon, and a fully charged MacBook to watch the celebration in their Rockville, Maryland, home. Ochoa's extended family, including her grandparents from Nicaragua, joined the party through Zoom. 
On Saturday, Ochoa, one of 3,000 tassel-turning students, became the second member of her immediate family to graduate from AU, joining her mother, Magda Sobalvarro, CAS-SOC/BA '87. She will spend the next few weeks figuring out the next step of her PR career, cherishing time with family, and reminiscing about her time at AU during her daily walks.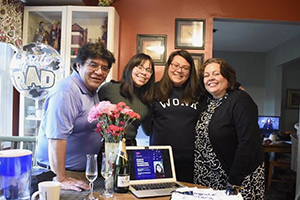 Diana Ochoa, SOC/BA '20, celebrates her graduation at home with her family.
"It has been a whirlwind these past four years. I just love slowing down and reflecting," Ochoa said. "I wish we knew when things [will return] to normal, but we don't, so I've been staying positive. I think that's all you can do right now."
"A way out of no way"
The familiar wail of bagpipes kicked off AU's 139th commencement ceremony, but instead of reverberating off the rafters of a packed Bender Arena, the sound met graduates like Ochoa as they carried out individual celebrations in kitchens and living rooms around the world. 
Spring 2020 has been a time of sudden closures, postponements, and sendoffs, but President Sylvia Burwell reminded students that their Saturday commencement wasn't a goodbye, but rather, a see-you-later. 
"While I am disappointed that we cannot be together in Bender Arena, today is still a celebration of you," Burwell said. "And, I look forward to welcoming all our spring 2020 graduates back to campus in December to celebrate your achievements."
Commencement speaker Henry Louis Gates Jr., a renowned African and African American history scholar and creator and host of the PBS show Finding Your Roots, celebrated the students' collective strength. Although we are physically distant due to an unprecedented set of circumstances, the Harvard professor said, "the bonds between us have never been stronger."
"I feel it from my home here in Cambridge, Massachusetts, and I thank you for welcoming me into yours."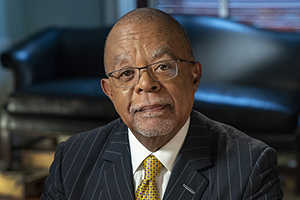 This year's commencement speaker, Henry Louis Gates, Jr.
Commencement ceremonies naturally provide a look ahead but contemplating the future amid a global pandemic means grappling with significant uncertainty. 
Gates acknowledged that students everywhere are pondering both their job prospects and what the world's "new normal" will look like. Yet, he said, we can still celebrate—from a distance—and revel in fellowship and joy amid trauma. 
He drew on the African American journey from slavery to freedom, both to inspire and to illustrate how others survived "the unimaginable." The trans-Atlantic slave trade forced 12.5 million Africans across the Atlantic Ocean. Close to 2 million did not survive the middle passage, and the generations of black Americans who followed faced slavery, segregation, and disenfranchisement. 
"They and their descendants not only proved astonishingly resilient, they created—and then bequeathed to the world—a culture of breathtaking humanity and brilliance," Gates said. "Their lesson to us on the day of this commencement is not to give in to the horrors around us, but as the black tradition says, to make a way out of no way."
Gates charged the graduates with expressing their gratitude toward and emulating those on the front lines of the pandemic, voting, and fighting injustice and white supremacy "in all of its most hideous, most violent forms." He then left them with the words of Martin Luther King Jr., who once spoke of an "inescapable network of mutuality" that connects all of us.  
"This is the way the world is made," said Gates, quoting King. "I didn't make it that way. You didn't make it that way. We all found it that way." 
"My friends," Gates continued, "now it is time for you to find your own way." 
"Stronger together than apart" 
As Burwell discussed the new roles we have all assumed during the pandemic, she highlighted her favorite responsibility during commencement ceremonies past: shaking the hand of each graduate as they cross the Bender stage. 

"I really love that part, because I get to see the joy up close, and I know that there is a story that could be an entire book in those faces as they pass before me," she said. 

The story of the Class of 2020 is one of seeking silver linings amid hardship and promoting togetherness from a distance. Burwell quoted Coretta Scott King to underscore that point: "The greatness of a community is most accurately measured by the compassionate actions of its members."
"American University," Burwell said, "meets that standard." 

"The last few months of sacrifice prove that when we come together for a cause greater than ourselves—the safety and well-being of our greater community—we are infinitely stronger together than apart," she said. "And, we will come out of this more united, more connected, and more compassionate toward each other than ever before."

Gates and Burwell were not the only ones to impart wisdom upon AU's newest alumni. The ceremony concluded with a video montage featuring more than a dozen members of the AU community offering nuggets of encouragement and advice. 

Susan Rice, visiting distinguished research fellow at the School of International Service, former US ambassador to the United Nations, and former national security advisor under President Barack Obama, inspired graduates to "dig deep."

"Figure out what your passion is, what your unique skill sets are, and then apply them to serving, to contributing to our country and our world in this moment where we need your contributions most," she said. 
Jessica Waters, SPA/BA '98, WCL/JD '03, dean of undergraduate education and vice provost for academic student services, said she wished she had known when she graduated AU that she would become stronger than she ever thought possible. 

Waters then revealed a Superman shirt underneath her commencement gown as she said, "My life advice to you is to always remember your inner superhero."
A new (campaign) trail 
At home in Myrtle Beach, South Carolina, Yazan Hanouneh, SPA/BA '20, and his family pulled out all the stops to celebrate his graduation.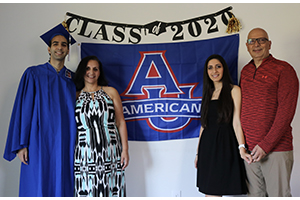 Yazan Hanouneh, SPA/BA '20, and his family
They snapped photos with an AU flag and "Class of 2020" decorations in the living room, hung blue and red banners throughout the house, placed SPA-designed graduation signs in their yard, and made barbecue and cheesecakes to mark the occasion. After streaming the ceremony on his TV with his immediate family, Hanouneh hopped on Zoom and chatted with friends and family around the world. 

Overall, he said, it was fun way to celebrate his achievement and make the best of something over which he had no control. 

The political science major—who served as president of the AU College Democrats, director of the Kennedy Political Union, and intern for Senator Kamala Harris (D-CA) during her 2020 presidential campaign—approaches his budding career in Democratic politics with a similar mindset. While face-to-face political work has already changed dramatically amid the spread of the novel coronavirus, Hanouneh looks forward to crafting innovative strategies and seizing new opportunities on the campaign trail.

Saturday—the start of that new journey—was a proud day for him, and for his parents. 
"Honestly, they were more excited than I was," said Hanouneh, whose family immigrated to the US from Palestine when he was a toddler. Over the years and especially during big moments like his and his older sister's college graduations, they have taken stock of how different their lives are from family members in the Middle East.
"They sacrificed a lot," Hanouneh said of his parents. "They went through a lot to be able to provide this for us, so this commencement is a form of success for them, too."