Achievements
AU Celebrates Fulbright Scholars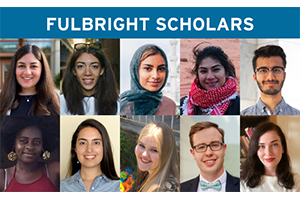 The highly competitive Fulbright US Scholars Program honored 11 American University alumni and one PhD student with awards to carry out self-designed research projects or teach English during the 2020–2021 academic year.

Hana Manadath, SIS/BA '20, and Kimberly Tower, an SIS doctoral student, are slated to conduct yearlong research projects in Jordan and France, respectively, with their Fulbright Study/Research Awards. 

The alumni awarded Fulbright English Teaching Assistantships and their posting countries are Karanina Bhattacharjee, SIS/BA '20, Malaysia; Skylar Coleman, SIS/BA '18, Russia; Daisyarelli Martin, SPA/BA '20 and Shay Sullivan, CAS/BA '20, Germany; Aaron Mohabbat, SIS/BA '20, Tajikistan; Kenya Roy, SPA/BA '19 and Ana Santos, SIS/BA '14, Brazil; and Henry Summ, CAS, CAS-SIS/BA '18, Kazakhstan. Two finalists wish to remain anonymous. 

Funded through the US State Department and named after Arkansas senator J. William Fulbright, the program has been promoting international good will with student exchanges in the fields of education, culture, and science since its inception after World War II. The Fulbright program named AU a Top Producing Institution for 2019-20 among doctoral institutions in February, a distinction it has held six times since 2012-2013.  AU had 10 Fulbright scholars last year.

Forty students and alumni applied for 2020–2021 Fulbright awards, and Fulbright chose half as  finalists, alternates, or semifinalists. The Office of Merit Awards in the AU Career Center supported each candidate through the first two phases of the application process, and each had multiple faculty and staff mentors. 

Mandath credits the Office of Merit Awards team for helping her become a finalist.  "The entire office is so experienced in helping students showcase themselves in the best light possible. I wouldn't be there without them, to be honest," she says.   

The students selected for the Fulbright were superbly well qualified for their awards to study and teach in the more than 140 countries the program offers, says Paula Warrick, senior director of the Office of Merit Awards.  

"All of our scholars have outstanding foreign language skills and cross-cultural expertise," Warrick says. "The English teaching assistants have an impressive level of teaching experience, and the study/research recipients have strong research experience and have forged interesting connections with scholars and practitioners in their proposed host country. It is also notable how diverse our new cohort of scholars is."

Because of the COVID-19 pandemic, the Fulbright program suspended disbursement of the 2020–2021 awards until at least January 1, 2021. Each AU finalist has the option to reapply for a 2021–2022 award, and many are doing so. All are considered Fulbright Scholars, a distinction that can remain on their résumés, whether they are able to complete their postings, Warrick says.
 
And what a distinction it is: "The Fulbright is one of the most well-known scholarships in the country," says Warrick. "I think it's a real honor to receive it."
 
Of the uncertain times, Santos says she knows how to adapt and will work on her application for the 2021-2022 Fulbright awards. "Since we're in the middle of a pandemic, and there's no end in sight, my goal is just to survive and be ready for the post-pandemic world, whatever that looks like," she says.
 
Though their plans are currently in limbo, each shared their objectives for their year as a Fulbright Scholar: 
•  Bhattacharjee, who is set on a diplomacy career, will prepare for graduate studies in international relations emphasizing East Asia, international development, and foreign policy. "As someone who is multiracial, I want to represent the multicultural part of America abroad," she says.  
•  Coleman, who will pursue a career in international service after she earns her master's degree in international relations with a focus on media and communications, says she wants to represent the Black experience during her time in Russia. "I'm excited to bring a greater experience of what it means to be an American to the Fulbright program," she says. 
•  Mandath, an aspiring journalist, will explore how Syrian refugees in Jordan consume media, with a focus on the news sources they have access to and how that information informs their decision-making about whether to remain in Jordan, return to Syria, or move to a third country. 
•  Martin, who majored in Arabic and justice and law, plans to pursue a career in the US Foreign Service. A Mexican American with immigrant parents, she speaks Spanish, English, German, and Arabic. Martin taught Iraqi refugees English while a Boren Scholar in Jordan and was a resident assistant at an Arabic languages camp in Vermont and an afterschool educator at a DC elementary school.  
•  Mohabbat, a future international jurist, wants to teach English as a tool for people to better their lives. The son of a former Afghan ambassador to the US, his mother is ethnically Tajik, and he has intermediate proficiency in the language. With near-native proficiency in Dari, Mohabbat interned as a caseworker for the International Refugee Committee, where he interpreted for Afghan families. 
•  Roy aspires to explore education equity in an international context while in Brazil and will research ways "to help disadvantaged people forge new pathways out" of their situations. "Being a black woman in the United States, I saw a lot of similarities between the US and Brazil in terms of race and inequality," she says. 
•  Santos, who has interned with or worked for several media organizations since graduation, plans to work in a university setting in Brazil with future English as a Foreign Language teachers. A first-generation Portuguese American who speaks fluent Portuguese, she interned at the US Embassy in Brasilia and earned her TEFL certificate while overseas as a Peace Corps volunteer. 
•  Sullivan is interested in the intersection of literature, German language and culture, and anthropology. She was a German language coach for AU's Center for Language Exploration, Acquisition, and Research and previously spent two years in Germany as a Gilman Scholar and a Rotary Youth Exchange ambassador.   
•  Summ, an Eagle Scout who was a Peace Corps Scholar while at AU, became interested in Kazakhstan's trilingual language policy (Kazakh, Russian, and English) after a visit to Almaty. "I'm looking forward to supporting English learning in a new academic environment and using my Scouting experience to organize cross-cultural programs in my community," Summ says. 
•  Tower will conduct fieldwork for her dissertation, Campaigning for Kebabs: Measuring the Effect of Imagery and Symbols in the International System. She will investigate the connection between ethnic businesses and voter registration, capturing the symbolic effect via ethnography, participant observation, and informal interviews.