Science
AU's Kennedy Political Union Hosts Dr. Anthony Fauci Immunologist joined President Sylvia Burwell for a virtual Q and A focusing on science, public health, and the impact of COVID-19
He's been described by the New York Times as one of the most trusted medical figures in the United States, and Dr. Anthony Fauci brought his expertise and insight to American University on Tuesday evening.

The Kennedy Political Union (KPU) hosted the physician, immunologist, and director of the National Institute of Allergy and Infectious Diseases (NIAID), who received an honorary doctor of science degree from AU in 2018. "For AU Family Week we had to aim for a speaker who would not just inspire the campus community, but parents, alumni, and guests as well," said KPU director Amrutha Chatty, SOC/BA '21.
Fauci fit the bill. KPU, the non-partisan, student-run, student-funded speakers bureau named after President John F. Kennedy, who gave his "Strategy of Peace" commencement address at American University in June 1963, has been bringing high profile speakers to campus since 1968 including recent guests Condoleeza Rice, John Kasich, Malala Yousafzai, John Lewis, and Elizabeth Warren. 


Amrutha Chatty, SOC/BA '21  
"We're really trying to get the pulse of the students when we put on events," Chatty said. "We're a non-partisan organization, so sometimes we bring speakers that students disagree with. But people come together to hear ideas that challenge them—and to challenge the speakers, sometimes."

Fauci, known for his calm, intelligent responses to numerous global pandemics from HIV/AIDS to Ebola and now COVID-19, seemed like a smart choice, especially in conversation with American University president Sylvia M. Burwell, who served as secretary of the US Department of Health and Human Services during the Ebola and Zika scares. 

 "I was honored to speak with my friend and former colleague Dr. Anthony Fauci for the Kennedy Political Union's Family Week event," said Burwell. "Dr. Fauci is a tireless public servant—and an honorary AU Eagle! It was a privilege for our AU community to hear firsthand his perspective on the COVID-19 pandemic and to share his insights."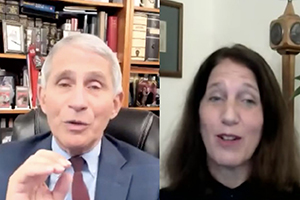 Dr. Fauci and President Burwell  
Below is a selection of questions and abridged answers from Tuesday's event:

President Burwell: Tony, if you'd like to make a couple of comments, why don't we do that?
Dr.  Fauci: The big topic that we're all discussing right now is that we're now at the point where we're going to be entering into the fall and the winter seasons. If you look carefully at the country, you see that there are certain sections—states, cities, towns, counties—where you have the uptick in test positivity, which is a very good predictor of a surge of cases. As a nation, we really need to double down with the fundamental public health practices that we know work: the universal use of masks, the distancing, the avoiding of crowds, the doing things outdoors, as much as we possibly can, as opposed to indoors, including restaurants and things like that, but also washing of hands. We're really faced with a challenge right now. It's in our hands. Are we going to do it? 

President Burwell: Tony we're in the middle—and many universities are in the middle—of figuring out the spring. What do you see as the path to more face-to-face normalcy?
Dr.  Fauci: It's going to be a gradual evolutionary process that starts off probably in the early spring and then goes through next fall. And let me explain why I think that is the case. Right now, there are five vaccines that are being actively tested in phase three trial in the United States. Phase three, as you know, means you're looking at efficacy as well as advanced safety. It is likely that we will get an answer as to whether or not we have safe and effective vaccines—plural—by November or December. It is conceivable that it might be the end of October. I think that is unlikely but not impossible. However, logistically you're not going to vaccinate all at once because people are going to be reticent to get vaccinated until they see enough people vaccinated without any serious adverse events. I think it's much more likely, as we get into the late summer and early fall, that we'll have a combination of public health measures—plus a really good chunk of the population vaccinated—that the level of virus in the community will be so low that we can start talking about in person classes being the rule, as opposed to the exception.

President Burwell: As we think about the public health measures that we currently have, do you think that they can get the case count down to a level where your basic public health tools can contain the disease?
Dr.  Fauci: Sylvia, this is my great frustration and pain really. If we had uniform universal use of masks, distancing, no crowds, outdoors, wash hands, you wouldn't see the surges that we're seeing—it occurs because of the lack of implementation of simple public health measures. You don't need to lock down. You could carefully and prudently open up the economy and use the public health measures to do exactly what you're saying. When you have community spread to the tune of 40,000 cases a day, forget about it. You're not going to efficiently do anything. 

President Burwell: I think the biggest challenge that we face is that it's become a binary debate. The truth is we all want everyone to be healthy and safe, and we all want to make sure that we can get to a place where we can reopen the economy and do some of the things we used to do.
Dr.  Fauci: People are forgetting that the common enemy is the virus. It's not my opinion versus somebody else's opinion, because when you make things like public health measures an oppositional position, you've essentially lost the game. And that's really what we've got to get away from as we move forward.

President Burwell: What advice do you have for students who want to go into research but are concerned about the way that science is being devalued?
Dr. Fauci: If you happen to have any predisposition to science, it's really one of the most exciting and gratifying fields you could possibly imagine. It's the discovery of the unknown. It's such an extraordinarily exciting field that, as much as people try to devalue it, they are going to lose that one because it's too exciting and too contributory.

President Burwell: What advice can you give students who have family members that don't adhere to social distancing and mask wearing due to the views that "the virus is a hoax?"
Dr.  Fauci: Just look at the statistics. Right now, 210,000 people have died in the United States, and 7.3 million people have been infected globally. There are over 1 million people who have died. That is not a hoax. You can't say that every country in the world—from people who are our allies to people who are neutral to people who love us—is lying and say, "it's a hoax." It's just not; it's a reality. 

President Burwell: Tony, one more question. How are communities of minorities and lower socioeconomic levels disproportionately impacted by COVID-19?
Dr.  Fauci: The disparity in disease burden, hospitalization burden, death burden is extraordinary leaned against minorities, particularly African American, Latinx, some native Americans, Alaskan natives, and Pacific Islanders. They are more likely to have jobs that put them in essential positions, out in the community, interacting with people. So, they have a greater incidence and prevalence of infection. When they do get infected, they have the co-morbidities that are distinctly associated with a poor outcome, meaning hospitalization, intensive care and even death. And that's something that, if anything comes out of this outbreak, should be a societal commitment. That enough is enough. We have to do things that are commitments for decades to overcome those social determinants of health. Otherwise the next crisis, whatever it's going to be, it's going to be the same story.