On Campus
AU Faculty and Staff Double Down to Help Students Succeed Online Five Students Share Their Experiences After AU Navigates First Online Semester Due to COVID-19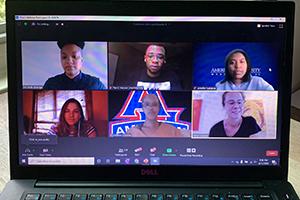 As American University prepared for its first full semester of remote learning, the annual Student Success Summit, sponsored by the offices of Campus Life (OCL) and Undergraduate Education and Academic Student Services (UEAS), focused on how faculty and staff can help students succeed in an online learning environment. 
The virtual event in August attracted 240 staff and faculty members who expanded their understanding of the needs of students as online learners, heard directly from students who navigated the transition to online learning in Spring 2020 and were preparing for the Fall 2020 semester, and increased their awareness of strategies to support students as online learners. 
Helping students feel supported and connected to services and faculty was the main premise of the summit. Therefore, factors once taken for granted during in-person classes—like fostering participation and engagement and creating a sense of community—suddenly take on even greater importance. With students learning from all over the world, the university had to address not only technical concerns but also time zone differences, cultural considerations, and individual student circumstances.   
"We considered factors such as students studying from across the globe, and the different needs of international students versus students based in DC and across the United States. The goal of the 2020 Online Learning Summit was to prepare staff and faculty for the unique needs of students as online learners," says Ashley Rozendaal, director of student success and student-athlete support, UEAS. 
 
Five students—Noor Coenen, CAS/BA'21; Tamir Harper, SOC/BA,'22; Jennie Saldana, SIS/BA '21; Josiane Umulisa, SIS/BA'21; and Claire Whitman, SIS/BA '23—shared their challenges, concerns, and recommendations for online instruction and engagement during the student panel. They agreed overwhelmingly that their best experiences were with faculty who took the time to make their virtual classrooms inviting, open, and more centered around students' needs and with staff who remained engaged and easily accessible. 
Whitman says she was most concerned about establishing expectations for both students and faculty and the lines of communication between them. "Transitioning on the fly between in-person classes and online last spring proved to be a learning curve for both professors and students," Whitman recalls. "Initially, professors were trying to replicate the in-class experience and not sufficiently recognizing the new challenges that the sudden online environment posed. Everything felt like it took twice as long to accomplish." 
Umulisa says the summit demonstrates that the university is doing its best to address students concerns about online learning. She says she is most concerned about not being able to get the quality of education she expected when she came to AU. "Being in graduate school means you have limited time to not only get your degree, but also build personal relationships with your professors and attend networking events that could further your career," she says. "Online learning can feel particularly impersonal and hard to adjust to given how much time we spend in front of a computer, whether it's for readings or attending a lecture."
Michelle Strange, assistant director of educational and support programs in the Center for Diversity and Inclusion (CDI) in OCL, and the panel's moderator, says she is concerned about the online transition's impact on students' abilities to engage across social issues and examine their beliefs and values inside and outside the classroom and their need to feel seen and build affinity and intergroup community. 
"The online learner student panel provided invaluable insights to faculty and staff seeking tools for inclusive practices and deeper virtual engagement. The panel was especially beneficial as it allowed faculty and staff to ask students directly about their experiences to help us make more informed choices," says Strange. 
Strange says CDI has adjusted its offerings to exist virtually through real-time and anytime modes of learning and developed a resource for virtual facilitation strategies for staff, faculty, and student leaders who seek deeper engagement as they adjust to online learning and navigate the complexities of the world's current climate. These offerings include Intergroup Dialogue, anti-racism workshops and a new facilitator training, virtual community building with First Fridays, and new series-based programs that explore anti-Semitism, white supremacy culture, anti-racism, and more. 
Jess Edwards, program manager of supplemental instruction and tutoring, and Stacey Miles, coordinator of academic coaching, both UEAS, introduced faculty and staff to the resources available to support students' needs, including the Learning Support Services Technology Hub, Academic Coaching resources, tutoring services, and AU's Supplemental Instruction program. 
Edwards and Miles shared potential solutions for 11 challenging scenarios—involving access, motivation, learning strategies, task management, class management, varying class modalities, mental health and wellness, faculty communication, and engagement with peers—with faculty and staff may encounter in their work with students online. 
Seeing an increase in questions and concerns from students and parents about student accounts, registration, and veterans services as the university transitioned to an online environment, Gene Logan, associate director of AU Central, says he attended the summit to learn how his staff of student service counselors can best engage with and be accessible to students and their families. 
 
Since the summit, AU Central has emphasized regular updates to the content on Help.American.edu, so that students and parents can access the information they need at any time, Logan explained. "We also have embraced our role as campus navigator when students and parents contact us with questions that concern multiple offices and services on campus. AU Central has begun to take ownership of many of these cases and provide a comprehensive response to students from many sources within the university," says Logan.  
Logan, an instructor for American University Experience (AUx), a course for first-year students, says he wants to ensure that he is utilizing all available resources to engage fully with his students and build community, both key tenets of AUx.  For example, Logan has begun breakout rooms, discussion boards, and virtual office hours to help students engage more with him and other students.
  
Adelaide Kelly-Massoud, director for the special education program at the School of Education, says she found direct feedback from students to be eye-opening. She says she was especially struck by students' concerns about the lack of flexibility sometimes shown by faculty during online learning.  
"Students perceived increased workloads and did not feel that the faculty was showing empathy to their individual circumstances. They also voiced a need for faculty to understand the challenges they may be facing outside of instruction. Not only were students dealing with the effects of a global health pandemic, they also were feeling the impacts of the rising divisions over social injustice and equity issues," says Kelly-Massoud.   
On the recommendation of summit participants, the work will continue with a series of brown bag lunches throughout the fall semester to discuss current trends, revisit what continued challenges students face in an online environment, and to provide strategies and support for the entire university community.  
"I suspect we need continued help in knowing how to create an environment for students to feel safe, where their experiences can be heard, and where they can be supported.," says Kelly-Massoud. "We always need to keep in mind how critical it is for our students to feel engaged with faculty and staff, while maintaining the deep desire we all have to provide high-quality educational experiences."