In Remembrance
Acknowledging Loss from the Pandemic and Looking Forward with Hope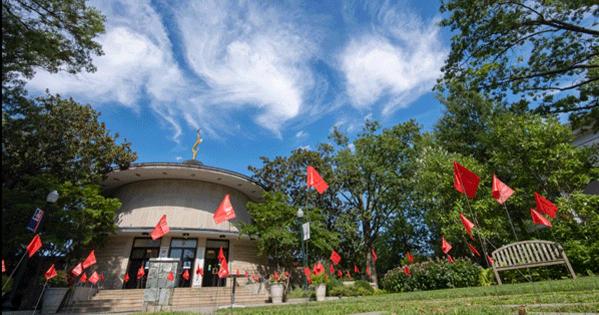 AU faculty, staff, and students came together at the Kay Spiritual Life Center and virtually to acknowledge all that we've lost during the COVID-19 pandemic and reflect as we move forward with the beginning of a new academic year.
The rituals of mourning, the importance of working through grief, and reliance on other members of the community for support served as themes for the September 1 interfaith Service of Remembrance and Prayer. The service mixed prayers and reflective remarks with moments of silence and music by J. S. Bach and Benjamin Britten performed by cellist and performing arts professor Nancy Snider.
Naomi Fainchtein, assistant director of Hillel at AU, recited the Mourner's Kaddish in Hebrew and English; Satvik Shukla, a computer science major affiliated with the Hindu Student Association, recited the Shanti Path in Sanskrit and English; and Father Iván Pertiné, a Catholic priest at AU, recited the Prayer for Those Who Mourn in Spanish and English. Robert Roseman, a student involved with Hillel, read "God of Consolation" by Alden Solovy, while Joey Heath-Mason, associate chaplain for United Methodist Life at AU, read "God, Our Hope in Tough Times" by Linda Furtado.
AU held the service during All-American Welcome to allow the community to come together in grief and in hope. "We cannot brush over such important life events," said Fanta Aw, vice president of campus life and inclusive excellence. "We have witnessed and lived through much. This service gives us the opportunity to acknowledge, honor, and reflect together,"
Before the service, participants wrote on red flags the names of people they had lost, other losses they had experienced, or notes of hope. They then planted the flags in a Memorial Garden at the University Labyrinth in front of Kay. "As a university, we know how important milestones are. As we return in person, we want to look back in order to look forward. We want to pause and understand grief," Aw said. Community members are welcome to continue to plant flags in the Memorial Garden in the next weeks.
In her remarks, AU president Sylvia Burwell shared that her sense of community and support developed through her family and the people of her hometown of Hinton, West Virginia. She related how, when a neighbor passed away in Hinton, she and her sister collected money for flowers that would be given to the bereaved family from the entire community, their mother baked goods to take to the family, and they would "visit and gather just like we are doing today."
Burwell acknowledged that the pandemic is not over and that many in the AU community are still experiencing fear and anxiety as we face ongoing challenges and tragedies, including the Haiti earthquake, Hurricane Ida, and the humanitarian crisis in Afghanistan. Still, she expressed hope that these "challenges actually become opportunities to embrace our capacity for both empathy and patience with one another and to recognize that we all need each other."
This time is also one of renewal for the AU community as we come together on "our beautiful campus" and go forward building on the momentum we have already created in fulfilling the university's mission even amid the pandemic, Burwell said. "I'm hopeful that where we go together, we go as a community as we move forward together this year. Together, we are going to work to keep our community safe, and we're going to rise to the challenge of making change, which is what we know how to do. That's who we are, that's how we made it through this crisis, and that's how we are going to go forward as a community."
In his reflection, interim university chaplain Bryant Oskvig said that because of the pandemic, many didn't have the chance to gather and acknowledge loss. "That normal practice of gathering, comforting, crying together was lost to us. That moment to step aside and say, 'it's okay not to be okay' and move forward with that." He acknowledged members of the American University community who were lost during the pandemic, "persons who might have had services at the Kay Spiritual Life Center or for whom we might have gone to a funeral with their families."
Oskvig also pointed out that many have experienced other types of loss that need to be acknowledged as well: "This past year and half have presented us all with things we have missed, experiences and opportunities that normally have been part of our lives. We lost graduations and athletic events in person. Some of us lost friendships or had significant relationships end. We are all burdened and wounded, so let us make space today for each other to be okay not to be okay for just a bit, to take time to acknowledge that we come together in loss. We have to give ourselves permission to mourn right now because we have a community to care for us in the midst of it."
He ended by reminding us that "the real gift" is being able to gather again on campus to find support in our AU community: "The friends and colleagues we find here to get us through each day become the heart of this place we call American University and its defining character. Together we can make the days gentler for each other so that our community and this university can radiate gentleness into our wider world, and I think we can all acknowledge that we could all use a little more gentleness in our lives, and the whole world could use a lot more gentleness as well."