First Person
SOC Faculty Reflects on the 20th Anniversary of 9/11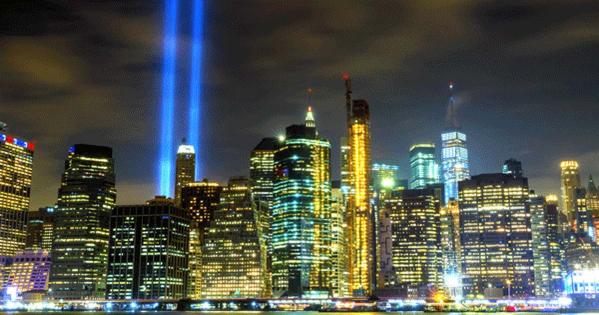 The most vivid memories of 9/11 for many around the world came from media coverage of the attacks in New York City and the Pentagon.
The nonstop coverage of the day and the days that followed provided indelible images, sounds, and words from television and from front pages. Many that are still cemented in our minds.
Various members of AU's School of Communication were active journalists on that day. Here are some of their collected thoughts and reflections from that day and the aftermath.
Sam Fulwood, III, Dean
Who could ever forget the awareness of 9-11's tragedy? For me, it's indelibly etched into my memory. I was a metro columnist at the Plain Dealer and had convinced Cleveland Mayor Jane Campbell to meet me for an early morning breakfast interview. Our meeting ended about 8:30 a.m., and I followed the mayor out of the front doors of the Marriott Hotel where her security detail waited to escort her to City Hall. As the mayor and I lingered a few minutes to chat just a bit longer, a uniformed police officer approached and pulled Mayor Campbell aside. I watched, noticing her face grow stern and serious. Then, she gasped and covered her mouth, as she unsteadily walked back to where I stood with her staff.
"Something terrible has happened in New York," she said. "A plane flew into the World Trade Center."
I didn't believe her, so I rushed to the newspaper office, roughly 10 or so city blocks away, to get confirmation and the full story. There, the horror of a second plane crashing into the Twin Towers and people dying in the inferno unfolded on the television screens in the newsroom. Already, the reporters and editors were in full crisis mode as they met to plan for the next day's paper that would tell the story of what happened. They had no idea of the fullness of what was happening—or was to come in the days, months, and years to follow. But none of us could ever escape that moment.
Patricia Guadalupe, Adjunct Professorial Lecturer
I was at the airport in Washington, DC, on my way to the annual meeting of the Radio and Television News Directors Association, which was taking place in Nashville. I had already checked a couple of bags and, while waiting to board the flight, was watching the news on TV showing one of the Twin Towers with smoke and flames.
A few minutes passed when I heard and felt a big boom followed by another one that literally shook [Ronald Reagan Washington National Airport], and I saw several people running by and yelling in Spanish that there was a bomb in the airport. I rushed outside with a large group of people and was on a small hill near the entrance to the terminal where you could see all the smoke coming from the Pentagon.
One of the airport employees said a plane crashed into the Pentagon but didn't have more information, and no one at that point had made the connection to what was happening in New York. Several guys nearby said something strange is going on, and if we don't want to get stranded, we need to get back to DC.
About four of us hopped into a cab heading back to DC, but we got as far as the National Mall. It was completely packed, and no one was moving. Cars were idling on the street and people were listening to the radios in their cars or walking.
I got out of the cab and started walking back to the station. At the time I was the news director for Pacifica Network News' daily national news show—and also freelanced for several other outlets including NPR's Latino USA, which at that time was located in Columbia Heights. There was no other way to get there except to walk. Cellphones weren't working, but I found a payphone and called the station to let them know I was heading back and to preempt everything until further notice. I got one of the reporters to go on the air with a coanchor live, and that included hooking up with the affiliate in New York City to have them anchor some of the coverage.
I had to pass several police barricades along the way, showing my ID as I went along, and got back to the station in about three hours walking. By then, the other plane had hit, and the towers had fallen. I relieved one of the coanchors and went on the air and rotated the other anchor, and we were on the air continuously until at least midnight. We then provided some overseas stations with live, on-the-air coverage. I also provided some reports for several stations in Latin America. 
The wall-to-wall coverage continued for some time. We basically preempted most everything else for at least a few weeks. Even when somewhat normal programming returned, the bulk was still heavy on hard news. I remember the Iraq invasion happened on a weekend, and all the programming that day was set aside to cover that. We went back into the studio that day for another wall-to-wall.
September 11th changed me as a reporter in several ways. I became more focused on widening my news sources and outlets and getting as many perspectives as possible, since we were being fed what turned out to be misinformation regarding Iraq's role in the 9/11 attacks. I saw way too much complacency from fellow members of the press corps who lost that sense of skepticism, which is so important in this profession. Our newscast reflected a much broader perspective than had been the case before the attacks, and we were sure to include a variety of voices, including much more from overseas. In the immediate aftermath of 9/11, I went from directing and overseeing a news program to participating in it more as an anchor and fill-in reporter since we were increasing the news coverage but not necessarily increasing the staff. I also did more producing and engineering. Over time that position became much more hands-on in the day-to-day functions of the newsroom.
Fernando Pizarro, Adjunct Lecturer, Supervising Editor at NPR's "Morning Edition"
At the time of the September 11 terrorist attacks, I was a recent transplant to Miami. Until the year before, I had been a foreign correspondent, a freelance correspondent at CNN en Español, and producer at APTN in Washington. So, 9/11 hit very close, as I was so familiar with the White House, Pentagon, and Capitol Hill environment.
The newsroom and network where I worked in Miami ground to a halt. All entertainment and sports production were frozen for days in the immediate aftermath. And on a personal level, I transitioned to an investigative role, chasing 9/11 plotters' days and weeks prior to the attacks, much of which happened in South Florida. We investigated the flight school where they had trained between Miami and Fort Lauderdale; we investigated where and how they had obtained driver's licenses; how one had been pulled over in a traffic stop; and even the bars they frequented during that time.
The year after I returned to Washington in a new professional role. And for someone who was used to easily walk and even drive into the Capitol complex parking areas, security around the federal government had dramatically changed forever.
Margot Susca, Assistant Professor
I was walking south down 10th Avenue when I saw the first one. He stood about 5 feet 10 inches. He wore a suit and tie. I couldn't tell you what color his hair was because he was covered in thick, gray ash from the Twin Towers that had tumbled down two hours before. Blood dripped from his head. When I fixated on him, he was walking north as I walked south. He was trying to escape. I was trying to get as close as I could to "get the story," whatever I thought that meant in the first weeks of my master's program at the Columbia University Graduate School of Journalism.
I approached him with a reporter's notebook extended, hoping for an eyewitness account of the destruction. He held up a hand, palm facing me. I approached him again. He told me to get away. The closer I got to Ground Zero the more people I saw covered in ash. Had you not smelled the smoke and heard the sirens and witnessed people wailing, you might have thought they were part of some bizarre Christo installation, dozens of men and women walking along the sidewalks of Manhattan covered in gray, illuminated by sunshine.
I continued walking south. The next few hours come back to me in snippets, like Polaroids of individual moments strung next to each other on a high wire. One man I interviewed described watching the first plane tear into the North Tower. "It went in like this," he said, extending his arms like a child pretending to pilot an imaginary plane. Behind him, still three miles away, black smoke poured from the place the towers used to be. At the Chelsea Piers, doctors in white coats waited outside for patients who would never arrive. Further south, ambulances lined the West Side Highway. Paramedics waiting outside their emergency vehicles told me stories of watching people jump from the towers. "Please don't write that down," one said. Sometime later, Con Edison trucks arrived. And then, the National Guard. On Greenwich Street, I saw a man punch buttons on his cellphone trying to call a friend who worked in one of the towers. "He won't answer the phone." He repeated it, and I stood watching him dial, feeling as powerless as those paramedics had been. "He won't answer the phone." I still think about that man on the street staring at a gaping hole in the sky where the towers once stood. I hope his friend picked up. I doubt he ever did.
In the days that followed, I returned to my regular beats assigned in two different reporting classes. One was in the South Bronx. The other in Sunset Park, Brooklyn. In Brooklyn, I interviewed a woman standing outside her tidy row house who talked to me about American unity. "We're all in this together," she said. "Except for them." She pointed across the street. I turned to see a woman wearing a hijab, sitting on her front stoop supervising her children playing on a small patch of grass. I walked across the street to interview the Muslim woman who said in the two days since the towers fell, people had thrown pork chops at her mosque, yelled at her as she walked down the street, and threatened her children. A few days after that in the South Bronx, I sat outside a barber shop chatting with two men. We watched as another Black man in Army dress greens walked down the street. "Are you going to fight their war?" one of the men yelled.
At a nearby park, I interviewed a young Black father pushing a toddler on a swing who said 9/11's aftermath would put policing pressure on Muslims and take it off people who looked like him. I can't say that he was grateful for the reprieve, but he seemed resigned in his understanding of racism's power to ruin lives. They were forgotten in the stories of American unity the mainstream media delivered in the days after the attacks. As a graduate student, I don't remember feeling empowered to tell these stories, but these people still became transformational in reshaping the way I understood America and, in turn, changed the way I practiced journalism.
Reflecting on 9/11 allows me to first and foremost reflect on the power of journalism, a power that's lost unless it's done right. I teach Journalism Ethics now, and I tell my students that if I could, I would go back to that man covered in thick gray ash to say how sorry I am. I cringe now, 20 years later, remembering it. Mistakes included, 9/11 changed the way I investigated and reported stories, and it changed the way I taught students how to do the work, too, when I reached that stage of my career. 9/11 also changed how I understood journalistic objectivity and news framing. I believed then as I believe now that journalists ignoring the rampant hate in society ignores the threat that it poses, and that to improve our coverage and our communities we must tell the stories through the eyes of the marginalized, not the powerful. I remind my students to find real people—whether they are fighting in a war or opposing it--and through reflection, practice, and mentorship, I empower them to tell those stories. Today, these are crucial lessons as students work to contextualize the aftermath of George Floyd's murder or tally the impacts of Covid-19.
Sherri Williams, Assistant Professor
I was a staff writer for the Clarion-Ledger in Jackson, Mississippi  and running late for work that day, and, honestly, later I was glad that I was. When the first plane crashed into the World Trade Center around 8:40 a.m., I was sitting on the bed gathering my things to head to work (I was supposed to be there at 9 a.m.) when I saw the plane smash into the building. I was devastated, still, frozen, in awe. It was better for me to experience that shock alone at home. I knew there would be some type of local story, so I grabbed my bag and hurried to work.
As soon as I got to the newsroom, I saw reporters and editors crowded under the televisions mounted to the ceiling. All eyes were focused on the news. Editors came up with a plan for local coverage. I was sent to Mississippi Blood Services to cover a fast-growing, citywide blood drive after the New York Blood Center sent a national plea for blood donations to care for September 11 survivors. In the days after September 11, I wrote about the National Day of Prayer and Remembrance for September 11 victims, Arab Americans' fear of prejudice and backlash, and the vandalizing of the International Museum of Cultures in Jackson, and incidents of Islamophobia in the city. I covered federal and state courts then. My job immediately changed because I was pulled off my beat to write local stories related to the September 11 attacks. Moreover, that day really changed my job as a reporter by reframing my thinking and approach to my reporting by forcing me to realize that foreign policy and international relations aren't distant concepts. They affect our lives locally in ways we don't realize or could ever imagine.