Alumni
Alumni on the Front Lines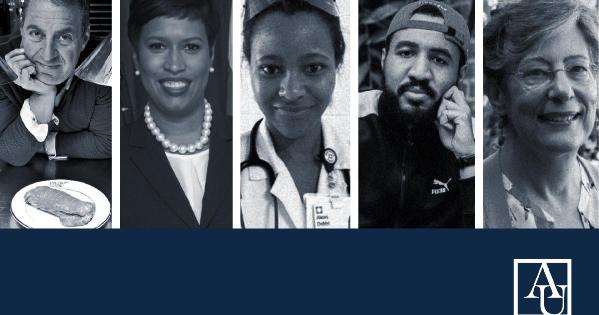 As she looks back at 2020, Muriel Bowser doesn't feel despair. 
The Washington, DC mayor feels hopeful. 
In a year of tremendous challenges – a global pandemic, an economic calamity, and a racial reckoning – Bowser has seen resilience and collaboration.  
She recently took note of a small business owner opening a new shop. 
"Listen, this is an entrepreneur that says, 'COVID is not going to stop me. I have a great product. I want to serve my community in the midst all of this...I want to open my business,'" Bowser said. "And that just gave me a lot of hope because people who have an entrepreneurial sense see what's coming and they see the opportunity, and that was just a little example of how the city is going to come back." 
Bowser is one of five Eagles who are recognized as Alumni on the Front Lines in 2020, all of them working to confront the enormous challenges of this year, from the coronavirus epidemic, to racial justice, to economic hardship. 
"As 2020 draws to a close, AU is honoring the work of five alumni changemakers by sharing their inspirational stories that demonstrate the real impact on their communities – and on our world," said Sylvia M. Burwell, American University President. "Since graduating from AU, and especially during this challenging year, our alumni honorees used their leadership, skills, and talents to benefit others, and we are proud to call them AU Eagles."
Here are their stories. 
Muriel Bowser, SPA/MPP '00, Mayor of Washington, DC 
The mayor of a large city will always face challenges. But this year brought unprecedented ones for Bowser and the city. DC maintained a lower COVID-19 infection rate than most states in the country despite having a much denser population. Bowser also stood at the forefront of the conversations of racial inequality that spread following the death of George Floyd. She renamed two blocks on 16th Street NW as Black Lives Matter Plaza and oversaw a mural painted on the street. 
Amid the pandemic and the issues of racial justice, Bowser says she continued to push for progress on affordable housing and rent relief in DC. 
"You can't isolate COVID from the economic disaster that it caused; you can't isolate it from the racial reckoning that our country is experiencing," Bowser said. 
Alumni
AU Alumni on the Front Lines: Muriel Bowser
AU Alumni on the Front Lines: Muriel Bowser
Mark Bucher, SPA/BA '90, Owner and Restauranteur
Mark Bucher, a restaurateur in the DC area, jumped into action at the start of the pandemic. He began using his businesses to help feed the elderly and food insecure children.  
He founded the Feed the Fridge school lunch program, which helped expand meals for children at all DC public schools and at DC parks and recreation centers. He also continued his annual Thanksgiving turkey fry, setting up at Nationals Park to ensure social distancing. 
"Our investment in the community and our awareness of the community pays dividends back to our business, which is a lesson for every business owner," said Bucher, co-founder of the Medium Rare chain. "You can't just assume someone else is going to do it. You need to be there for your community and frankly they will be there for you when things get tough, and they've proven that with me and Medium Rare time and time again." 
Alumni
AU Alumni on the Front Lines: Mark Bucher
AU Alumni on the Front Lines: Mark Bucher
Alexis Dobbs, CAS/BS '14, Physician's Assistant, Cleveland Clinic's Covid-19 unit 
A former AU basketball player, Alexis Dobbs found herself literally fighting the pandemic as a physician's assistant in the COVID unit at the Cleveland Clinic. 
Family visits have often been restricted this year for safety reasons, so Dobbs has become a source of comfort and empathy for countless patients who can't physically be with their families. The moments that stand out for her are talking with those patients who are isolated and ensuring they feel cared for beyond just their physical needs. 
"I think 2020 has been transformational in the sense that everything that's been thrown our way, and my way individually, has changed me, and it's changed us as a nation," said Dobbs, a former AU President's Award winner. "So, I think that (with) a lot of the bad that we think of with COVID in 2020, there also comes a lot of opportunity for learning, and maybe coming up with better and new ways to do different things that we never would have thought to do in the past." 
Alumni
AU Alumni on the Front Lines: Alexis Dobbs
AU Alumni on the Front Lines: Alexis Dobbs
Dr. Irene Glowinski, CAS/BS '75, Former Deputy Director, NIH Division of Microbiology and Infectious Diseases 
Irene Glowinski spent her career fighting diseases like COVID-19. 
As a former deputy director at the National Institutes of Health and the National Institute for Allergy and Infectious Diseases, Glowinski managed research into the diagnosis, causes, treatment, and prevention of diseases that could develop into a pandemic. 
"I think we've been learning more, and more, and more recently that having a scientifically literate populace is really, really important," Glowinski said. "That doesn't mean they have to delve into the finer points of the research and start looking at the data. They just have to be able to know enough and educate themselves enough to trust the people that are telling them what's based on science, and to understand what's not based on science, and to be able to discern between the two." 
Deon Jones, SPA/BA '14, Recording Artist and Activist 
A musician and creative talent, Deon Jones has worked with museums, the Oprah Winfrey Network, and currently serves on the Creative Council at Fair Fight, Stacey Abrams' organization designed to end voter suppression. Jones worked in Joe Biden's Office of the Vice President and won a write-in campaign as a 19-year-old undergraduate student on DC's Advisory Neighborhood Commission. 
Long an advocate for social justice, Jones was taking part in a peaceful Black Lives Matter protest this year, when he was shot in the face by a rubber bullet. The bullet hit his cheek, and doctors said if it struck an inch left or right, it could have blinded or killed him. Following the shooting, he collaborated with Nirvana producer Butch Vig and Late Show bandleader Jon Batiste to lead a cover version of U2's "Sunday Bloody Sunday." 
"I think that every human being and particularly Americans, because of the pause we had because of the pandemic...made us really unmask all the inequalities in our country, whether that was access to housing, whether that was access to quality health care, whether that was stability, having stable employment, whether that's having the ability to feed your families and take care of your kids," Jones said.