On Campus
Inspired by Family, Propelled by Curiosity: Commencement Speaker Shares Wisdom with Graduates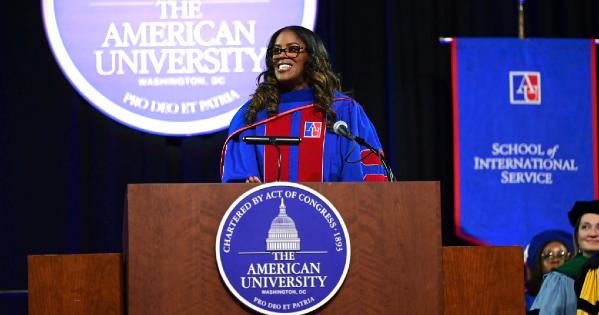 Not long after she arrived in DC from Colombia in 2018 for a job as an au pair, Angelica Londoño Borja felt drawn to American University.  
Borja, CAS/MA '22, had an interest in the audio technology master's program—but she had years left in her job and couldn't immediately attend graduate school full-time. So Borja found another way to connect with the university: she joined the AU orchestra as a viola player before enrolling in the College of Arts and Sciences in 2020.  
"I discovered that I loved the community first and found a way to be a part of it," she said. "It's been a wonderful experience."  
Borja grew up in Medellin with a passion for learning, instilled in her by her parents—who were among the hundreds of families proudly cheering for their graduates during AU's 144th commencement on Sunday, December 18.   
Welcomed by the sound of bagpipes, 850 Eagles crossed the stage at Bender Arena during two separate ceremonies to collect their diplomas and join the ranks of more than 130,000 AU alumni around the globe.  
AU president Sylvia Burwell commended the graduates for not just espousing their values, but living them. 
"You learned how to exercise these values by being part of an AU community centered on mutual respect and an understanding that we can disagree without dividing, deriding, or dehumanizing one another," she said. "You possess extraordinary knowledge—the most powerful weapon available. You have shown the resolve necessary to stay the course through unprecedented times."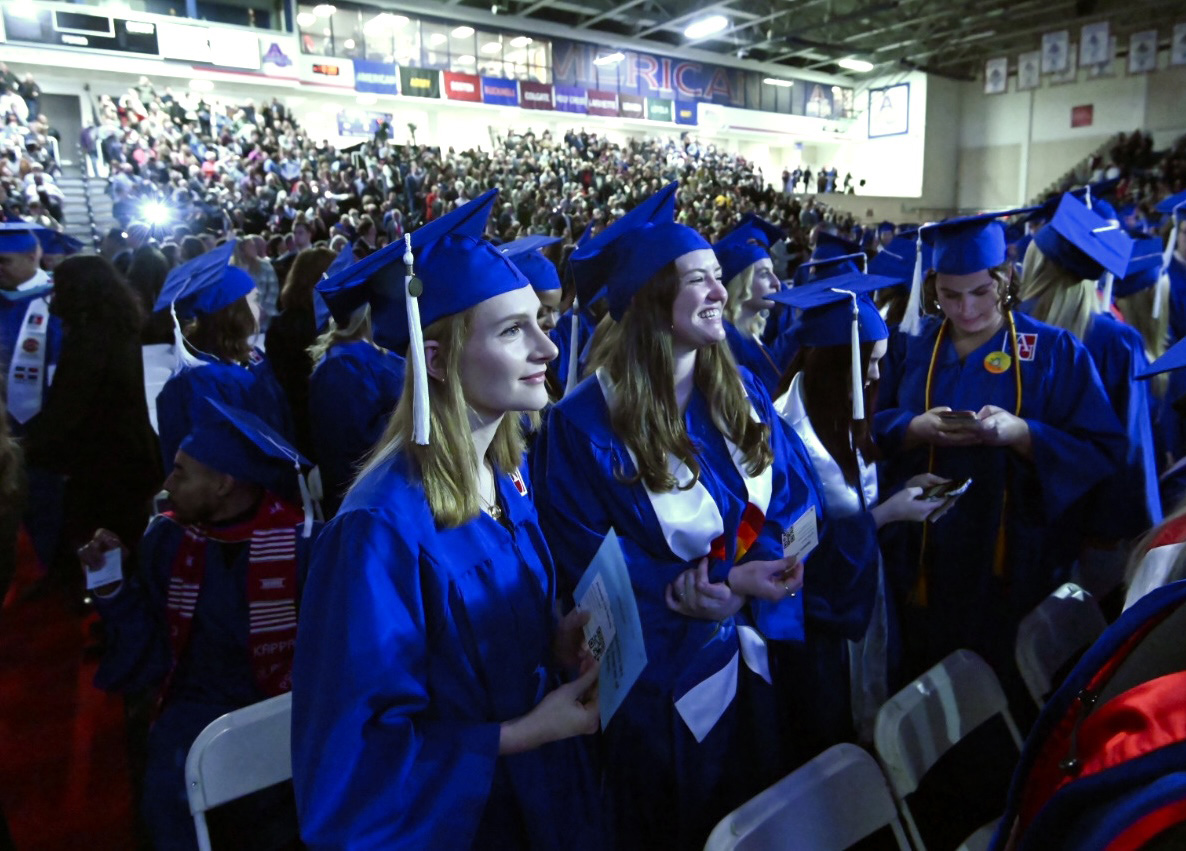 AU students watch the 2022 fall commencement program at Bender Arena on Sunday, December 18, 2022. Photo by Jeffrey Watts.
Like Borja, commencement speaker Thasunda Brown Duckett's family was also in the audience at Bender. The first female CEO of TIAA, who's only the fourth Black woman to lead a Fortune 500 company, Duckett told graduates that her family's emphasis on education inspired her changemaking, trailblazing career in finance.  
"My mother was a teacher, and she expected us to do our schoolwork well. But she also taught us the importance of kindness, anchored in our faith," she said. "I rent my title; I own my character." 
Duckett also called on graduates to stay intellectually curious and embrace authenticity.  
"By staying open, there may be a moment yet to come that will help you find your purpose. And it will be up to you to recognize the importance of that moment, or you may miss it."