Achievements
Celebrating During a Challenging Year
Even without COVID-19, Tony Mendonça Mendes, SOC/MA '20, likely wouldn't have had his parents with him in Bender Arena on Sunday, December 13, for AU's commencement for summer and fall graduates.
Mendes is in the US on a visa, so getting his parents to DC from Caracas, Venezuela, would have been challenging.
Instead, his parents José Marcelino Mendonça and Rosa Mendes gathered around a screen and watched the streaming ceremony. They don't speak English, Mendes said, so they patiently waited for his name to appear on the screen.
"They were very, very excited," said Mendes, who received his master's in strategic communication from the School of Communication.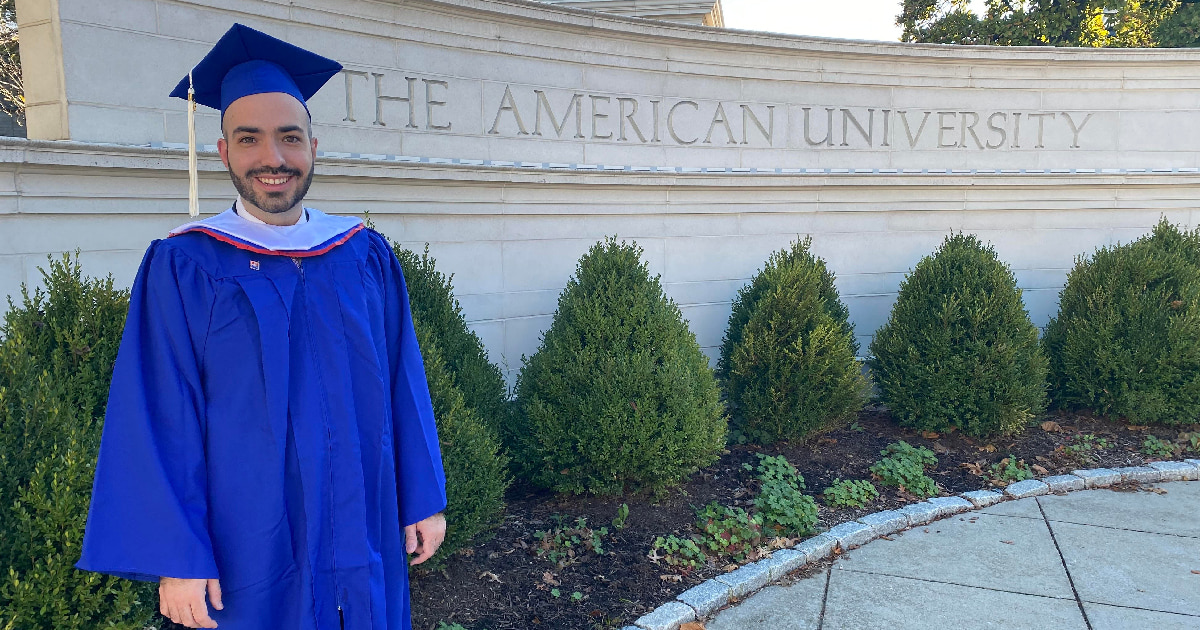 Tony Mendonça Mendes graduated from AU in December 2020 with a master's in strategic communication.
Mendes has a hard time putting into perspective what the degree means to his family. His parents have the equivalent of a fourth grade education but pushed their son to excel. He earned an undergraduate degree at the Central University of Venezuela and now a master's degree at AU.
"The way I see it, is that my parents coming from a very poor background who just had the opportunity to study until the fourth grade of elementary school, and me having the possibility, not only to already having a bachelor's degree from Venezuela but now having a master's degree in the United States is a way of breaking the glass ceiling in a way," said Mendes, who works as a communications consultant for the Inter-American Development Bank.
Honoring the Graduates
Mendes joined more than 1500 graduates who received degrees from across the University's eight schools, including the Washington College of Law, at AU's 140th commencement ceremony.
President Sylvia Burwell hoped to be with the graduating classes in Bender Arena, calling it one of her favorite parts of the year. She said that while the AU community largely remains apart now, she looked forward to the future when she could welcome graduates back to campus.
She commended graduates for their perseverance during a challenging year and encouraged them to take the skills they learned at AU to help move the world forward.
"The Class of 2020 will not be defined by what was lost or taken away this year. Your class will be defined by how you react to this year, what you did during your time at AU, and by what you do in 2021 and beyond," said Burwell "There is much uncertainty and hurt in the world—from the state of our democracy, to the pandemic, to the generations of systemic and overt racism. But what gives me hope for the future is that you are part of the solution. Each of you carries a special responsibility as you take the next step on your journey."
Burwell also told graduates to relax and take some time to celebrate after this draining year.
She quoted from Tennessee Williams, "Life is all a memory, except for the one present moment that goes by you so quickly...you can hardly catch it going."
Being a Solution
Commencement speaker Andrea Mitchell, the award-winning NBC News journalist, referred not only to the obstacles students faced this year, but also the challenges the country faced.
"In the darkness of this fall and the approaching winter, it's not easy to find sources of hope and strength," Mitchell said. "While we can all feel overwhelmed at times, let me suggest an alternate path, in confronting the challenges that surround us, we can view them as opportunities, opportunities for learning how to be resilient."
She told students to embrace a mission of bettering their communities and focusing on what this year has taught us about being a citizen of the world.
Mitchell also touched on the division in the country, from this year's presidential election to the politics of the pandemic. She decried the political silos to which many have retreated and the spread of misinformation through social media calling toxicity of our politics unsustainable and a "cancer on the body politic."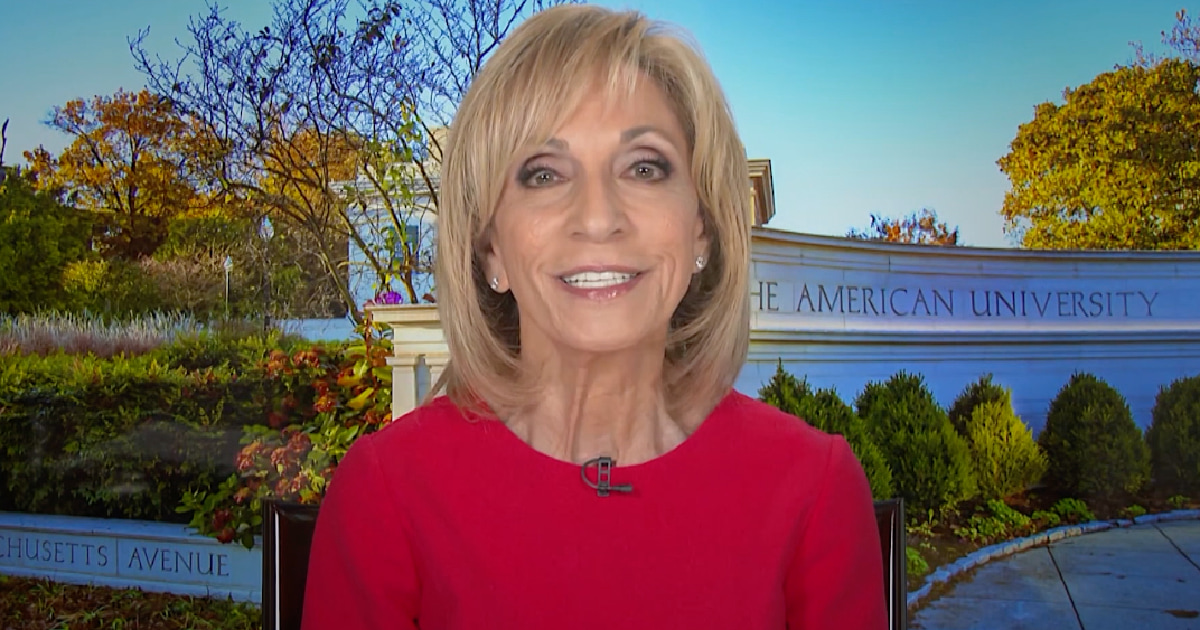 NBC News' Andrea Mitchell speaks to AU's 2020 commencement class.
Her advice: find common ground based on facts.
"It will require rethinking social media and traditional media platforms and that includes all of us on network TV and cable news," she said. "Revisiting our laws and regulations, reexamine the social contract that permits so many to be denied access to the essentials of food, housing, health care and decent housing, often the result of systemic racial inequality."
Mitchell appealed to AU students to be the solution.
"My generation, very frankly, has blown it," she said.
Mitchell, who has covered five presidents and seven presidential administrations, said she has long seen herself as a neighbor of AU with NBC Studios' longtime office sitting across Nebraska Avenue.
Embracing the Opportunity
Mitchell's words resonate with Lamar Weir, SOE/MEd '20.
Weir and his family gathered in Baltimore to celebrate commencement, but he was already back at work at his home in Michigan the next day.
He works as a field representative for Rep. Debbie Dingell (D-Mich.) in the state's 12th congressional district, including Ypsilanti, Ann Arbor, and the western suburbs of Detroit.
Part of Weir's focus is to combat education injustices and inequities in local schools, helping to push for resources for Black students in workforce development and better broadband for virtual learning.
Lamar Weir and his family after he graduated from AU with a master's degree in education.
Weir plans to use what he learned at AU to be a changemaker in his community to continue his advocacy to ensure students aren't left behind and that their needs remain a top priority.
"The grip of the movement doesn't stop," Weir said about transitioning from commencement. "There's still work to be done."