Government & Politics
Sine Institute Fellows Look Ahead at the 2022 Midterms with "Policy, Politics, and Predictions"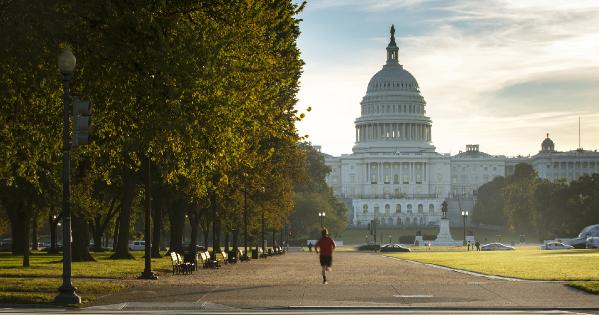 American University's Sine Institute of Policy & Politics hosted an experienced and diverse group of Sine Institute Fellows for a virtual conversation August 18 looking ahead at the 2022 midterm elections.  
Guests included former U.S. Representative Barbara Comstock, political analyst Bill Kristol, food policy expert and Table 81 founder Katherine Miller, and former Univision White House correspondent Janet Rodriguez, who all sat down with Sine executive director Amy Dacey for the discussion.  
The conversation aired on C-SPAN and included a variety of perspectives and takeaways from recent state primaries, the importance of specific policies on voter turnouts, and the impact of recent events and legislation on the upcoming midterms and beyond.  
Below are a few excerpts from the conversation. Watch the full event here.  
"Trump has raised lots of money in the past week. That's money that's not going to Republican candidates. People protesting down at Mar-a-Lago aren't getting you a single vote in a swing district. Trump reappearing at this time is a contribution both financially and vote-wise to Democrats in the House as well as the Senate." – Barbara Comstock 
"We're in uncharted waters. And I think when you're in unchartered waters, some of these trends don't always continue in the same direction. I also think students should learn the history and political science and remember that it's usually a pretty good guide until it's not a good guide. But if there's any time it's not going to be a good guide, it's this year." – Bill Kristol 
"I think the next 82 days are going to be very interesting. We always say that, but there's a lot at play here. It's national momentum related to issues and challenges, localized efforts, and then we're really going to have to pay attention to voter suppression and voter protection efforts across the country. We should all be voting on the issues we care about. We see this with abortion taking the front row motivating a lot of voters. So issues are going to take a play in this election cycle, but wow, it's going to be a ride." – Katherine Miller 
"In news, 82 days to go before the midterms is a lifetime! We don't have a crystal ball about what we're going to see in the news cycle a month before, a week before, or even a day before the elections. We know that people go to the polls right with what's happening in their communities, in their pockets, and in their minds right before the elections. That could swing with world events, scandals, and anything that comes out in the mdeia right before the elections." – Janet Rodriguez 
The Sine Summer Series built on AU's Challenge Accepted campaign, which highlights the passionate and engaged AU community and the meaningful change it creates in local, national, and global pursuits.