On Campus
Strategic Plan, Faculty Scholarship Highlight Past Year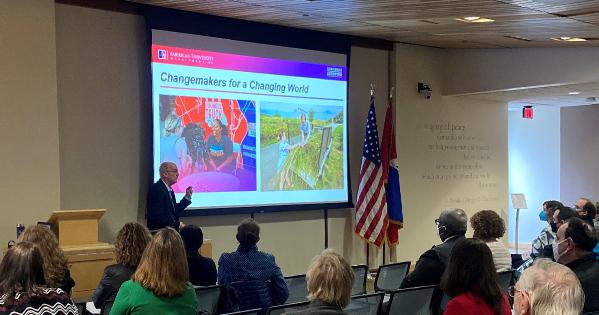 American University has emerged from the pandemic even stronger, thanks to a transformative strategic plan and a deep commitment from the university community, AU provost Peter Starr told faculty March 23 at his annual address.  
Starr cited Changemakers for a Changing World as laying the foundation for guiding AU through an uncertain time.  
"We certainly didn't know a pandemic was coming, but the strategic plan teed us up to thrive through it, in large part because we have been responsive to change and solicitous of our community," said Starr, who addressed a combined crowd of nearly 200 in the Abramson Family Founders Room at SIS and online. 
Initially a five-year plan, Changemakers for a Changing World has been extended to seven years, running through 2025.  
Starr said AU is aligned with its strategic plan in ways he has not experienced at other institutions and detailed how the university has met its strategic imperatives over the past year.  
CAS environmental science professor Sauleh Siddiqui led a group of 14 institutions on a five-year, $15 million grant from the National Science Foundation to study wasted food, while Health Studies professor Kathleen Holton landed a $6.2 million grant from the Department of Defense.   
AU has received more than $40 million in award funding in the 2021-22 fiscal year with one quarter left. By comparison, the university received $29 million and $24 million in funding in the two previous full fiscal years.   
Faculty scholarship remains at the heart of what AU does as a university and is an important driver of reputation, Starr said. Growth in the impact of faculty research is among the reasons why AU's US News and World Report peer reputation score has increased over the past decade at a rate matched only by a handful of universities.   
"The percentage of colleagues coming up for tenure this year who already have strong external funding – be it in the form of fellowships, residencies, or grants – is remarkable," Starr said.   
Starr said that his office will announce in the next few weeks a new Signature Research Initiatives (SRI) program, to provide seed funding to researchers working in areas that advance AU's reputation and the goals of its strategic plan. 
"Our goal is this: when you think of (this research area), you think of American University," Starr said.  
One area of scholarship already receiving widespread recognition was featured in early March at a Change Can't Wait event in San Francisco. Kogod professor Heng Xu and Diana Burley. vice provost for research, discussed cybersecurity and the university's commitment to inclusive tech policy.  
"People were hanging on every word," Starr said. "That is a really strong result. When our alumni and parents understand just how strong our faculty are, our partnerships and philanthropy blossom."  
Starr also shined a light on AU's students. The first undergraduate class to fully experience AU's new Core curriculum – from foundational courses like AUx and complex problems through habits of mind classes to a capstone in their majors – will graduate this May.  
"Five years into the AU Core, we're the envy of our peers," Starr said. "They are consistently impressed that we pulled off an outstanding gen-ed redesign with unanimous Senate approval in less than a year.  We are getting a strong reputational benefit from this work, with its deep commitment to inclusive excellence and its impressive integration into students' majors."  
Starr highlighted the partnership between the Office of Campus Life and his office, divisions that have worked even closer together through the pandemic to support students and ensure they thrive. One of the fastest growing resources on campus is academic coaching, which supports students both in person and virtually.  
Among other key initiatives, Starr mentioned increased financial aid in the summer, proactive counseling for students on temporary leaves, new living-learning communities for sophomores, affinity sections in AUx, and black affinity housing in Roper Hall. All of these efforts, Starr suggested, will improve student retention and graduation rates, which he called the single most important challenge the university faces.