On Campus
AU Abroad Pushes Forward Through the Pandemic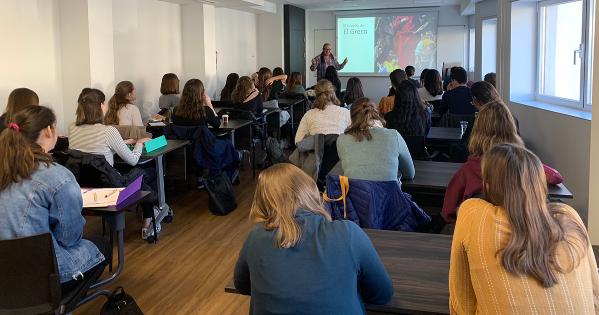 Silvia Hernandez Benito prides herself as a world traveler. 
A native of Spain, Benito attended high school in New York City, and then came to American University to study global security and conflict resolution. 
So, it should be no surprise then that Benito had her eyes on an AU Abroad program once she arrived in DC.  
"Traveling has always been a passion of mine, and getting the opportunity to do so within an academic setting is a very fulfilling and enriching experience," said Benito, a junior who is on track to graduate in December. 
Benito's heart was set on a trip to the AU Abroad center in Nairobi, Kenya, but those plans were derailed by the pandemic. But thanks to quick action by the AU Abroad team, Benito—and other students like her—were able to continue along with a virtual program at AU's three centers abroad, which include Brussels and Madrid. 
"The Nairobi center has allowed for an incredible educational opportunity even in a remote setting," said Benito, who took three classes with the center. "The AU Nairobi center has allowed me to connect with knowledgeable and motivating faculty in enriching educational courses that I would not have been able to take otherwise." 
But the transition to a virtual environment and keeping the centers running didn't come easily. 
AU Abroad executive director Sara Dumont was in Nairobi for a site tour when President Donald Trump announced travel restrictions on March 11,2020, due to the pandemic. She said telling students they would have to return home was one of the hardest days of her life. Dumont's office tracked around 500 students and staff and helped make sure they made it home safely. Not long after that her attention turned to the three abroad centers run by American.  
All three centers offer specific advantages based on location and faculty expertise. The Brussels center is the oldest of the three and focuses on the European Union (EU) and NATO (North Atlantic Treaty Organization). Nairobi includes a public health track and an environmental track. Madrid also has a public health track and one that focuses on Madrid's relationship with the Mediterranean region and issues of conflict on the Iberian Peninsula.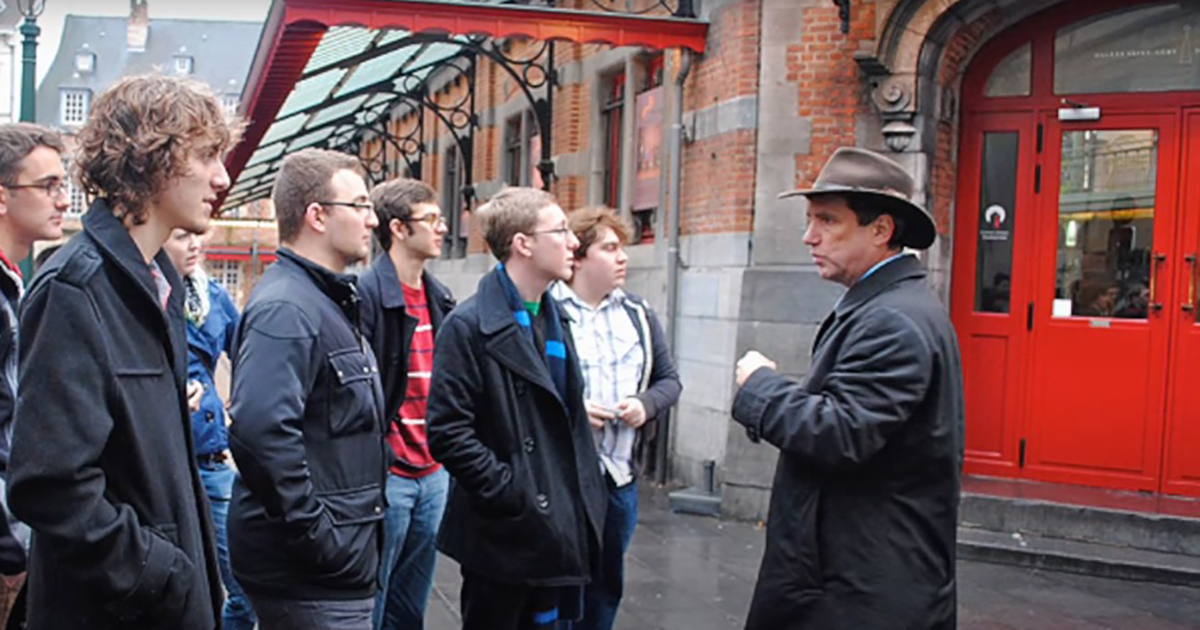 AU Brussels director Jerome Sheridan leads a tour of students prior to the pandemic.
"Immediately we were in this whirlwind of how to get all of our students home from all over the world as borders were shutting as flights were becoming unavailable," said Dumont. "We made sure everybody was ok; that's the first priority. And then we start thinking about our centers. What do we do now to make sure everybody still stays gainfully employed? So, we aren't tossing people out onto the street and saying, 'Well you know we don't need you right now?' " 
Most of the staff and faculty members at the centers are local contract employees, Dumont said, so AU Abroad needed to figure out a way to continue operations virtually. She said her team felt a strong connection to those employees, who, while operating as faculty and staff, also mentor and look after the AU students at the centers. 
"These are loyal employees, going way and above just the few hours of teaching the class," Dumont said. "They've given their hearts and souls to our programs, and I guess very early on I was determined not to just remove everybody's livelihood. And we had students who were in the middle of a semester who had to make a transition to virtual, and you have to make sure they are taken care of." 
AU Abroad moved courses offered by the centers online. Like the rest of the university, the centers had to launch virtual systems that could otherwise take years, and they had to do it remotely. Members of the faculty abroad built modules that any AU faculty member could use to teach their courses. 
As AU Abroad continued to build out the virtual operations, Dumont discovered AU's determination and ability to continue operations overseas was unique. An association of American study abroad programs in Spain told AU Abroad that early in the pandemic, AU was the only US program operating in Spain that hadn't reduced staff. 
"All the members of AU Madrid are aware of the difficult situation we are going through, and they are grateful for the effort that AU Abroad is making so that no one is left by the wayside," AU Madrid director Francisco Gómez Santiago said.  
One of the most valuable resources the centers offer, Dumont said, is their internship programs. So, the centers had to locate local partners who could provide virtual internships. 
The virtual internship component opened doors. Some of the NGOs in Kenya who partner with the Nairobi center for internships have field offices in rural or remote areas. Students previously couldn't do an internship there and still take classes at the center. A virtual option expanded opportunities in Kenya and in Spain. 
AU Nairobi director Mwangi Njagi said because of Kenya's lockdown, internship partners had to transition to online as well, helping the partnership continue. In Kenya, 37 spring 2020 students finished their internships virtually. Since then, 76 students, including 23 this semester, have continued with virtual internships. 
"I'm proud in stating that we have since managed to build a solid database of organizations with whom we can place up to 50 students for virtual internships," Njagi said. 
AU Nairobi director Mwangi Njagi gives a lecture to students in Nairobi before the pandemic.
AU Abroad will continue offering virtual internships in Spain and Kenya after in-person learning at the centers resume. Because its track is intensive and focused on the EU and NATO, internships at AU Brussels are more focused on in-person connections. 
The centers will also offer some of their classes virtually to students in DC helping someone like an athlete who can't get away for a full semester receive a piece of the AU Abroad experience. 
"Suddenly, students had an opportunity to take courses from our foreign faculty online, and they were loving it," Dumont said. "Or we had students, who'd been in Madrid and loved a particular professor, and now they're taking another course with that professor online and loving that experience. We're in the process now of picking which courses we think are going to be the ones that everyone will find most appealing online and offer them to all AU students from our centers." 
Because of the pandemic, students didn't have an opportunity to travel abroad in the summer or fall 2020 or the spring 2021. And the centers have stayed virtual now for more than a year, but center directors and AU Abroad do see a light at the end of the tunnel. 
And Dumont can't wait for students to begin travelling overseas again. While the virtual transition kept the centers afloat, she knows there's no substitute for human contact. 
"Being in another country, immersing yourself in that culture, that's so vital," she said. "You're trying to understand other people and have them understand you. You're getting a different perspective on the world and on the US. There's nothing more valuable in a world that's so interconnected."