Alumni
Two Eagles Drafted by the Washington Football Team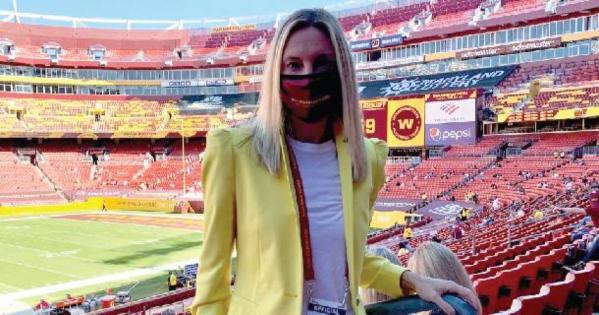 During most plays in a 60-minute football game, Bram Weinstein, SOC/BA '95, is too locked in to pay attention to happenings beyond the gridiron.
Over the course of an unprecedented National Football League season, however, the new radio play-by-play voice of the Washington Football Team has at times been keenly aware of a key ingredient missing from the game unfolding before him.
Case in point: Washington trailed 17-0 in its September 13 season opener at FedEx Field, but came roaring back to snatch a win from the Philadelphia Eagles. The comeback was punctuated by artificial crowd noise, but it was no substitute for what could have been: a win-starved fanbase reacting to a jolt of opening day optimism in real time.
"In all sports, people are realizing that the crowd really matters," Weinstein says. "Teams have done a good job with artificial noise, but it's obvious [real crowd noise is] missing and you do feel it. I can't wait for 2021 when we get that back."
This has been a highly unusual year for the team—and not just because of the pandemic. They began the 2020 season hoping to reset their culture after allegations of sexual harassment within the organization surfaced this summer in the Washington Post. The team has also welcomed President Jason Wright and Coach Ron Rivera and will soon adopt a new, permanent name after jettisoning its racist predecessor.
A little positive change would do the Washington Football Team good. Two AU alumni—Weinstein and Julie Andreeff Jensen, SPA/BA '95, WCL/JD '02, senior vice president for external engagement and communications—are happy to be a part of it.
***
One morning this fall, Jensen had an hour to kill after dropping off one of her sons off in Bethesda, Maryland. She drove to the campus where she had spent eight years to contemplate her big job offer from the Washington Football Team.
"I sat on one of the benches on the quad and just realized, 'I need to take this. This is the right thing to do.'"
With a new football stadium likely on the horizon and the chance to help rebrand and rename a sports franchise for "the next 100 years," the position represented a "once in a lifetime opportunity" to change the sports landscape in DC.
Alumna Julie Jensen is the senior vice president for external engagement and communications for the Washington Football Team.
"It was a leap of faith to say, 'I'm going to do this now during a pandemic with two kids home from school,'" says Jensen, who most recently ran corporate affairs and communications for Chicago investment group Citadel. "I just decided that we would figure it out. You can't turn these kinds of things down."
This new sports chapter is not Jensen's first. As an undergrad she captained AU's swim and dive team, and after a year as a staff assistant for then Senator Edward Kennedy (D-MA), she returned to the Reeves Aquatic Center as an assistant coach—a role that helped fund her studies at the Washington College of Law.
When her athletic career ended, Jensen wondered whether she would find a career that matched the excitement of sports. Politics filled the void. She helped run John Kerry's Iowa caucuses operation in 2004 and served as Barack Obama's get-out-the-vote director in Pennsylvania in 2008—both wins.
"It is a grind, but it's just like sports—you're in it together. You're all moving toward one common goal," Jensen says. "It's intense, but that intensity builds these really deep relationships and there's something about that that's really special."
Jensen's new role is similarly all-consuming—but also empowering. One of her responsibilities is to chart the path forward for the team's Women's Initiative Network, which champions women's leadership within the organization.
"There aren't that many female executives in the NFL. It's getting better, but it's an exciting opportunity to be a woman in a male-dominated field, similar to [my previous role in] finance," Jensen says. "I hope I can help mentor other women and talk to them and [help build] camaraderie."
***
For many Washingtonians, Bram Weinstein's voice is a familiar one.
The Silver Spring, Maryland, native once covered the Washington Football Team as a reporter. He spent seven years as an anchor on ESPN's SportsCenter, and The Bram Weinstein Show airs weekdays from 3 to 6 p.m. on DC's ESPN station.
Weinstein dabbled in play-by-play during his time at ESPN but is relatively new to the booth. As he prepared for his first season alongside broadcasters DeAngelo Hall and Julie Donaldson, Weinstein reminded himself what it was like when he started doing highlights on the fly as a SportsCenter rookie.
A broadcaster must get the information correct—a challenge during a season when rosters are more fluid than usual—and also hit the right notes over the course of a game. During the offseason, Weinstein solicited advice from DC area sports broadcasters and some of his counterparts across the NFL. He also reviews some of his calls to make sure his tone, energy, pace, and interplay with his colleagues are on point.
AU alum Bram Weinstein is the voice of the Washington Football Team.
"I'm really my own toughest critic, so I don't like to do a lot of it because I will nitpick myself to death," Weinstein says. "But there's a lot of moderation of energy and delivery that I wanted to kind of check myself on. I'm there to do mechanics and paint a picture and Julie and DeAngelo are there to tell a story."
Weinstein knows he's had a charmed career. Few sports journalists land a radio show with their name on it. Even fewer host SportsCenter. But NFL play-by-play jobs seldom open, especially in one's backyard.
"I told them on day one, 'I am never going to not want to do this. So when you fire me, whenever that is, you will be breaking my heart,'" he laughs. "It's really the only thing I've ever wanted to do."
***
Weinstein is checking a box on his bucket list. As a kid he sat in front of his TV pretending to call games. He took in the 1987 NFC championship game from RFK Stadium, and NFL Sundays in his house were always a big deal. His mother, Elsa, is still the first to text him after every game, and not necessarily about his performance.
"It's always like, 'I didn't like the coaching on this,'" Weinstein says.
Jensen, who hails from Buffalo, grew up—and remains—a Bills fan, something Washington Football Team owner Dan Snyder ribbed her about during her interview. The mother of two likened multiple football allegiances to multiple kids. "You don't think you can [love another person as much] until you have the second one and then you say, 'Oh, wait. Of course I can love these two people.'"
Their football upbringings differ, but this fall, Jensen and Weinstein joined the same team. Given the intensity of NFC East rivalries, they should be careful about how they phrase it, but two Eagles are working to help the Washington Football Team move forward.