Alumni
Committed to Cleveland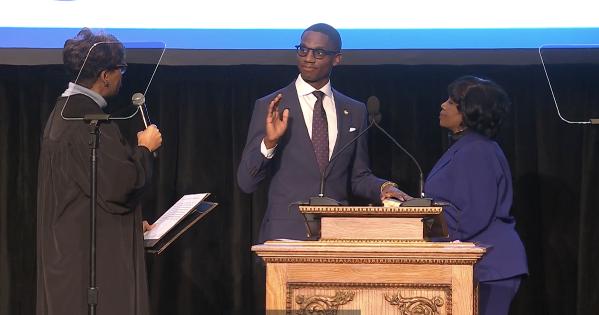 Justin Bibb, SPA/BA '09, began an unfamiliar job on January 8 surrounded by familiar faces.  
His swearing in celebration as Cleveland's 58th mayor kicked off at the Cleveland Public Auditorium with an invocation from Reverend Jawanza Colvin, pastor of the Olivet Institutional Baptist Church, Bibb's place of worship and site of his November victory speech. Representative Shontel Brown (D-OH)—a friend and another recently-elected Clevelander—spoke of Bibb's passion, leadership, and wisdom. "I know his heart is with the people of our city," she said, "and I know he will do whatever it takes to chart a course for a better tomorrow." And as Ohio Supreme Court Justice Melody Stewart guided Bibb through the oath of office, he placed his left hand on a bible held by his mother, Charlene Nichols, who later introduced him as "the love of my life."  
Bibb, elected in November 2021 with nearly 63 percent of the vote after the retirement of four-term mayor Frank Jackson, underscored his pledge to lead his fellow citizens "with urgency [and] deliberate intention" in doing the "hard work of making the city a beacon of hope that we all aspire toward."  
Bibb's vision for the future of Cleveland includes an enhanced focus on public safety, addressing violent crime through a two-pronged approach: improving police pay and technology while also advocating for more police accountability. 
"In this post-George Floyd era of policing, we can and must do both," he said. "I believe that Cleveland can show the nation and the world how to get it done." 
The 34-year-old added that his city hall would be modern and responsive, investing in citizens and small businesses "to ensure that Cleveland's comeback will truly be rooted in putting people and neighborhoods first."  
"We can be the Cleveland that people move back to because there are good jobs, safe streets, good schools, quality grocery stores, good health care," he said. "We don't just have to dream about that Cleveland. We can and will work toward that goal every minute of every day."  
Saturday's event—held in front of a small audience of family, friends, and supporters and livestreamed over Facebook due to the surge in COVID-19 cases—was ceremonial, arriving after a busy week in which the city's first millennial mayor met with various city departments and established a pandemic task force. In accordance with the city's charter, he began his term at midnight on January 3. Bibb took his first—and official—oath of office at the Cleveland Public Library's East 131st Street branch, not far from his grandmother's house in southeast Cleveland, where he spent time as a youngster.  
Bibb's passion for politics—and his first thoughts of a mayoral future—came as a student at Trinity High School in Garfield Heights, Ohio. He volunteered on Wesley Clark's 2004 primary campaign and founded his school's Junior Statesmen of America chapter before enrolling at AU. Bibb spent a year studying economic development and urban policy at the London School of Economics and interned on Capitol Hill, including for then senator Barack Obama.  
"It was an awesome experience," the urban studies major told the Run For Something podcast in early 2021. "Not many freshmen have the opportunity to work on Capitol Hill their first semester of college."  
Bibb spent the early part of his career in economic development and consulting but left New York in 2014 to return to his hometown, earning a dual law degree and MBA from Case Western Reserve University in 2018. Since, he has served on several boards, including Teach for America Greater Cleveland; launched Cleveland Can't Wait, a nonprofit focused on entrepreneurship and civic tech projects; and worked as a vice president of corporate strategy at KeyBank and, most recently, as chief strategy officer at Urbanova, a smart cities technology startup.  
He announced his candidacy for mayor in January 2021, citing the urgent need to tackle violence and economic injustice. "If I didn't step up and lead, I was worried that nothing would change," he said. Throughout the year, he built a formidable coalition and momentum in the polls—all the while shedding criticisms of his youth and lack of experience in elected office.  
In December 2021, Bibb returned to DC, joining nine other newly-elected mayors at the White House to meet with President Joe Biden, Vice President Kamala Harris, and other administration officials to discuss federal investment in cities, including through the $1.2 trillion infrastructure bill signed in November. It marked Bibb's first visit to the White House since his time at AU, when he took part in a tour.  
Asked what advice he might give to that young man, a teenager who first set foot on AU's campus in 2005, Bibb said: "Always trust your gut." He will again heed those words as he leads his hometown into 2022 and beyond.  
"This was the moment that we the people decided to take the future in our hands. We the people decided to put the values of equity, justice, and transparency into action," he said during his swearing in. "This is our time. This is our moment. Let's keep fighting for the promise of what Cleveland can be together."