Alumni
AU Changemakers Honored at the 2022 President's Circle Celebration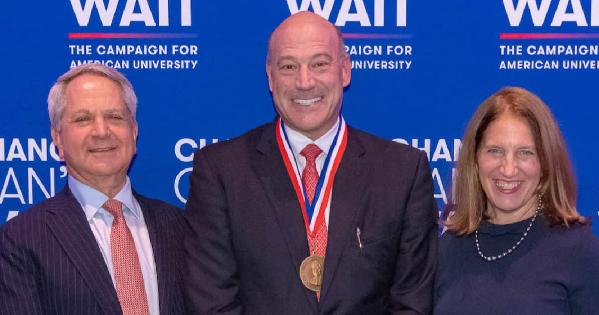 American University supporters gathered on November 10 to attend the annual President's Circle Celebration—in person for the first time since the start of the pandemic. The program, which took place on campus at the Cyrus and Myrtle Katzen Arts Center, recognized leadership donors to Change Can't Wait: The Campaign for American University and honored four members of the community for their changemaking work, commitment, and service to AU. 
The President's Circle Celebration is a longstanding tradition at American University. Members of the President's Circle are some of the university's most generous and loyal donors helping to drive change for AU and beyond. Through engagement, philanthropy, and passion for AU, they inspire others to follow their example. As of November 9, President's Circle donors have played an important role in helping AU raise $358 million towards its ambitious $500 million campaign goal, providing essential support to transform the student experience, advance research with impact, and foster stronger communities.  
Gary D. Cohn Presented with Cyrus A. Ansary Medal 
Gary D. Cohn, Kogod/BSBA '82, received the Cyrus A. Ansary Medal for leadership and service for his commitment to AU. The medal is one of the university's highest honors. Board of Trustees chair Marc N. Duber, Kogod/BSBA '81, presented Cohn with the award.  
As a business leader, investor, and former director of the US National Economic Council, Cohn is widely respected for his expertise and leadership in financial markets, the global economy, US politics, and economic policy.  
Cohn, served on AU's Board of Trustees for 15 years (2001–2016). During that time, "Gary provided crucial financial management expertise that helped AU's investment portfolio grow, and created enduring support for the university," said American University President Sylvia Burwell of Cohn's time on the board. "Gary, who has worked at the highest levels in both private and public service, is an important, needed voice who advocates for better collaboration and understanding between the two." 
Among his investments in AU, Cohn has provided significant philanthropic support to the Kogod School of Business, through the Gary D. Cohn Goldman Sachs Chair in Finance and the Gary D. Cohn Scholarship, which elevates the school's emphasis on experiential learning and scholarship, helping prepare future leaders to make a difference in their communities. 
Cohn also reflected on the university's evolution over time—the growing facilities, the quality of the faculty and staff, and the strength of its students, He remarked, "If there's any institution entitled to talk about change, it's American University." 
The Cyrus A. Ansary Medal is awarded to individuals who display extraordinary dedication and leadership professionally and to AU, and who make significant accomplishments, either in service to AU or for the benefit of the community. Cyrus A. Ansary has made a marked imprint on American University—as a student, alumnus, and dedicated member of the Board of Trustees and as chairman emeritus, and this award honors his legacy since 1990.
Honoring Changemakers Who Elevate, Inspire, and Lead 
In the spirit of change, this year's program introduced a new honor, the Changemaker Awards. These awards recognize individuals who embody the pillars of Change Can't Wait: elevate – to transform the student experience; inspire – to drive global impact through faculty research and teaching; and lead – to build better communities. The three inaugural awardees serve as exceptional role models for AU students, collaborators for the university's faculty and administration, and powerful examples of changemakers in society. AU is proud to have presented the inaugural Changemaker Awards to the following individuals:  
Elevate: Jennifer D. Collins, SOC/BA '94, is president and chief executive officer of JDC Events, an events company she founded nearly 25 years ago. She is the author of Events Spark Change: A Guide to Designing Powerful and Engaging Events. Professor Emeritus Richard Stack presented Collins with the award. 
Inspire: Kimberly B. Vogel, SPA/BA '94, is the managing director of Beckley III, LLC, a firm she co-founded in 2005 that addresses the complex financial needs of families, with services that include wealth and real estate management, investment opportunities, philanthropy, and tax/estate planning. School of Public Affairs Dean Vicky Williams presented Vogel with the award. 
Lead: Ann B. Friedman, SOE/MAT '98, is the founder and chief executive officer of Planet Word and the developer behind the restoration of the Franklin School, the museum's home. Her interest in literacy began with a lifelong love of reading, early work as a copy editor and translator, and a later career as a beginning reading and writing teacher in Maryland's Montgomery County Public Schools. Planet Word Board of Directors member Tina Small presented Friedman with the award. 
"President's Circle members are a community of changemakers who advance the university through their philanthropy. You each have a story of how you are creating change for our students, our faculty, and our communities," noted AU Vice President of Development and Alumni Relations Courtney Surls. "We are delighted to honor Jennifer, Kimberly, and Ann, alongside all of you, who represent the spirit of changemaking." 
Learn more about the President's Circle and how to support Change Can't Wait.