Government & Politics
AU at the White House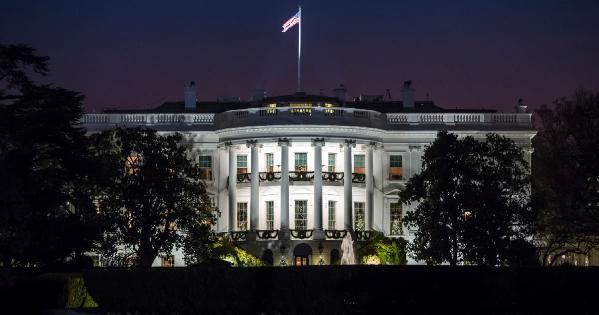 American University will have a presence in the White House following the inauguration of President-elect Joe Biden.
At least four AU alumni and one familiar face to the White House are set to join Biden's team as of January 17.
They are Susan Rice, the former national security advisor and a US ambassador to the United Nations under President Barack Obama, and AU alums Shuwanza Goff, Melanie Nakagawa, Michael LaRosa, and Thomas Winslow.
Rice, a distinguished visiting research fellow at AU's School of International Service, will lead the White House Domestic Policy Council for Biden.
"I have known and worked with Susan since 1987, and she is both passionate and knowledgeable about the issues that shape our lives and knows how to work with government departments for results," said AU president Sylvia M. Burwell. "AU's loss is the nation's gain."
Rice joined SIS in March 2017 following her stint as national security advisor. She worked on her book, Tough Love: My Story of the Things Worth Fighting For, and appeared at SIS events while in residency.
Goff, SPA/MS '08, will serve as Biden's deputy director of the White House Office of Legislative Affairs. She worked for the past 12 years for Congressman Steny Hoyer (D-Maryland) in the House of and was the first Black woman to be floor director for the House Majority Leader.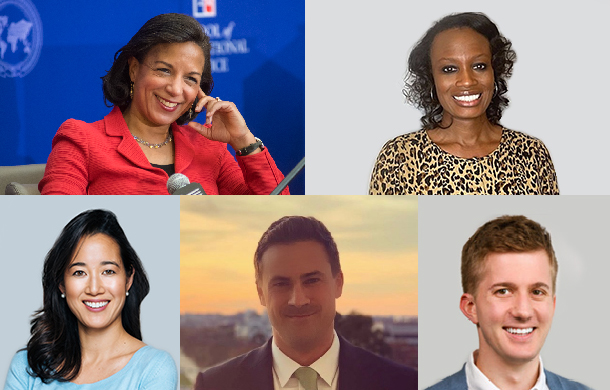 Clockwise from top, Susan Rice, Shuwanza Goff, Thomas Winslow, Michael LaRosa, and Melanie Nakagawa.
"President-elect Biden, in choosing Shuwanza Goff to be his Deputy Director for Legislative Affairs and liaison to the House, has selected a highly experienced and talented individual," Hoyer said. "In her 12 years as a member of my staff, Shuwanza has become an expert on the legislative process and built strong relationships with committees, members, and staff throughout the Democratic Caucus and with members and staff on the Republican side of the aisle."
Nakagawa, WCL/JD '05, SIS/MA '06, was named senior director for climate and energy. She previously served in the Obama Administration as the deputy assistant secretary for energy transformation at the State Department. She also worked as an advisor on climate change to John Kerry while he was secretary of state and spent four years as counsel with the Senate Foreign Relations Committee. Nakagawa most recently worked as the director of climate strategy at Princeville Capital.
"She's seen and done so much on this issue (of climate), from the Senate and to the State Department, and will be a terrific team member addressing the climate crisis," Kerry tweeted. 
LaRosa, SPA/MA '10, is joining the Office of the First Lady as Jill Biden's press secretary. He was her traveling press secretary and chief spokesperson during the campaign and previously worked as communications director for the House Democratic Party Communications Committee and in the offices of Senator Kirsten Gillibrand (D-New York) and Representative Melissa Bean (D-Illinois).
Winslow, SOC/BA '13, joins the Biden team as the senior advisor to the deputy chief of staff. Winslow served as chief of staff to Biden's campaign manager during the election. He served in a similar role for the campaign of Beto O'Rourke.
Another alumna, Elizabeth Klein, WCL/JD '06, will be nominated as Deputy Secretary of the Interior, the Biden team announced January 18.
Biden's transition teams also have members with ties to American University, lending their expertise on a host of issues:
Alumni
Kathryn Alvarez, SIS/BA '10, Health and Human Services
Gabriel Baca, WCL/JD '15, International Development
Patricia Bory, SPA/MS '13, Department of Labor
Maren Brooks, SIS/MA '97, National Security Council
April Carson, SPA/BA '98, Office of General Counsel 
Adria Crutchfield, SPA/MPP '10, Housing and Urban Development
Andrea Delgado, current MPAP student, Department of State
Nadia Firozvi, WCL/MLS '06, Department of Homeland Security
Vivian Graubard, Kogod/BS '10, Department of Labor
Mounir Ibrahim, SIS/BA '04, Department of State
Elizabeth Klein, WCL/JD '06, Department of Interior
Kelly Magsamen, SIS/BA '98, National Security Council
Amber McIntyre, SPA/MPA '11, Department of State
Robert Molofsky, WCL/JD '77, Department of Transportation
Jose Morales Jr., CAS/BA '13, Department of Justice
Brian O'Hanlon, SIS/MA '04, International Development
Brian Shearer, WCL/JD '13, Consumer Financial Protection Bureau
Terri Tanielian, CAS/MA '94, Department of Defense
Vinn White, SPA/BA '98, SPA/MS '00, Department of Transportation
Kayla Williams, SIS/MA '08, Department of Veteran Affairs
Professors
Ken Kopocis, WCL lecturer, Environmental Protection Agency
Amanda Leiter, WCL professor, Department of the Interior