Achievements
Filmmaking Fulbright Recipients Break New Ground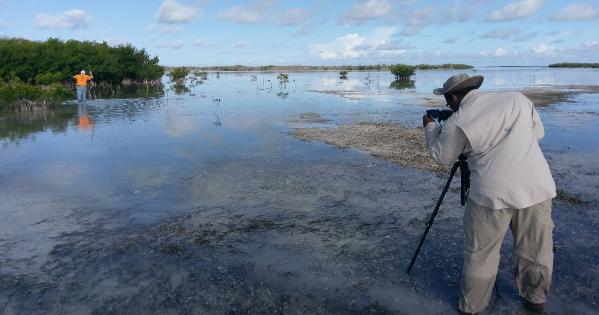 Robert Boyd, SOC/MFA '20, is bound for Barbados in January 2022 to find out if the world's smallest snake is ready for its close-up. 
Boyd is one of two promising filmmakers among the eight AU alumni who received Fulbright grants during the 2020–21 application cycle. Frederick Douglass Distinguished Scholar and documentary storyteller Fernando Rocha, SOC/BA '21, anticipates traveling to El Salvador in early 2022 to film a community's struggle to gain reliable access to clean water. 
Established by Arkansas senator J. William Fulbright 75 years ago, the Fulbright Program is an educational exchange sponsored by the US Department of State's Bureau of Educational and Cultural Affairs. With the goal of furthering mutual understanding between the United States and other countries, the program funds yearlong research projects, academic studies, and teaching assistantships in 160 countries for around 10,000 applicants annually. 
AU has been named a top producer of Fulbright grantees by the Department of State seven times in the past decade, most recently in the 2020–21 academic year. The university boasts 223 Fulbright recipients since the program's 1946 inception.
In addition to Boyd and Rocha, 2020–21 research grantees include Lauren LaVare, WCL/JD '21, and Jacob Bodenger, SIS/BA '21. Fulbright teaching assistantship recipients are Sarah Duval, SPA/BA '21; Lindsey Grutchfield, SOC/BA '19; Kate Jasenski, SIS/BA '21; and Tina Maglakelidze, SIS/BA '20.
Though the global pandemic forced some to defer—or cancel—any plans they may have had to travel abroad, being offered a Fulbright grant is still an impressive accomplishment.
Boyd will film the Caribbean island nation's eponymous threadsnake as a Fulbright-National Geographic Storytelling Fellow. Among a select group of Fulbrighters with globally significant projects—only five per year since the fellowship's 2013 inception—Boyd will receive instruction from National Geographic staff in storytelling techniques, effective blog writing, video production, photography, public speaking, and other relevant training prior to his departure in addition to the transportation to the host country, health benefits, and a stipend to cover room, board, and the cost of incidentals provided by Fulbright. Boyd is AU's second Fulbright-National Geographic Storytelling Fellow, "a remarkable achievement" for the university given the stiff competition for this award, says Paula Warrick, senior director of the Office of Merit Awards.  
Because its habitat has dwindled to just a few square kilometers in the face of ever-increasing urbanization, the Barbados threadsnake has been categorized as "critically endangered" by the International Union for Conservation of Nature (IUCN) on the organization's Red List of Threatened Species. Using specialized macro equipment, Boyd wants to film the spaghetti-thin four-inch-long rare serpent first identified in 2008 hatching, hunting ants, and mating. By involving Barbadians in his filmmaking process and screening his documentary for them, Boyd hopes to inspire locals to conserve it.
"I love creatures that look odd," says Boyd, "anything that looks like an alien. And a lot of those are very, very small." His affinity for creepy critters likely developed during childhood visits to the Smithsonian National Museum of Natural History, where he encountered a model of a lion's mane jellyfish in Sant Ocean Hall. 
Boyd also credits The Magic School Bus and NOVA, the PBS series he grew up watching, with sparking his interest in science media. Astrophysicist and television presenter Neil deGrasse Tyson is one of his science communication role models, along with Crocodile Hunter host Steve Irwin. During his time at AU's Center for Environmental Filmmaking, Boyd was able to pursue his interest in microfauna such as insects and plankton. "Not many people have done wildlife film documentaries on them," he says. "I figured that was a niche I could explore." 
During his time in El Salvador—a journey that has also been delayed due to the global pandemic—Rocha plans to shadow one family, documenting the effects of a nationwide shortage of potable water on their daily lives. Despite the country's 2017 ban on mining gold, silver, and all other metals, clean water is still scarce in El Salvador, particular in rural areas. 
Rocha, whose ancestry is Mexican American, says his proficiency with Spanish gave him "a leg up" in reaching out to people in El Salvador who could assist with his research project, even though "it's pretty clear the accent is from some urban part of Mexico." He is now a firm believer in the power of cold calling—or cold emailing—to communicate with those who share his passion for filmmaking. "It's humbling, you know, asking for help," Rocha says. "But once you get into the flow, it gets better." He laughs. "I'm looking forward to when someone asks me. That'll be fun."
Nearly 15 percent of the university's faculty work with the Office of Merit Awards to help students apply for national merit awards, truly embodying AU's scholar-teacher ideal by taking the time to develop collegial relationships with applicants, write letters of recommendation, and share their expertise and connections. Boyd and Rocha worked with nine faculty members from four schools: SOC professors Russell Williams, Laura Hinson, Maggie Stogner, Bill Gentile, and Michael Cascio; SIS professor Robin Broad; SPA professor Eric Hershberg; and CAS professor Ernesto Castaneda. 
The fact that two filmmaking students were offered Fulbright grants in the 2020–21 academic year "attests to the strength of our student body in this discipline and the quality of the mentoring they receive," says Warrick. "We hope [their] successes inspire more creative arts students to step forward and apply."