Achievements
2021 President's Award Winner Lauded for Teamwork and Leadership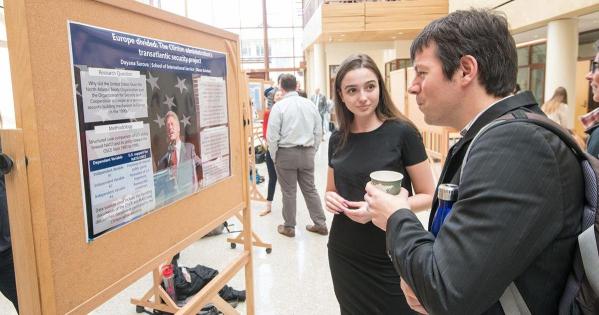 Dayana Sarova, BA/SIS '20, who didn't speak fluent English until she was 16, has come a long way since she decided as a teenager that she wanted to study international relations in what many consider the capital of the Free World.   
The August 2020 summa cum laude graduate is the 2021 President's Award winner—the highest distinction for an AU undergraduate and one she earned through her esteemed academic career and her wish to help others as others had helped her. Sarova, who grew up in Krasnodar, Russia, a city in the southwest near the Black Sea, is the first international student to be so honored.  
"Dayana's scholarship, leadership, and service reminds us all of the importance of paying it forward," AU president Sylvia Burwell said. "Her academic drive and integrity, desire to promote cultural understanding, and commitment to serving others, especially international students, was clear to me from our very first conversation. She embodies all of the qualifications of the President's Award and is a very deserving recipient." 
With little exposure to foreign countries or visitors to Russia when she was growing up, the intellectually curious Sarova decided she wanted to learn about the world and interactions between its countries and people. In 2016, she landed AU's Emerging Global Leadership Scholarship over 1,200 other candidates, becoming the first student in her high school's 50-year history to pursue a bachelor's degree abroad. The full academic scholarship from AU enhances international diversity at the university by providing an opportunity to a student who wouldn't otherwise be able to attend.  
Sarova's first day in the US was move-in day at AU. She expected the adjustment to be difficult, and she told herself, "Just last one semester even if you make no friends, fail all your classes, and you're just miserable, just make it to December." 
However, Sarova found a welcoming community at the university filled with other students new to the US and or Washington, DC. "I quickly realized I was not the only culturally shocked person," Sarova said. "Somebody coming from rural Alabama could have the same adjustment, and it was great to meet people making that same transition. I think most people I've met to be incredibly open-hearted." 
The academic transition went smoothly as well. Sarova sat in the first row of every class. She asked countless questions and embraced the few moments after her classes to chat with her professors. 
Though SIS professor James Goldgeier hadn't noticed Sarova in his 500-person Intro to World Politics class, a professor pointed Sarova towards the then-SIS dean. He read a paper she wrote and immediately came away impressed, calling the piece "extremely sophisticated" and one of the best-written papers he'd ever seen from an undergraduate. "In more than 30 years teaching thousands of students, she is one of the top five most impressive undergraduates I have ever worked with," Goldgeier said. 
Based on a solid first academic year, Sarova joined the selective Olson Scholars, an SIS program focused on independent research. She pursued research in complex topics such as reserve currencies and European collective debt obligations. 
As she grew as a student, Sarova gained recognition for her work including receipt of the SIS-wide Outstanding Academic Achievement Award her senior year. She also stayed involved in extracurricular activities, serving as an AU student diplomat, on the SIS undergraduate council, and as a teaching assistant in both SPA and Kogod. 
Every professor who nominated Sarova for the President's Award cited her leadership and teamwork and provided a variety of examples. Kogod professor Valentina Bruno wrote about Sarova's creation of an online course on economic inequality through EducationUSA that inspired students to explore economics or finance. Sarova participated in the Schuman Challenge, an event sponsored by the European Union embassy requiring teamwork and a group presentation to judges, wrote Goldgeier.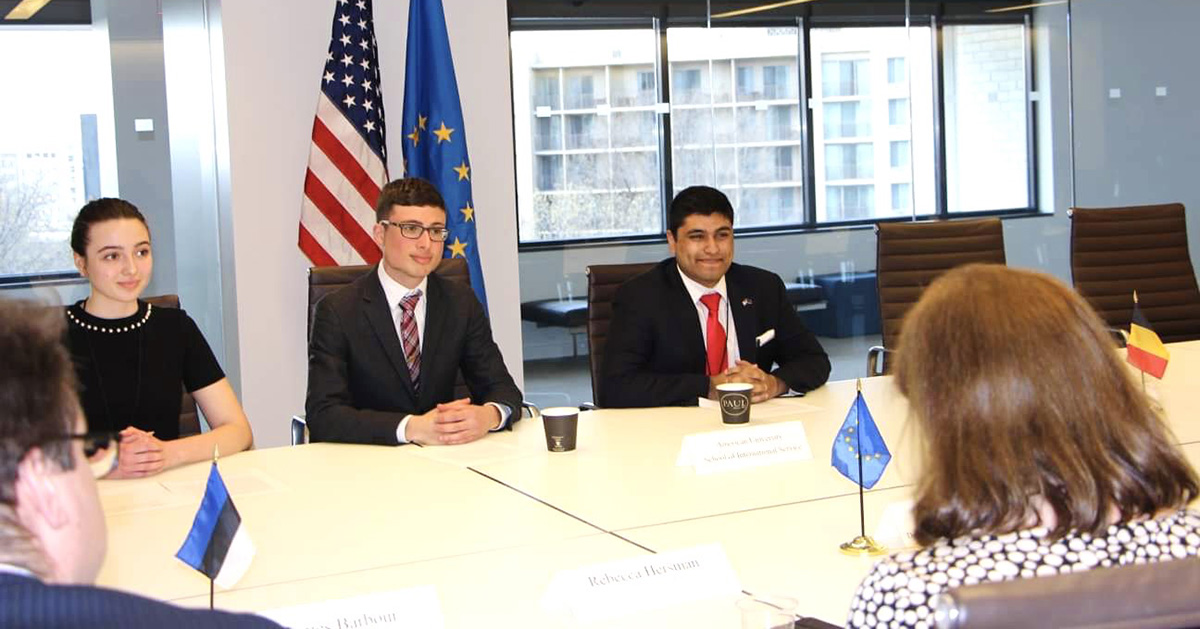 Dayana Sarova discussing her team's policy proposal for transatlantic cooperation in the sphere of nuclear nonproliferation at the Schuman Challenge organized by the European Union Delegation to the US in March 2018. (Courtesy of Dayana Sarova).
Because Sarova considers herself lucky to have gotten to this point, writes SIS professor Aaron Boesenecker, she works to better the AU community to ensure students can receive the same opportunities. "(Sarova) possesses an unimaginably strong—indeed, fierce—commitment to supporting educational opportunities for others, especially the less fortunate as a way of recognizing the support that she has received throughout her academic and personal journey," Boesenecker said. 
Sarova credits eagerness to learn, luck, the support of professors, and plenty of time in the silent zone of the University Library for her accomplishments at AU. Yet, the roots of her success run deeper; the work ethic her mother instilled in her is the reason she is where she is today. A single parent, Sarova's mother worked two jobs to support her family. "She's a woman of ambition. Seeing her on her own demonstrate the value of hard work has been one of the most formative things for me," Sarova said.  
Sarova's love of numbers and interest in quantitative work comes from her mother, an accountant who "is quite passionate about her profession." She decided to minor in finance after taking an accounting class at Kogod. Not missing a question on the final exam, Sarova got a note from the professor that said, "What can I do to convince you to double major in accounting?"   
The past year has a whirlwind for Sarova, who began 2020 studying international affairs as a visiting student at the University of Oxford. COVID-19 interrupted her studies, but she didn't slow down, founding In-Tact, a student-led support network that helps students stay on track academically as they overcome obstacles caused by the pandemic.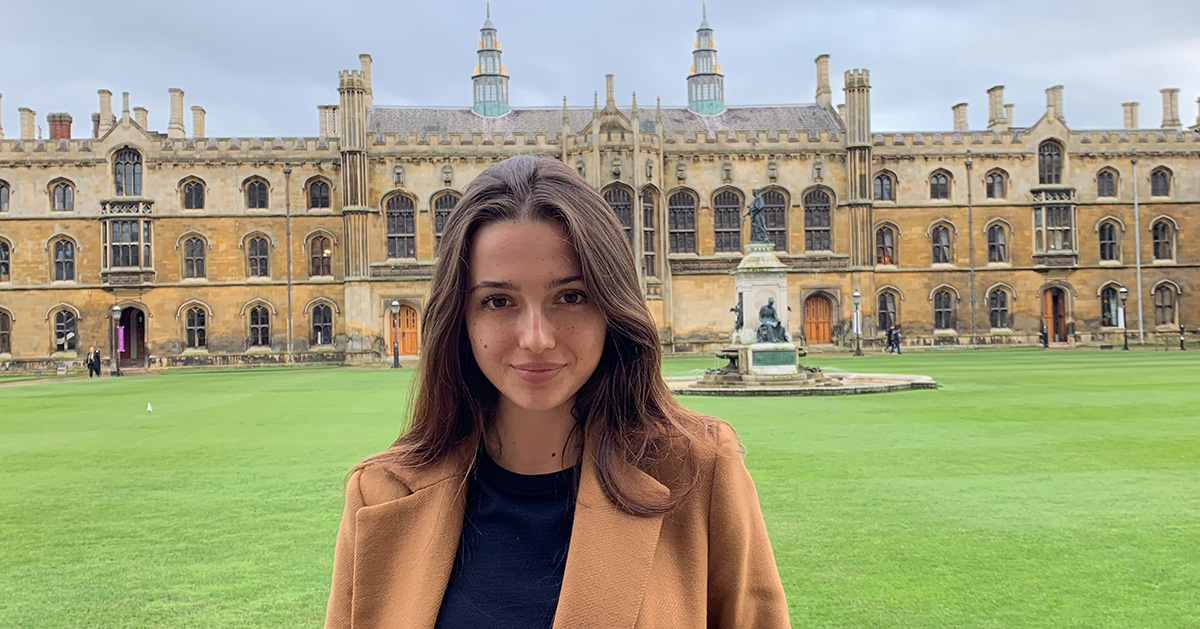 Dayana Sarova at the University of Cambridge in November 2019. (Courtesy of Dayana Sarova)
Since graduating, Sarova has helped run an EducationUSA program virtually to mentor students who want to study abroad. She also has worked as a compliance risk and due diligence intern at financial firm Duff and Phelps, following internships with the Council on Foreign Relations, the Hudson Institute, and the National Security Archive. She became AU's first finalist for the Global Rhodes Scholarship last fall. 
"Getting to this point is so much bigger than me," Sarova said. "Everyone from back home, everybody here in the states may not have the same opportunity. It's not for lack of hard work, work ethic, or dedication. Frankly, I think a lot of it is just fortune and chance." 
Sarova plans to continue her studies either at Oxford or the London School of Economics. Then, she wants to earn a place at an international table where she can use her knowledge, expertise, and cross-cultural competence—much of which she says she gained at AU. Though she gravitates towards institutions like the International Monetary Fund or the World Bank, she is keeping her options open considering the unlikely turns her life has taken so far. 
"I'll leave it with fate to decide where I end up," Sarova said. "But I do I think some of the most serious challenges we're facing rest on an international level, where no country can find solutions on its own. These challenges require sitting down with people from a very different walk of life than yours, with whom you might have nothing in common at all aside from your shared understanding that there is a problem you are collectively facing. That's the space I want to be in." 
Dayana Sarova at the Lincoln Memorial. (Courtesy of Dayana Sarova).