Student Life
"Called to a Higher Purpose": 2022 Commencement Speakers Give Advice to Graduates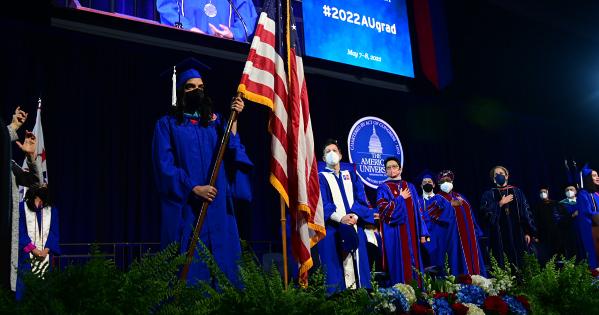 A soggy, wet weekend of weather in the DC area didn't dampen the spirits of new American University graduates this past weekend.
Around 2400 walked across the stage at Bender Arena May 7-8 in AU's 143rd commencement ceremony. Another ceremony for 2020 and 2021 graduates will follow on May 21 at Bender Arena, and the Washington College of Law will hold its commencement on May 22.
President Sylvia M. Burwell charged students to continue their positive work on the challenges that face the world.
"By virtue of your character and sense of responsibility, you have been called to a higher purpose—a purpose that is meaningful in your life, a purpose that has an impact on others and that truly makes you happy," Burwell said. "You are already in the fight for our planet's environment, the fight for inclusion, the fight for what is right and what is just, the fight for dignity, and many others."
Five commencement speakers gave graduates advice and told their stories of overcoming adversity to find success. Here's a sample of what they said.
Schools of Education and Communication
Longtime NFL broadcaster James Brown has won three Emmy awards and is the host of NFL Today on CBS and Inside the NFL on Paramount +.
Brown advised students to pursue new and different tasks to be viewed as versatile. He told students that before he landed a job as one of the lead media voices covering the NFL, he covered water polo, rock climbing, gymnastics, figure skating, and aerial skiing. He also advised students to seek out and build organizations with character and integrity.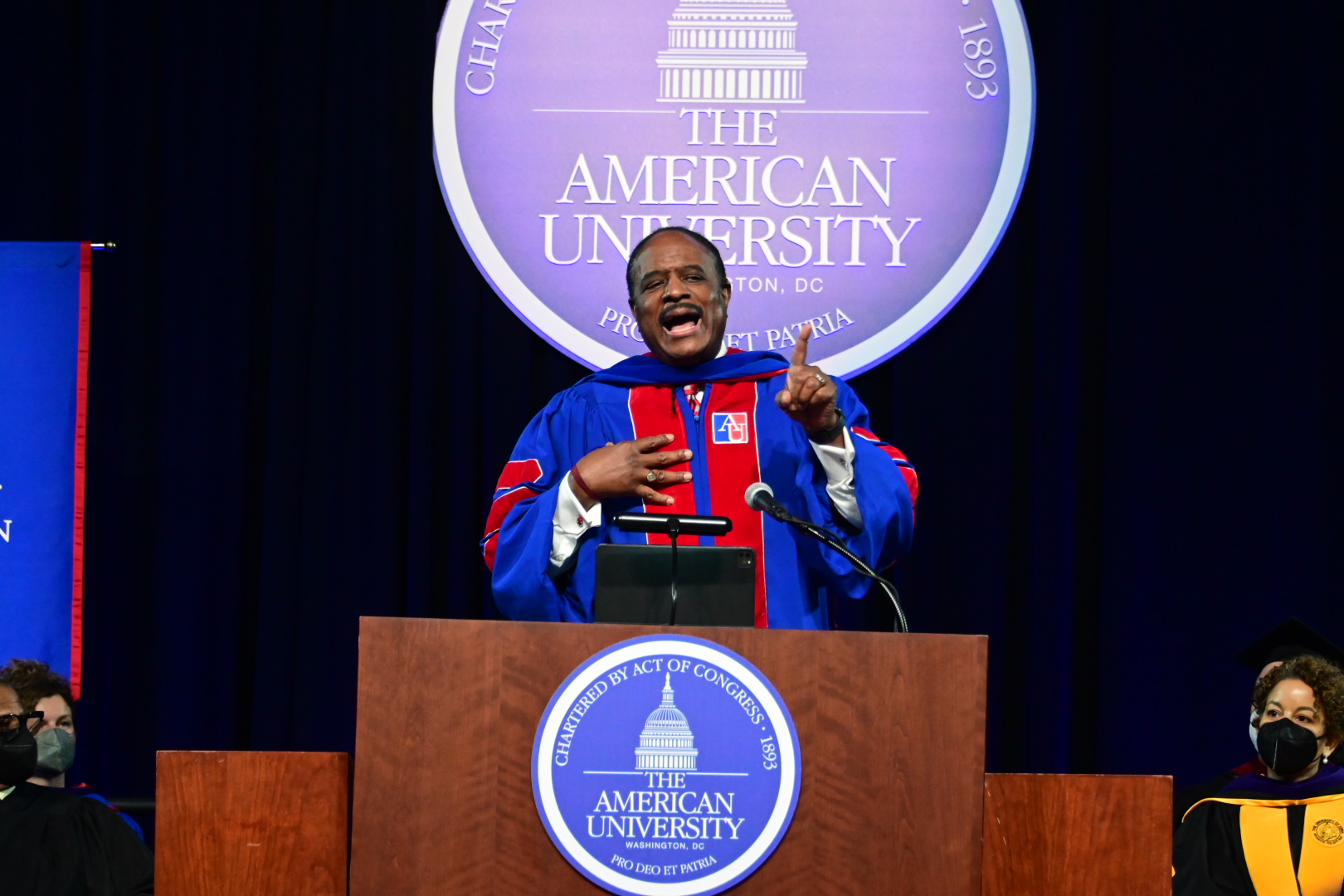 "Some people think that the best way to create a successful environment, a winning organization, and to be thought of as a leader, is to be dictatorial, abrasive, and use profane language. Toxic environments like that do not produce winning cultures. It took seemingly forever for NFL coach Tony Dungy to get a head coaching job…despite being a (successful assistant coach) for several years. But owners thought his mild-mannered, respectful treatment of his players, and that he didn't use profanity was not a prescription for success. After turning the Tampa Bay Buccaneers into perennial winners and winning a Super Bowl title as head coach for the Indianapolis Colts, he's now in the Pro Football Hall of Fame, and a New York Times best-selling author."
Kogod School of Business
Economist Dambisa Moyo, CAS/BS '91, Kogod/MBA '92, returned to campus having written four New York Times bestselling books.
Moyo said she came to AU without a birth certificate because they weren't given to Black children in Zambia at the time of her birth. She came to DC fleeing an attempted coup in her country, but said AU catapulted her to Harvard, Oxford, the trading floors of Goldman Sachs and to the World Bank.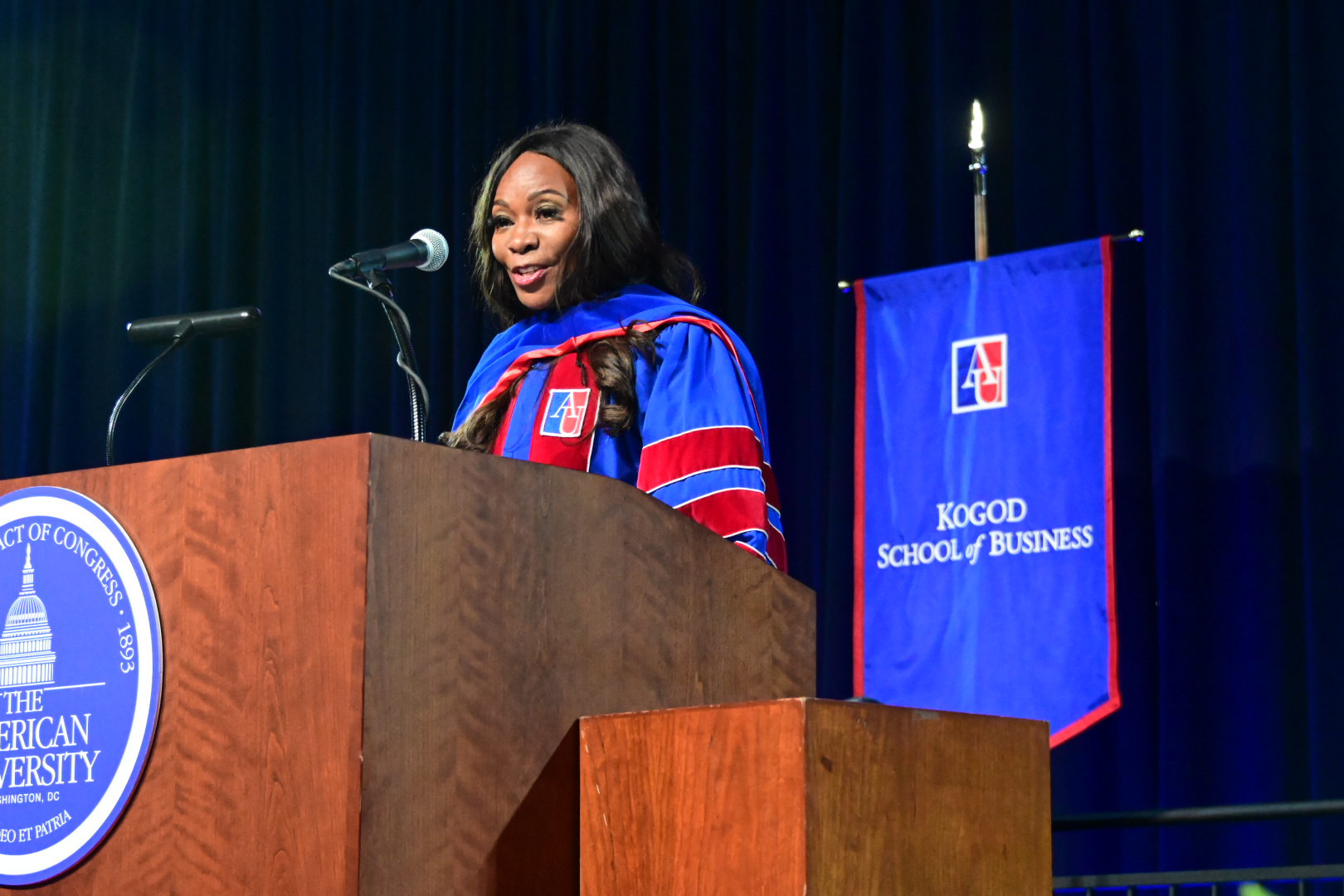 "Build your own world view. Too often our world view is formed by default, built on others' perspectives and interpretation. And crucially, people's perspectives can often be wrong even when they do not have mal intent. Building your own world view today is harder than before – as we are being perpetually bombarded by data and information (and even misinformation) on what is happening in our local communities and around the world. This is why the age-old advice to travel and read widely matters even more. Understanding history, science, art, philosophy and ideological debates in politics and economics and thought that have gone before you are critical for you to succeed."
School of International Service
A former Nigerian finance minister, Ngozi Okonjo-Iweala is the first woman and African to serve as World Trade Organization director-general.
Okonjo-Iweala told graduates that she had to stand up for herself to lead and do her job properly. Underestimated as a person of color and a woman, Okonjo-Iweala said holding steady to her principles and values helped build credibility and pushed her teams to deliver.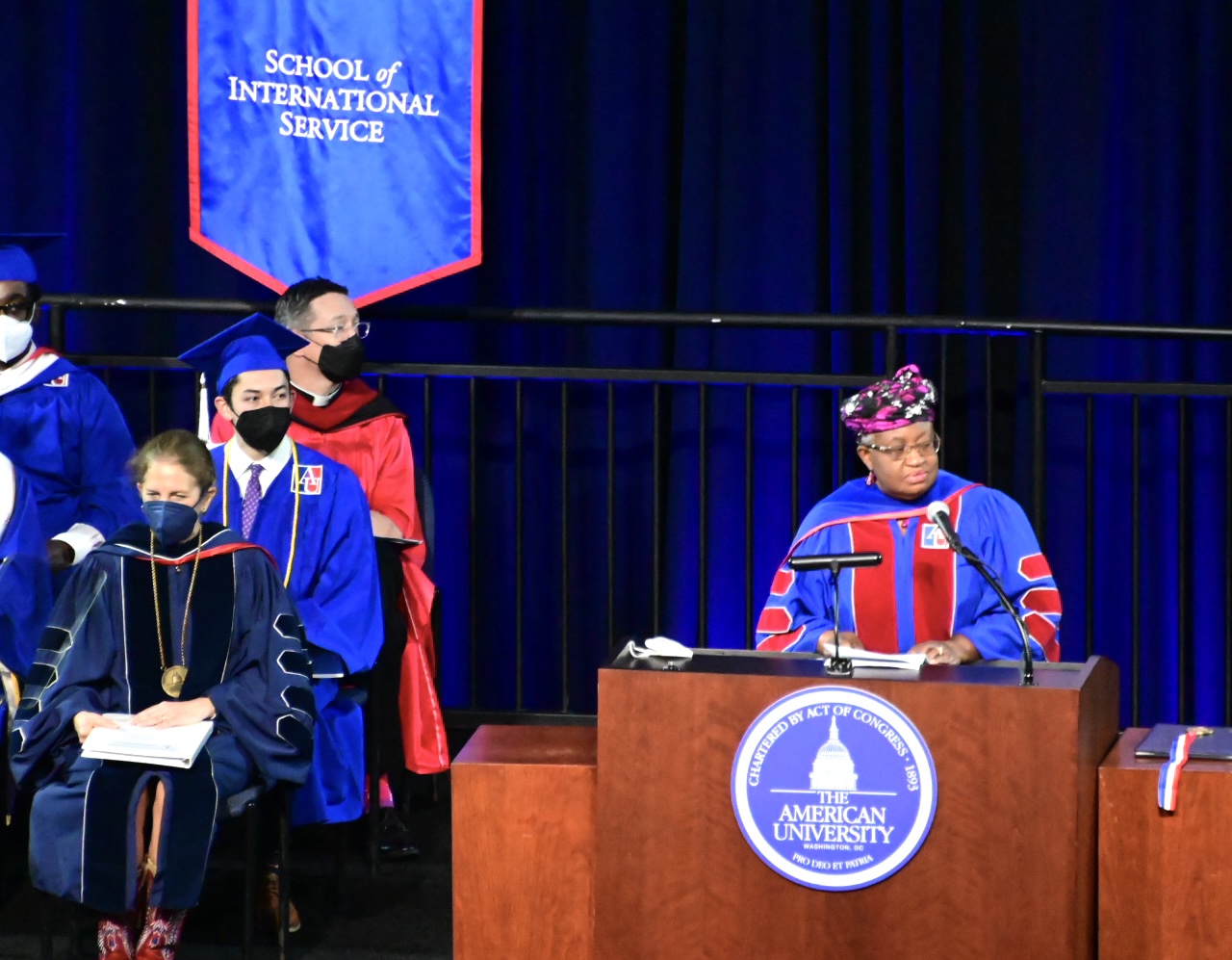 "It's precisely challenges (like creating reforms in the World Trade Organization) that attracted me to public service. The possibility to serve and do something for the greater good, whether in the international arena or at home. At every step of my career, I have asked myself, 'Would this assignment enable me to serve whilst applying the skills for which I was trained? Would I want to jump out of bed each morning wanting to go to work?...Would this job be fun at least some of the time? Would it allow me to go home each day saying, whatever battle I had to fight that day, whatever victory was won or lost, it was well worth it. My personal experience has shown that answering these questions in the affirmative has led me to a satisfying career in international and national service."
College of Arts and Sciences
White House Climate Advisor Gina McCarthy has worked as the EPA administrator and led the Natural Resources Defense Council.
McCarthy told students she has spent 40 years working to protect the environment. And even with the serious climate risks facing the environment, McCarthy has found optimism. She cited the creation of "jobs of the future" that are here now. She advocated for green technologies that can clean air and water that can help build communities adversely affected by pollution and disinvestment.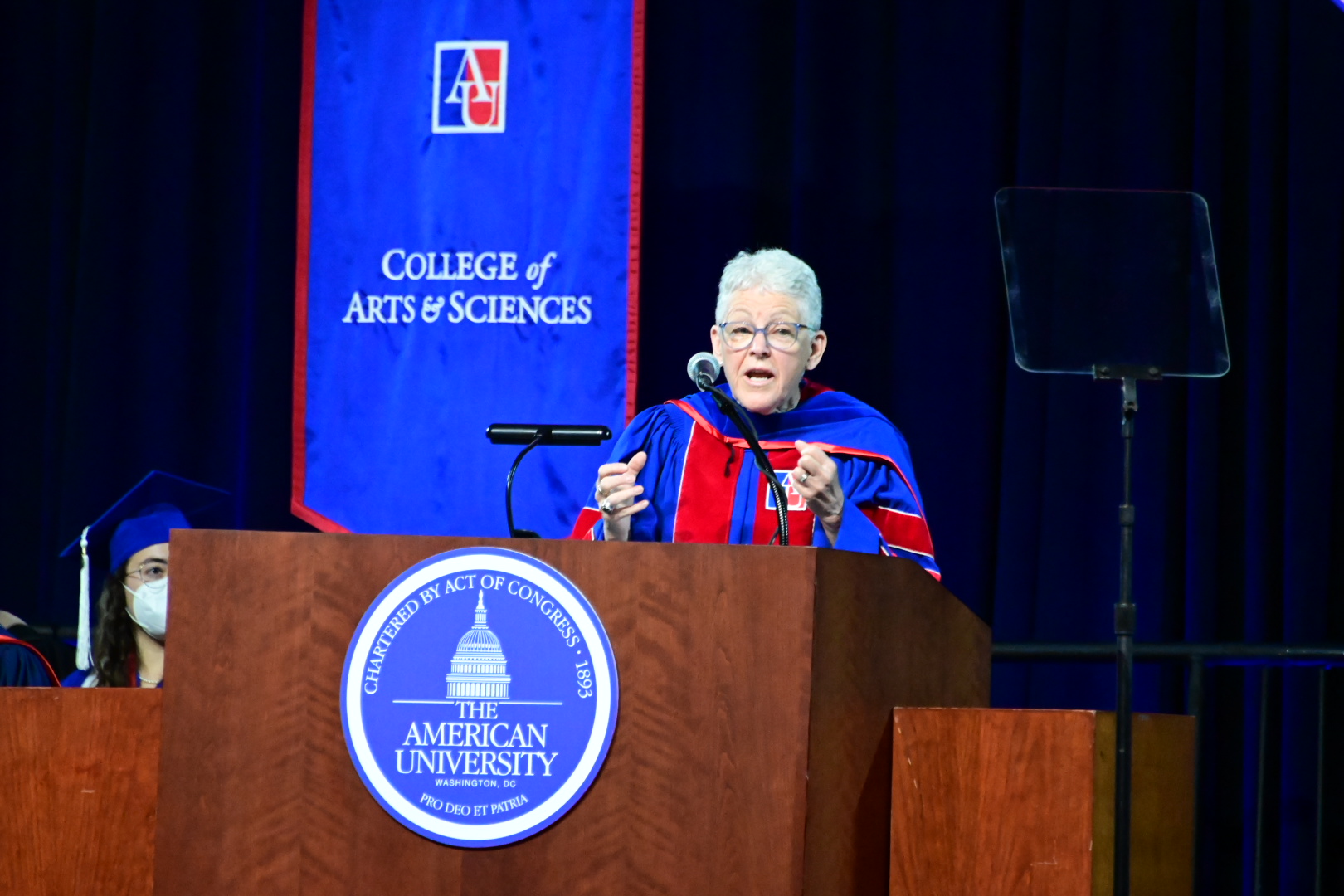 "Climate action is not about sacrifice, it's about opportunity. Do we need to keep pushing and do more? Absolutely. But we have solutions, so let's celebrate them and remember that while the challenge of climate change is planetary in scope, the solutions we need to stop climate change are not. They are within our grasp and more solutions will arise as innovations turn into business as usual. So now is not the time to bemoan what hasn't been done or to wait around for someone else to protect our future."
School of Public Affairs
Symone Sanders worked on the presidential campaigns of Bernie Sanders (2016) and Joe Biden (2020) and served as chief spokesperson for Vice President Kamala Harris until 2021. MSNBC recently launched a show for Sanders. 
Sanders told graduates to find a circle of love and support to help push them through the rough fights ahead in public service.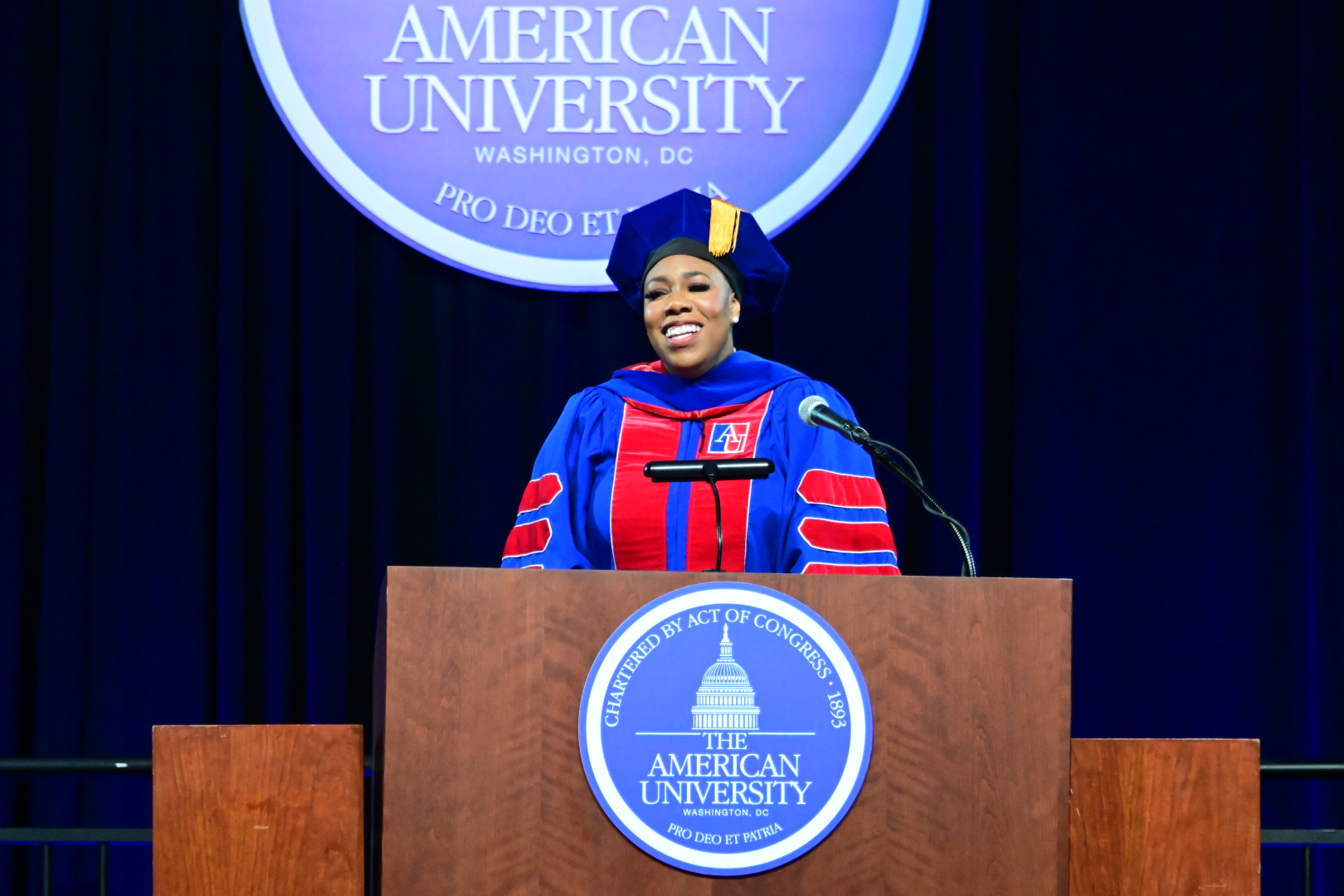 "In public service, every fight matters. You're graduating during a time of tremendous crisis. There's so much on the line. In the wealthiest nation on earth, we're still fighting for healthcare, childcare, livable wages, and reproductive rights. Basic human rights are on the line....Now more than ever, it matters who's in public office, and it matters who is behind the scenes doing the work of the people. 
"There are a lot of folks in this business who are more concerned with building power for themselves than doing good with it. And many of those people are hoping and praying that those of us who are committed to the calling of public service will get tired and give up. They want us to shut up. You know who they are. The wealthy. The well-connected. Those with privilege and power....They use hate to distract and divide us because so long as they can divide us, so long as they can make us think our interests are opposed, they can keep all the money and all the power to themselves. 
"But I'm here today with a message for those who have become comfortable. Those who are addicted to hoarding power and influence. Enough is enough."