On Campus
New University Librarian Talks Equity, Access to Information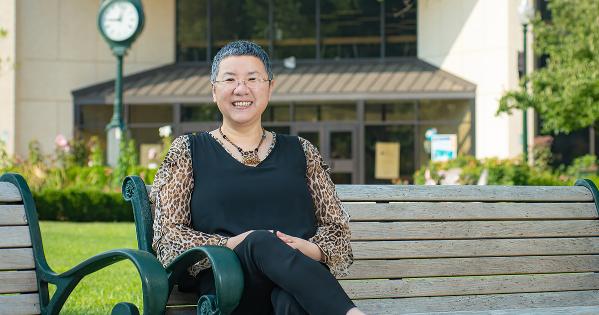 Jeehyun Davis wasn't looking for a career when she got her first library job.  
Davis, the new university librarian at American University, joined the library at the University of Texas in Austin as a student assistant shelving books 12 hours a day.
An immigrant from South Korea, Davis received her first exposure to library science, and she soon saw the power in open access to information. Thus began her long career as a librarian, taking her from Texas to the University of Missouri back to Austin and then to Villanova, where she served as associate university librarian for collections and stewardship at the university's Falvey Memorial Library, before arriving at AU in July.  
Davis spoke to This Week at AU about her background and why she feels access to information is so important.  The following has been edited for length and clarity. 
TWAU: What opened your eyes to library or information science?   
Jeehyun Davis: I grew up in the middle of a military regime, and I have a lot of scary memories throughout my childhood. There was a movement for democracy and then ousting the military regime. I remember many memories of survival or protest. My experience in my college (Mokpo National University in South Korea) in my hometown was very limited. They had not transitioned to the electronic catalog. It was all cards. I don't remember that we had a lot of resources. And then I came to UT Austin, which is one of the best public research universities and library systems in the world. I did not understand that a university library can provide massive amounts of information or know how many people with specialized skill sets it requires to do these types of services and the behind-the-scenes work. That was a turning point for me toward pursuing information science.   
So, I have to say that my academic drive to curate or preserve information was inspired by my experience in the United States as an immigrant.   
TWAU: What was your access to libraries as a child? Was information limited because of the government?   
JD: I have five siblings; my father and my mother and our focus was living and education. At the time, maybe they did have public libraries or something similar, but it was not known to me. So, my access to information was purely through the public school system.   
TWAU: How important is access to information to you?   
JD: It's absolutely critical. I think access to information means civilization, equity, and expansion of knowledge. Therefore, you can actually create opportunities for yourself. You can see how my understanding, or my passion for sharing information equitably, as widely as possible to everybody really attracted me to American University's philosophy and values. How it's important to have a culture of diversity, equity, inclusion for the community, especially our faculty, students, and researchers. For me, that is critically aligned with my beliefs around information access.   
TWAU: What role does the University Library plan in equity and inclusion efforts
JD: Academic libraries work within their community based on their values and their mission and their vision. We have those conversations. How do we support underrepresented groups or underprivileged groups? But we have to have an intentional approach in how we support them. That conversation must happen continuously. Another component that I'm really passionate about is that we are not just the AU community. Internet access has widened our user population to global citizens, and the University Library has great potential to contribute to knowledge sharing and knowledge creation beyond our community.  
Information is really important and not everybody has the luxury to access proprietary expensive, subscription-based information. So, they are looking for freely available information. One of the things that I'm so passionate about, and I really want to focus on at AU, is how we actually open up our information. Not copyrighted information, but what is freely available. We can make it available, but we really have to beef up our digitization production, our collection development policy to make those materials to be digitized as a priority. I think these are the things academic libraries can do to support inclusive excellence or equitable information access.   
I believe because there's so much emotional commotion throughout society, politically, throughout the academic universe. We're all challenged. I believe that a library on campus has a unique qualification to create a social environment where we can discuss these types of issues, including diversity and inclusion and social justice. These are the type of conversations that can occur in the space that the library brings. It's a neutral area. I want to hear from various communities, our student population as well as our faculty population, about how we can serve and provide better services and programs in general.   
TWAU: What are your goals in access?   
JD: I classify myself as an institutionalist. I think my role as university librarian is to support the university's success. I really believe in organizational effectiveness through conversation and operational transformation. I'm really interested in organizational development. That's one of the focus areas, and my end goal for a university library is making sure we are a learning organization.   
But the learning organization really centers around people. We create and cultivate and foster the environment where people can actually work together passionately and productively toward a common goal without fear of failure. Lessons learned is the center of the organization's growth. The members of the library learn how to learn together.  It's very important for the library to provide attractive services and programs to the campus. But before that, it is really important we have passionate, happy members who provide their services and believe in their shared goal. It sounds like I'm talking about a management book, but I believe it. My career has been the testimonial experience of that very vision, so I am very committed to building a learning organization in the University Library, and then making sure that people really feel safe and energized about their ideas. And then they can enjoy their outcomes and celebrate their accomplishments.