In the Community
WAMU Podcast Dish City Earns Prestigious Award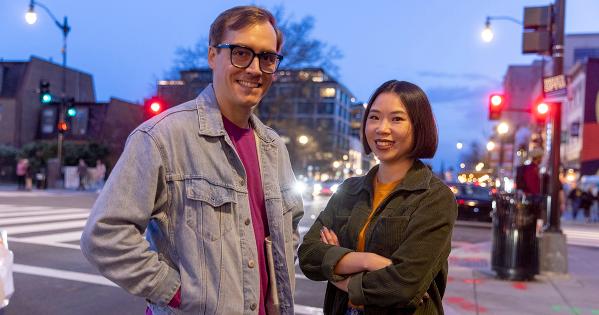 On a cold day in early 2020, Ruth Tam and Patrick Fort stood outside Horace and Dickie's, an unassuming-yet-iconic fried fish restaurant on H Street in DC. 
Tam and Fort, both producers at WAMU 88.5, turned on their recorder and captured a breezy, scene-setting conversation as they waited for and enjoyed Styrofoam containers full of cornmeal-crusted fish. The duo's chemistry—forged as friends and coworkers—was as welcoming as the fried whiting from Horace and Dickie's, a dish dubbed "1 of the 24 that shaped how DC eats" by the Washington Post in 2018. (Nonetheless, the location they visited would soon close but a store still exists at 6912 4th Street NW in Takoma.) 
The scene isn't unusual for Tam and Fort as they invite listeners to tag along as they explore DC's culinary culture in their WAMU podcast Dish City, which recently won a prestigious James Beard Award for audio. And while many moments and sometimes even entire episodes feel light and silly—including one this season on bottomless brunch—the conversation often involves a stroll through history that veers towards impactful social topics. The fried fish episode explores gentrification, for example, and how a restaurant like Horace and Dickie's—a DC institution for more than three decades—felt forced out of a neighborhood that now includes a Whole Foods.  
The podcast, which launched in 2019, just wrapped its fourth season. They've covered DC and Mid-Atlantic staples like half smokes, jumbo slice, Mumbo sauce, Old Bay seasoning, Maryland blue crabs, and immigrant communities from Ethiopia, El Salvador, Vietnam, and China that have influenced the DMV food scene. They discussed the 1968 DC uprising and its effect on local restaurants, and they pivoted during the pandemic to tell stories of how COVID-19 impacted local businesses. The social discussions—from racism and xenophobia to gentrification to making rent during a pandemic—focus on the DC area, but they are issues that resonate with many communities across the country. 
"We probably did have a conversation about the tone of the podcast at the very beginning," Tam said. "I think we probably were like, 'How do we want this to feel?' And there are episodes that we intentionally want to be lighter than others, because they're about silly, jokey foods that people don't and shouldn't take seriously. 
"We're grateful that we've been able to show people that this is just how our lives are and this is what our conversations are," Tam continued. "We can handle tough conversations but also be light-hearted." 
The genesis of Tam and Fort's friendship began at WAMU, as did the impetus for, Dish City. Tam changed the way she viewed food and culture while producing local food segments for Kojo. 
With an interest in food and culture, Tam applied to an NPR podcast competition in 2018 with an idea for a breezy food history game show and asked Fort to sign on to the application— which wasn't accepted. But Fort pushed to do the show; after the rejection they participated in a WAMU podcast incubator, the thrust of the show evolved into a narrative podcast. 
 "The way that I think about DC is really informed from my time working in local news and working at the Kojo show," Tam said. "If it hadn't been for investing deeply into the District and looking at it through that local lens, I may have just continued to enjoy food for food's sake. What developed was an interest in understanding why foods are important to certain people, certain neighborhoods, and what histories they have here. What makes them more than a meal to satisfy your hunger and [more of] a cultural touchstone." 
Tam and Fort sat next to each other while working on Nnamdi's show and shared snacks —Fort likes gummy candies while Tam's tastes trend toward the savory—and developed the rapport one can hear on the podcast. They also discovered the qualities each bring to the table. 
Tam called Fort an empathetic listener and a "technical wizard," while Fort said Tam is the smartest person he knows and someone who brings humor and levity to the podcast. 
"Anytime we work on the show, she always has some bigger thing that I never could have possibly conceived," Fort said. "She is so incredibly smart, and it's so impressive to be around. I love that part of working with her." 
Dish City's Beard Award—the Oscars of the food industry—came in the audio programming category for the episode, "How American Chinese Food Became Delivery Food" from a third season in which all episodes dealt with deliveries. 
"The whole thing is pretty surreal," Fort said. "To be honest, I think hosting a podcast sometimes feels like it goes out into the ether. I think it's cool to know that other people listen to it." 
Dish City's fourth season just finished, and Tam will be headed to Harvard in August for a year as a Nieman fellow. She will study the rise of first-person reporting through mediums like personal newsletters, social media, and personal branding. 
"It's something that we're still figuring out," Tam said of continuing the show. "There are lots of stories that still get left on the table at the end of the season." 
Dish City Picks Five 
This Week at AU asked Ruth Tam and Patrick Fort to select five genres of food that DC does right. Here are their answers, edited for length and clarity. 
Tam: Ethiopian food and Salvadoran-Mexican food. 
Fort: I second those. 
Tam: (On Ethiopian and Salvo-Mexican food) The combination of those two cuisines is something that we explore in our first season. We talk about how immigrant communities who haven't yet been established in the US, or ones from smaller geographic countries  tie their cuisine in with a more well-known cuisine to serve it to the American public. And in the case of Salvadoran immigrants coming to the DC area, that cuisine was Mexican food and that is why you see all these places that serve anything from tacos and a fajitas platter with pupusas and Salvadoran soups and stews. And that combination has both a history and also this very specific business strategy behind it that many other immigrant communities have also done. 
Tam: I would say Peruvian chicken. It's a relatively simple and accessible concept. Rotisserie chickens exist in other cuisines and other presentations, but I never had Peruvian chicken before I moved to DC.  
Carry-out culture in DC is something to note. Asian and Chinese carryouts exist in many other cities, but the combination of the DC-specific things like Mumbo sauce and fried chicken in carryouts, or the steak and cheese egg rolls, all the little local idiosyncrasies are something you need to experience if you live here. 
Fort: What's the fifth? There's this diner that I used to go to in Arlington and I could get a half smoke for breakfast instead of bacon or sausage. I was walking by Ben's Chili Bowl the other day I'm like, 'Wow, it's been a minute.' The half smoke has so much versatility.