On Campus
AU Campus Plan: Blueprint for A Decade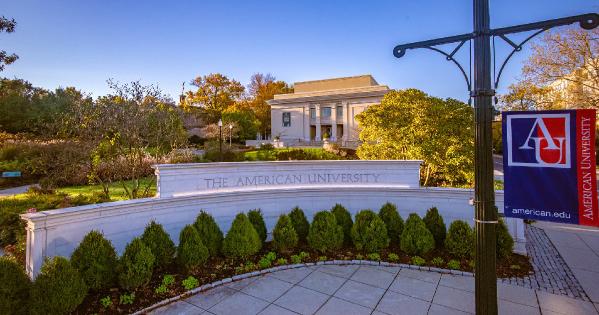 Imagine it's 2030. What might American University's campus look like? How might it need to adapt to support the university's changing needs? How would modifications to campus blend with surrounding neighborhoods?
These questions and others are answered in AU's 2021 Campus Plan, which was filed with the DC Zoning Commission on Monday, December 14. Public hearings and review by the Zoning Commission will be held early next year.
A blueprint for how the university campus might be developed over the next 10 years, the plan furthers AU's educational and research missions by providing state of the art academic facilities and creating a student-centered living and learning environment, all key components of the university's Changemakers for a Changing World strategic plan. New, strategically located student housing facilities would encourage more upperclass students to remain on campus during their time at AU, and renovations to Mary Graydon Center would create a campus hub for student activities and while supporting expanded programs in wellness and mental health.
Designed to offer both predictability, and flexibility, the plan would allow AU to meet the changing needs and demands of education in the 21st century. It reinforces the university's role as a leading institution in the nation's capital and underscores the university's commitment to meaningful collaboration with the community.
"While our reach and impact are global, the heart of AU is in Washington, D.C.," said AU President Sylvia M. Burwell. "As part of our strategic plan, we are committed to growing our roots in the DMV by expanding our partnerships across the region and collaborating with residents in the neighborhoods surrounding our university on a wide range of initiatives, including our campus plan."
AU began envisioning the engagement process for the plan in 2016 by seeking input and advice from neighborhood leaders with the goal of developing a consensus Campus Plan that would support the changing needs of the university and at the same time respect and enhance the quality of life of those living around the campus. The plan was developed through an extensive and collaborative process with the AU Neighborhood Partnership, a coalition of representatives from neighboring communities and AU staff. It also reflects the input of community leaders, students, faculty, staff, and other interested stakeholders. Prior to its filing, the plan won approval from both Advisory Neighborhood Commissions that serve the areas around AU.
The AU Neighborhood Partnership has five working groups that carefully examined and provided input on Campus Plan components including facilities planning, student life and safety, transportation and parking, engagement and communication, and data and metrics in its collaboration with AU. ANC 3D Commissioner Jeremy Del Moral, a member of the AU Partnership Committee and its Student Life and Safety Working Group, said though, as a nearby resident for 10 years, he was aware of concerns of community members, he had limited experience with concerns from AU students.
"Working closely with the steering committee and specifically the student life working group allowed us to gain a deeper understanding of the needs of students within the community. Open communication and collaboration led to mutual respect and a promise for a strengthened relationship moving forward. Ultimately, students' youthfulness and hope breathe life into the community, if we can incorporate them into the community to the point where they take stock in the success of our neighborhoods, everyone wins," said Del Moral.
AU has outlined a series of objectives for the plan aimed at effectively managing the university's potential growth while actively mitigating impacts on the surrounding residential communities. Those include a proposed enrollment cap of 14,380 students, and a balanced development program of academic needs, residential life and athletics on a scale reduced from the 2011 Campus Plan. Under the plan, AU has strengthened its efforts to promote positive relationships between students who choose to live off-campus and their neighbors. And, in keeping with the university's commitment to sustainability, AU will work to reduce the use of single-occupancy vehicles and the demand for on-campus parking, while continuing to ensure on-street parking is available to members of the surrounding community.
"We are proud to present a campus plan that reflects AU's continued commitment of providing students with a world-class education and robust social experience, while being a resource and asset to the immediate and broader communities of which we are a part," said Ed Fisher, assistant vice president of community and government relations at AU. "This work could not have been accomplished without the input, advice, and guidance our of neighbors, and we are thankful for their support."
For more information about the 2021 Campus Plan, visit www.american.edu/campusplan.