Education
AU Instructors Partner with Artist on COVID-19 Education Materials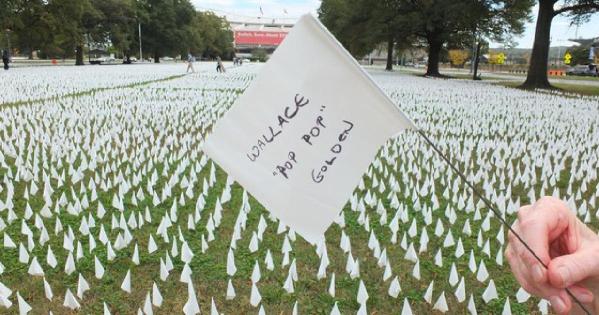 Lauren Shea reminds her children of their fortunes. 
Shea, an AU lecturer, was a teacher, and she now works with childhood education. Her children have food and housing security, and there were two parents in the home throughout the COVID-19 pandemic. The family has stayed safe and healthy. 
"Even with that, I've noticed how this pandemic has affected them deeply," Shea said. 
But Shea often thinks of children who may not be as fortunate. "It breaks my heart to think of them," she says. 
Shea and her SOE colleague Jody Hagen-Smith, herself a mother of two children, hope they have found a way to help. Hagen-Smith and Shea designed curriculum to help teachers connect with students and help process emotions related to the pandemic in connection with a large-scale art installation on the National Mall. Suzanne Brennan Firstenberg's mid-September exhibition—In America: Remember—will include more than 640,000 white flags planted on the National Mall to symbolize those who died from COVID-19. Firstenberg created a similar installation outside of RFK Stadium in 2020 when the death toll was around 270,000. 
With support from the Ganek Family Mini Grant for Innovation in Education, American University's School of Education partnered with Lynne Brenner Ganek, an educator, author, television producer and former head writer with WNET/Thirteen. Brenner Ganek innovated some of the nation's first Media Literacy curriculum. Hagen-Smith and Shea created the educational materials for In America: Remember to make the exhibit more accessible to students and help them process the magnitude of the pandemic through the art. 
The following conversation has been edited for length and clarity. 
TWAU: How did you become involved? 
Lauren Shea: We both have a background in language and literacy and working with diverse learners. We both spent about 10 years as elementary school teachers in bilingual schools. I think that perspective was probably something the School of Education took into consideration when thinking about addressing all students' needs. We have worked with elementary students, and particularly thinking about social emotional needs, so I think that perhaps that was taken into consideration as well. 
TWAU: What responsibility do teachers have to students in providing help and information during something like a pandemic? 
Jody Hagen-Smith: I think what was really surprising to both of us is the actual number of children who are returning to school after having lost a parent is staggering. It's somewhere around 40,000, and the number is even greater if you consider extended caregivers. These are children who will be coming back to classrooms in person. I think it's important for teachers and schools to acknowledge things aren't back to normal for these children, and that we can build empathy for students in the class who maybe experienced the pandemic differently. I think looking at Suzanne's art exhibition will give us some idea of the numbers and the magnitude. We're not just talking about nameless, faceless people. It might be your parent, and that's significant. And that's something worth talking about. 
LS: I think one of the biggest things I learned through this process was that children need social and emotional development now more than ever. Jody and I met with experts who reminded us to think about all the resources that were available to children after 9/11. I was in a classroom during 9/11 in New York. We had counselors and grief specialists come into the school building to talk to children—"I see that you're flying an airplane into blocks of buildings like, let's talk about that. What did you see on TV? Who do you know who was affected by this?" 
What's different here is that we're all home. We don't know the various ways individuals have been affected. Schools could not bring in counselors. We were staying away from buildings. It became extremely difficult to address the needs of children in terms of their grief and their social emotional development. 
TWAU: What will teachers find in the lesson plans? 
LS: We're going to try to address five essential questions tapping into what children know or what individuals know about the pandemic, some background knowledge on hearing about what COVID-19 is, and how it impacted them. 
Then we go into the impacts from the pandemic on children themselves from others, and we look broadly at the community, the nation, and the world. 
From there we go into feelings about the pandemic both personal and collective. Then we talk about how art has a powerful ability to help us understand and communicate our feelings. 
We give teachers and students an opportunity to look at some art and see how it helps us understand and communicate our feelings. Then, we introduce Suzanne's amazing exhibition where we go through the website with teachers and students. We look at a video created by the artist to learn about why and how she created this art. We spend some time looking at the art virtually to see how it makes children feel, and then we invite children to use their artistic talents to express their own emotions through a piece of art. Children can create a piece of art and upload it to the website and share their art to experience their feelings with others. 
JHS: Students can upload their art be it visual, maybe an audio recording, something with movement. It's fairly wide open to their artistic interpretations. Then it will be uploaded, and viewers can click on a map to see how children across the country are reacting to the pandemic. I think [the combination of their reactions] is going to be a really interesting piece as well. 
TWAU: What do you think the reaction of the art installation is going to be? 
JHS: It's going to be personal. While it's going to be this huge magnitude of flags, each flag is personalized or has a potential to be personalized for someone who has lost a loved one due to COVID-19. 
Students can access the installation on Suzanne's website.  If they lost a loved one, they could visit the website, search their names and view the flags created for them. It's going to mean a lot to people, especially those who haven't had a chance to publicly grieve the loss of their loved ones and had to process their emotions privately. And I think this is going to give us all the time and space to collectively grieve and ultimately heal from these experiences together. 
LS: I think this is going to be breathtaking. I don't even think that I'm prepared to see the magnitude of how many people our country has lost because of this. I can't imagine what the impact will be from a child's perspective of how enormous this will be. If we can bring it to them, where they understand the reality of what's happening, and give them some tools to express their emotions about it and maybe be able to create something that helps them, that would be the most meaningful part.
If you are interested in volunteering with the exhibition, please visit https://www.inamericaflags.org/.