Environment
Visually Striking Glass Wall Brings Beauty Inside Newly Leed-gold Certified Hall Of Science
A special glass with a high-performance coating is key to the new Hall of Science's design, allowing the building to be visually striking, energy efficient, and environmentally friendly.
The new home of the AU's biology, environmental sciences, chemistry, and neuroscience departments is the product of forward-thinking science, innovation, and collaboration and the latest building on campus to achieve the US Green Building Council's Leadership in Energy and Environmental Design (LEED) Gold certification, an internationally recognized standard for green building design and operations.
With the university committed to achieving LEED Gold certification for all its new buildings, the three-story, 125,000-foot structure's most prominent feature–a full-height glass wall along its campus-facing edge that intentionally overlooks the building's gardens—proved to be its designers and builders' greatest engineering challenge.
"Working with the building's architect, Ballinger, we envisioned the glass wall with symbolism, aesthetics, and pragmatism in mind. It was intended to offer transparency into the sciences, while also providing abundant natural light to the building's occupants," said David Dower, assistant vice president of planning and project management, Office of Finance and Treasurer.
Yet, this same glass wall created the potential for the building to become excessively hot and increase its dependence on air conditioning during the summer months. Not only would the glass make controlling the climate in the building more energy intensive, it also would increase the hall's carbon footprint and threaten its LEED certification.
To address this technical and environmental challenge, Ballinger turned to UK-based glass manufacturers Pilkington UK Ltd. and CareyGlass. The manufacturers provided special high-performance coated glass that helps reduce the amount of solar energy that passes into the building by up to 75 percent. The glass allows natural light to flood the building—just as the architect intended—without tinting that would detract from the building's outward views.
To prepare for LEED Gold certification, project managers evaluated the Hall of Science using a point-based scorecard to measure site and materials selection, energy and water efficiency, and indoor environmental quality. The building is located on a former parking lot where the landscaping now provides shade and green areas across more than three-quarters of its physical space, helping to decrease the heat island effect created when lack of vegetation and an abundance of roofs and paved surfaces cause an area to become hotter than surrounding areas that do have vegetation.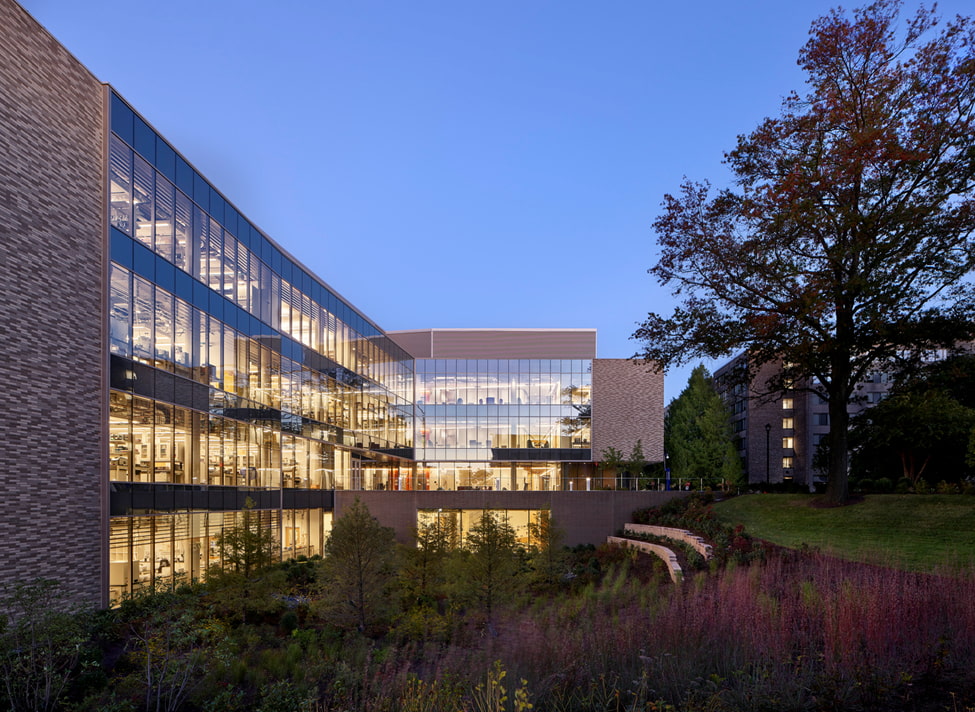 The university also gave careful consideration to the building's construction materials, reducing the impact of extraction, processing, and transportation by relying on locally sourced and recycled materials wherever possible. Ninety-five percent of the wood used in the construction of the Hall of Science is Forestry Stewardship Council certified, which ensures it is sourced from properly-managed forests and manufactured responsibly. Additionally, 87 percent of construction waste produced was diverted from landfills.   
"Building spaces that use resources efficiently by including healthy building materials and providing natural light for users all contribute to creating a healthy and sustainable campus," said Megan Litke, director of sustainability programs, Office of Sustainability. "The Hall of Science continues our tradition of exemplary green construction," said Litke, "and upholds our commitment to sustainability across campus."
The Hall of Science's healthy environment is due to the special attention paid to air flow and pollutant exposure, including using low-volatile organic compound adhesives, sealants, paints, floor systems, and composite woods in construction and maintenance to limit occupant exposure to irritants. The hall also uses about 25 percent less energy than an average building of its size due to its efficient heating and cooling system that uses chilled beam technology and dual enthalpy energy air technology—which captures heat energy from outgoing air to preheat or cool incoming air—to handle the additional air flow needed for the laboratories without significantly increasing energy demand.
The hall also uses 36 percent less water than a building with traditional water fixtures by relying on water conservation techniques such as low-flow taps and dual-flush toilets that reduce the amount of wastewater requiring treatment and the pressure on local fresh water sources. Outside the building, a large underground basin beneath the landscaping—which features native and adaptive species that do not require irrigation—captures half the site runoff from the roof to water the landscaping. Also, curb cuts along the road next to the building allow runoff to flow into bioretention areas where water seeps back into the ground, keeping it out of storm drains.
Its green building features align with key goals set in AU's recently released 2021 Sustainability Action Plan, which reflects the university's commitment to sustainability and resiliency for the next five years. Achieving LEED Gold status for new buildings and managing older buildings to meet LEED's existing buildings' operations and maintenance standards are both tenets of the university's Green Building Policy.
The university built its first LEED-certified building—the School of International Service Building—in 2011, and it has served as the benchmark for all of AU's construction projects since. So far, the university has 9 LEED-Gold certified buildings including the Hall of Science and SIS; McKinley Building; Washington College of Law Tenley Campus; 4401 Connecticut Avenue/WAMU; and Constitution, Duber, and Federal Halls and the Don Myers Technology and Innovation Building. Cassell and Gray Halls are LEED-Silver certified.