On Campus
How New Technology Fosters a Welcoming Environment at AU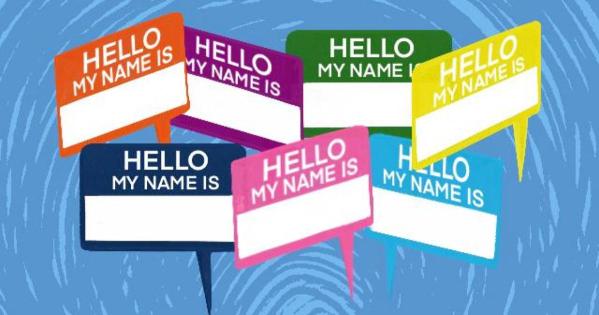 Andrew Toczydlowski knows well the experience of an educator struggling to pronounce his last name.
Toczydlowski, whose name has Polish roots, remembers the awkwardness that greeted him every year during the first day of class.
"I was usually just Andrew T," said Toczydlowski, director of student development and services, Kogod School of Business. "I'm 36 years old, and for 36 years it's like the same old joke of, 'How long did it take you learn how to spell that one?'"
When faculty pronounce students' names correctly and use names and pronouns that affirm their identities, students feel a sense of belonging and are set up for academic success, said Anna Morrison, who—along with Toczydlowski and Andrew El-Kadi—is advancing technology to foster inclusivity at American University.
Toczydlowski is working with Kogod to pilot Name Coach, a tool that allows Kogod faculty, students, and staff to record the pronunciation of their names to aid professors. Morrison and El-Kadi co-chair the university-wide Chosen Name and Gender Identity working group, an initiative to update the university's systems to reflect chosen name and pronouns for students, faculty, staff, and alumni.
Both initiatives are part of AU's Plan for Inclusive Excellence, which is a commitment to intentionally create a climate of welcome that enhances inclusion and belonging for all students.
"When our campus systems are set up to welcome students by the names and gender identities that reflect who they are, then we set ourselves up to be the kind of inclusive place we really want to be," said Amanda Taylor, assistant vice president of diversity, equity, and inclusion.
Chosen Name
Morrison understands the anxiety that goes with the first day or week of classes.
She hears about it regularly from students.
"I have students come to me all the time and say, 'My worst day of the year is the first day of class,'" said Morrison, coordinator of LGBTQ+ support and diversity programs, Center for Diversity and Inclusion. "People are going around (the room), and the professor says, 'Tell me your name and pronouns,' because they care about students' identities. Some openly transgender students want that opportunity to share their name and pronouns. Other students may feel stuck between outing themselves or misgendering themselves. We want students in either position to be affirmed."
Morrison said data shows students who work and live in affirming spaces perform better and have a greater sense of belonging.
The website Campus Pride Index lists 262 institutions that have used some form of a chosen name since the University of Vermont pioneered the program in 2009. AU previously had an informal way to change a chosen name that included going through the Office of the University Registrar, but the university never had a way to insert pronouns in its systems.
Morrison and El-Kadi, director of technology and analytics, Office of Campus Life, co-chaired the working group of staff, faculty and students designed to modernize the process, giving students a single place to update their chosen name and pronoun in more than 20 systems across the university.
The changes initially rolled out January 11 to some 900 students who had manually updated their chosen name the old way. The goal is to learn from the experience of this cohort and then expand the chosen name program to the full student body over the course of the current semester. Faculty and staff are scheduled for phase two implementation later in 2021, and a third phase includes alumni in the 2022-23 academic year.
A student can visit Eagle Service to make the updates, which will populate through the university's digital systems—class rosters, learning platforms like Canvas and Dashboard, One Card. They will appear in many places where a legal name isn't required to be used.
CAS professor Marnie Twigg said the changes should support professors who want to foster an inclusive environment.
"We really do care (about our students)," Twigg said during the Center for Teaching, Research and Learning's recent Ann Ferren Conference. "We want to respect them. We want to have a good relationship with them. This gives us a tool to do that more easily."
Name Coach
Casey Evans associate dean of undergraduate programs at Kogod, discovered the Name Coach program at a vendor booth at a conference.
About a third of Kogod students are international students, so Evans thought the school would be interested in using the program as part of its commitment to diversity and inclusion. She worked with Toczydlowski to receive an inclusive excellence mini-grant through the President's Council on Diversity and Inclusion to implement the program. Then Kogod rolled out Name Coach to students in two courses—Management 253 and Accounting 240—last fall. Toczydlowski said around 250 students opted in. Kogod plans for a larger rollout following the trial.
Students can enter the Name Coach portal and record pronunciations of their names. They can also select chosen pronouns, add a photo and provide a name origin and backstory, sort of an icebreaker for students to share some of their background with their professors.
Toczydlowski added a link in his email, and his profile shares a story about his name, which is pronounced Tah-zuh-low-ski. It reads, "I could always tell when a teacher or professor got to my name on a roster because they would hesitate for a beat. Usually, I would shout out my name and get a laugh from others in the class."
Sarah Yuan, a Chinese student who double majors in business administration and public relations, started going by Sarah instead of her given Chinese name after attending international schools beginning at age 5. She has used both Name Coach and updated her chosen name.
"I thought Name Coach was a helpful application that helped domestic students learn to pronounce people with foreign last names correctly," Yuan said. "I wouldn't be too confident if I had to pronounce someone's last name for the first time."
AU also used Name Coach for fall commencement, allowing graduating students to add photos and pronunciation of their names, which an announcer used in creating the video presentation.
"Both of these initiatives are together working on that same shared goal, and that goal is most explicitly outlined in goal two of the inclusive excellence plan, which is about climate and culture and enhancing a sense of belonging for all of us," Taylor said.