International
20 Years After 9/11: Experts Discuss Afghanistan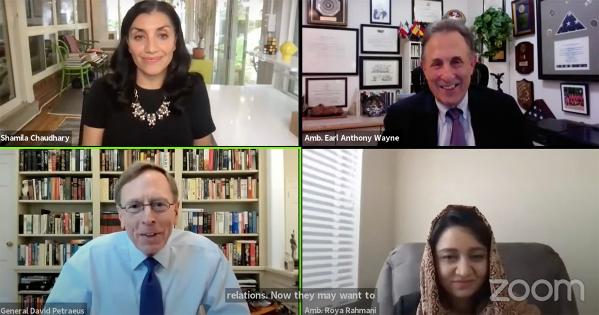 Roya Rahmani remembers the length Afghan women and girls would go to for an education more than 20 years ago during Taliban rule. 
Rahmani, the former Afghanistan ambassador to the United States, said women would disguise their books in cloth and pretend they were carrying a Quran or materials for a sewing class. If these secret operations were discovered, those involved would be punished or imprisoned. 
Those citizens who benefitted from open access to education and other aspects of a civil society over the past 20 years while the US military had a presence in Afghanistan are the ones scared or in hiding as the Taliban has regained control, Rahmani said. 
Rahmani, General David Petraeus (Retired-Army), and AU alumna Shamila Chaudhary joined former US deputy ambassador to Afghanistan Earl Anthony Wayne for a discussion September 1 about how Afghanistan has changed in the past 20 years since 9/11 and what its future holds. Petraeus is the former CIA director and commanding general in Afghanistan, while Chaudhary is an expert on Afghanistan and Pakistan and worked for the State Department and on the National Security Council. 
The following conversation has been edited for clarity and length. 
Earl Anthony Wayne: What should our diplomacy be doing? 
David Petraeus: You can question if we should be where we are in Afghanistan, and obviously some of us have had different views about what alternatives there were, but we are where we are, and I think by and large the administration does have the right priorities. 
We have to start thinking already about this government—how it will govern once the government is formed. They had several days of meetings in Kandahar with the senior leaders to determine that government. Clearly there is still some fighting going on. What will be the character of that government? How will they treat their citizens? How in particular will they treat women and girls? Can they still go to school? College? Let's keep in mind the dog that's been chasing the car for 20 years is now in the driver's seat. It's going to be a lot tougher, frankly, in many respects than it was on the back benches. They are broke. The budget that used to be largely funded by the US, Japan, UK, and a handful of other major donor countries, that's not happening. They are in a very difficult spot. Operating expenses, everything else, we are talking about over $10 billion. In the absence of that, the lights could literally go out in Kabul. You mention this could be a humanitarian crisis; I fear it could be sooner rather than later, and it's incumbent on the Taliban to establish a certain degree of conditions by their governance that will justify countries like ours providing assistance. 
Earl Anthony Wayne: As a former representative of Afghanistan, as an Afghan, what do you see as the priority? What would you like to see the United States doing with immediacy and rapidity? 
Roya Rahmani: We all heard US secretary of state Tony Blinken saying that he would like to pursue diplomacy. I believe the priority for the diplomacy as a path is regional diplomacy. The region has had an immense role in what is to happen in Afghanistan, and now, given the situation that we are facing, we really need to have the regional countries play at least a somewhat more constructive role. There is continuous talk about the military mission is over, but the relationship is not. We hear from the leaders here in the United States that counterterrorism has been the goal and has been achieved, and we want to make sure, and that's the only interest we have had being in Afghanistan. Is that fully off the table? Is it checked? Based on what we were discussing, we are not in a position to say that problem is over.  
But the very first priority I'm asking of the international community is not to lose access because as the troops completely withdrew, and the journalists have left, soon you will not know what is happening there. That is going to be very difficult for us, and that's for you as well. Sustaining and maintaining access is the key. I am really getting worried in terms of the infrastructure if (the Taliban) would be able to afford it or not and that includes electricity and internet access. The Taliban have already made statements saying they are going to close down YouTube or WhatsApp or Facebook. This is going to cut us down from the rest of the world. This is a very immediate need whether you want to do assistance or diplomacy or human rights, you need to have access. 
Shamila Chaudhary: I concur on a tactical level with what General Petraeus and Ambassador Rahmani said on what's most pressing. As a student of international affairs and foreign policy, if I'm asked to identify a priority, I have to think it must be linked to a strategy. I can't identify priorities if a strategy is not clear. What I'm hearing from the administration is similar to past strategies that we've had in Afghanistan, minus the military footprint and now on top of that minus the diplomatic footprint. Whatever needs to be done in the short run and in the medium run will all be the more difficult because we don't have the access as Ambassador Rahmani mentioned, and it's occurring in the midst of great instability. I want to make a point of what Tony Blinken and the president said, we will maintain our leverage as the United States. That's going to be really difficult if you don't have an embassy or thousands of troops on the ground. We are right to assume that diplomacy is in short order. The tactics behind that become really important. So not doing one-on-one diplomacy. We need to talk to the different countries in the region. Some of whom we will disagree with vehemently on human rights, on certain approaches to the Taliban. But that's going to be really important. We need consistent and clear communication about what we are doing to protect American citizens, green card holders, and other Afghan allies on the ground. We made a commitment to them. And then finally in terms of visibility, we don't have any eyes and ears on the ground. With each day that passes, probably less so. And ensuring that the international community can do its job so that we all can maintain the leverage—the little leverage we each have—that's going to be really important in the near term. 
International
20 Years After 9/11: Afghanistan
20 Years After 9/11: Afghanistan
Earl Anthony Wayne: What kind of steps or processes do you think we should think about taking to put this focus on diplomacy into effective action? 
David Petraeus: To be fair to the administration, they have been pretty aggressive. They pulled together a UN Security Council message already to the Taliban. There is a group of 100 countries that have also put out a diplomatic statement in that regard. It's very clear the Taliban are not going to pick a fight with the United States. They won. They got what they wanted. What they should be doing now its thinking over how they are going to fill this extraordinary fiscal gulf that they are going to have.  
Afghanistan doesn't generate that much of its own electricity, certainly nothing that's very organic other hydro power. But there is linkage via Qatar, where our embassy is going to be. That's historically where the negotiations have taken place, and so that's a natural location for it, I think. There will be other countries that will be grouped there undoubtedly. We are in a virtual world. Not that you have to have someone in Kabul. I think there are a lot of ways to engage. Our core national security interest is to ensure that extremists cannot reestablish a sanctuary in Afghan soil the way they did before 9/11 under Taliban rule. A great deal of this I think clearly depends on the Taliban. And again, what will the nature of their governance be? Will there be summary justice? Will the soccer stadium that's been filled with soccer fans for the past 20 years once again be used for summary executions? Again, these are all unknowns, and I think they will determine a great deal of what is possible. The real question is: Over the longer term, can we really bring ourselves to support what are essentially our former enemies on the battlefield, if they don't actually demonstrate a very different character of governance? If that is the case, the future, the near term, and, indeed, the midterm for our former Afghan partners there and Afghan citizens at large is going to be fairly dismal.